Coffee & Walnut Cake
---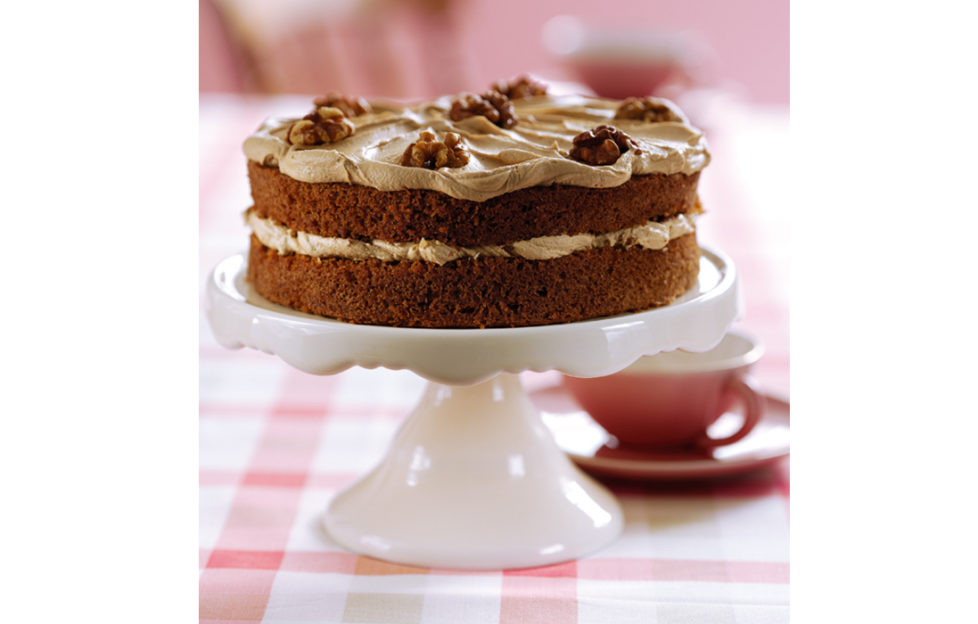 A spectacular bake that's great with a morning cup of coffee or with afternoon tea!
Position the oven shelves towards the centre of the oven. Preheat the oven to 180°C, Fan Oven 160°C, Gas Mark 4. Lightly grease two 18cm sandwich tins with a little Trex, line their bases with a circle of greaseproof paper, then lightly grease the paper.
Sift the flour and baking powder into a mixing bowl. Add the sugar, Trex, unbeaten eggs, cooled coffee liquid and vanilla extract. Use a wooden spoon to beat the mixture together until smooth and creamy – this will only take 1-2min.
Share the mixture equally between the prepared tins and level the surfaces. Bake for 18-20min. Test that the cakes are cooked by touching the tops lightly – they should spring back into place. Put the tins on to a wire rack to cool for a few minutes.
Remove the cakes from their tins and cool on a wire rack, then remove the lining paper.
Whilst the cakes are cooling, beat together the butter and icing sugar until light and creamy. Add the cooled coffee liquid and beat again until smooth.
Spread half the coffee icing over the surface of one cake and sprinkle the chopped walnuts evenly over the surface. Sandwich the two cakes together. Spread the remaining mixture over the top and decorate with walnut halves.