Smoky Irish Beef Brisket Buns
---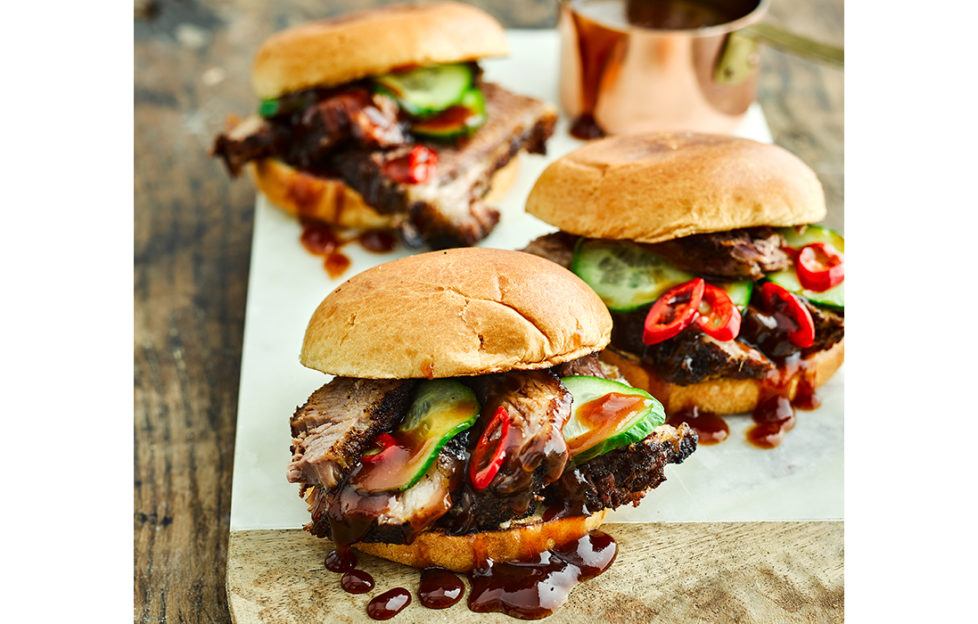 A recipe from fashionable foodie and chef, Terry Edwards, served with pickles and homemade BBQ sauce
Terry started his career working for Paul Heathcote in his hometown of Liverpool, before travelling to London to work at Le Gavroche and then moving on to work at Hix – where he honed his skills for championing classic British and Irish produce. Four years ago he went solo and set up a company running pop-up restaurants with musician and model, George Craig. The concept behind each pop-up was music and food and on the back of the success of these events, the pair launched a book called Feeding Friends which generated extensive coverage across the press and lauded the pair as Britain's coolest foodies.
Serves: 6-10
Cooking time: 4-5hr
Pre-heat oven to 160˚C, Gas Mark 3.
For the BBQ sauce, add all ingredients into a pan, mix well and slowly bring to the boil. Allow to simmer for 5min then set aside to cool.
For the pickled chillies and cucumber, mix the water, vinegar and sugar in a pan over a low heat until the sugar is melted. Allow to cool before pouring over the chillies and cucumber. Leave to sit in the liquid for a minimum of 1hr.
For the brisket, mix all the dry rub ingredients together and rub into the beef, wrap well in 5 layers of tin foil and allow to sit in the fridge overnight.
Place the brisket in the preheated oven and cook for 4-5hr at 160˚C or until the core temperature reaches 160-170˚C.
Once cooked, remove from the oven and allow to cool completely before unwrapping.
To serve, reheat on a smoky barbecue outside and serve whole for a wow factor or slice thin long strips then barbecue, or finish in a griddle pan. Add strips of brisket, BBQ sauce and pickled cucumber to buns before serving.