Asparagus, Pea & Mint Tart
---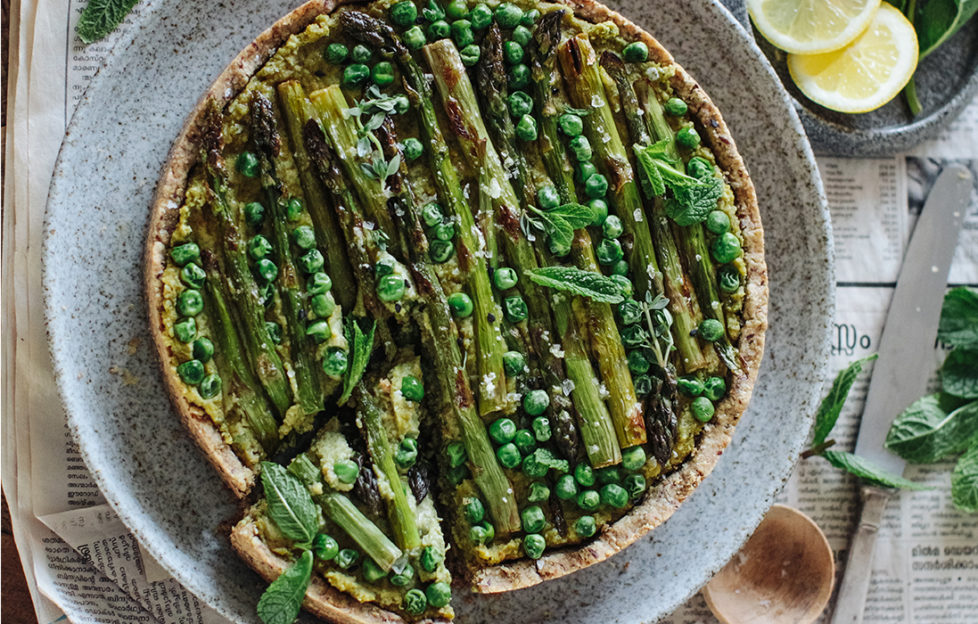 Gluten-free and vegan, this tasty asparagus, pea and mint tart is full of healthy wholefood ingredients. With hints of lemon, garlic and walnut, creamy cashews, delicate asparagus and mint, it's a symphony of flavours too!
Preparation time: 25min
Cooking time: 45min
Serves 4-6
To make the base
Firstly add the walnuts to a mini chopper or blender and blitz until you get a fine meal.
Make the flax "egg" by mixing the ground flax and water in a bowl. Set aside to thicken.
Grease a round loose-bottomed pie pan with oil.
Add all the dry ingredients to a large bowl and mix to combine. Then add in the oil, almond milk and flax egg. Mix thoroughly to form a dough.
Transfer the dough to the tart pan and use your fingers to press into the bottom and up the sides. Poke a few holes with a fork across the bottom.
Bake on Gas mark 4 for 10min. Remove from the oven.
To make the filling
 Add all the ingredients to your food processor then blitz until smooth and creamy.
Layer the filling mix across the bottom of the tart, then top with the asparagus. Press in a little, then add some peas.
Drizzle with a little olive oil and a sprinkle of sea salt.
Return to the oven and bake for 35min. Allow to cool before removing the pan.
Remove your asparagus, pea and mint tart from the pan, sprinkle on fresh mint leaves and serve.