Glazed Strawberry Tarts With Elderflower Cream
---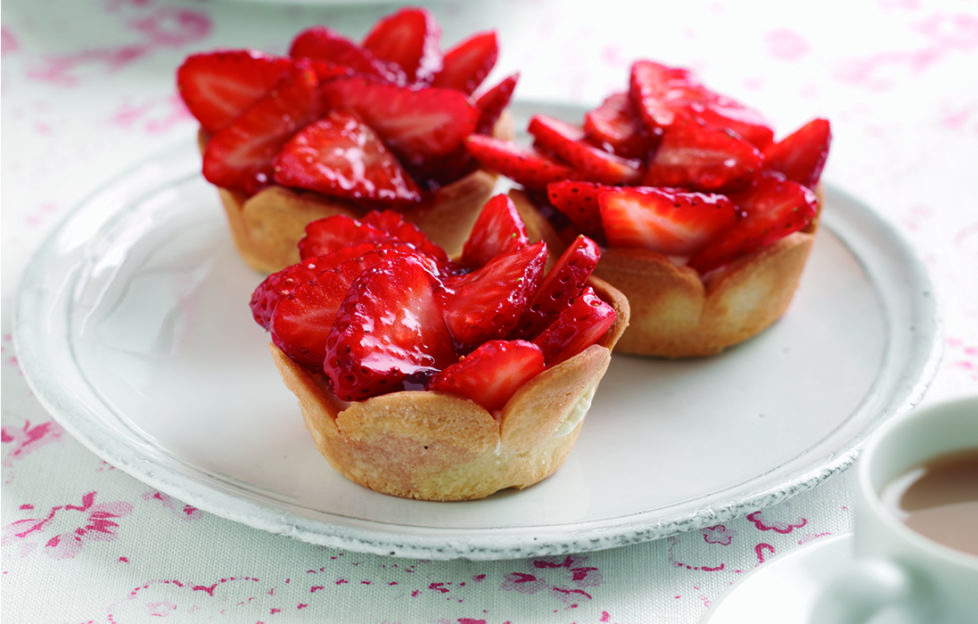 These dainty tarts have been topped with sliced strawberries but you may like to top with different fruits – perhaps raspberries, blueberries or try with a mix of different fruits, leaving the smaller fruits whole.
Preparation time: 30min
Cooking time: 15min
Makes 12
Cost per tart 36p
To make the pastry
Put flour into a bowl, add the icing sugar and butter then rub in the butter with fingertips or an electric mixer until it resembles fine crumbs. Stir in the egg yolk then squeeze together with fingertips to make a dough, adding a little water if needed.
Knead lightly, then roll out thinly on a lightly floured surface. Cut out 10cm circles using a large biscuit cutter, then press circles into buttered sections of a 12-hole deep muffin tin. Prick bases with a fork and chill for 15min.
Line each tart with a circle of greaseproof paper and some dried lentils or baking beans and bake blind in a preheated oven set to 190C/gas mark 5 for 10min, remove paper and lentils or beans and cook for 3-4min until pale golden. Leave to cool.
Remove pastry cases from the tin and arrange on a serving plate.
To make the filling
Whip the cream with the icing sugar and elderflower cordial until it forms soft swirls. Spoon into the tart cases and arrange the strawberries on top.
Warm the redcurrant jelly in a small saucepan until melted, then brush over the tarts. Serve your strawberry tarts within 30min of decorating.