My Lemon Grove Summer | Jo Thomas
---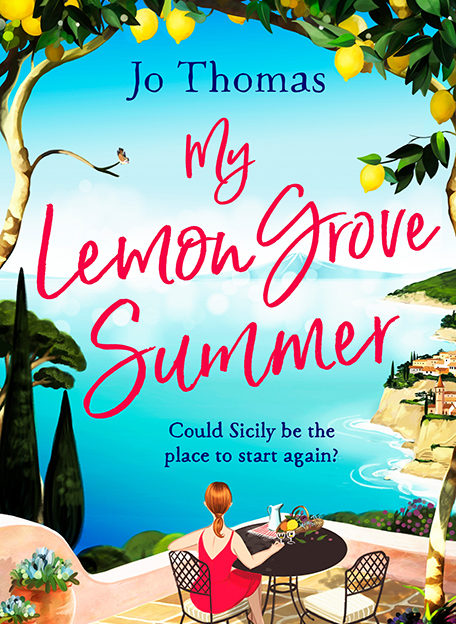 REVIEWED BY KAREN BYROM
When life gives you lemons, move to the country where they grow and learn to make limoncello!
As her fortieth birthday approaches, Zelda's given up on finding the man of her dreams. Her best friend and confidante, Lennie, also despairs of finding lasting love.
And so they agree to honour a years' old pact, made when they were students, to get married to each other!
With a fresh start in mind, both throw up their humdrum jobs and sign up to a regeneration project in Sicily. The mayor of Citta d'Oro is looking for families, couples and hard-working individuals to relocate to his idyllic hilltop town for subsidised rents and a relocation fee.
It all sounds too good to be true – and of course, it is.
No warm welcome
Zelda and Lennie arrive in Citta d'Oro to find their home isn't ready and they have to houseshare with a motley collection of other applicants. What's more, no-one will employ them and local businesses shut their doors against them – it's not the warm welcome they expected.
Giuseppe the mayor is in despair, but can't fight against the will of local landowner whose Mafiosi tendencies keeps the town under his strict control.
Fortunately, Zelda is made of sterner stuff and rallies the troops to find ways to make money and get the townspeople on side.
Sparks begin to fly
Triumphs and disasters follow, as Zelda bravely battles on. But there's one fight she can't win, and that's her struggle to muster up any romantic feelings for Lennie. Especially after she meets handsome restaurateur Luca. The sparks she's been waiting for all her life begin to fly …
But how can she let down Lennie and the townsfolk of Citta d'Oro, who believe a wedding in their village will appease the fires of Etna!
A joyful romp of a story
This is a joyful romp of a story. It's funny and romantic, and Zelda is just the kind of heroine we can all empathise with. Often bowed, but never broken she's willing to take risks, and is loving, open and honest … except sometimes with her own heart.
The characters around her complement her perfectly. There's loyal Giuseppe and handsome Luca, ex-famers Billy and Sherise, lonely Barry, secretive Ralph and struggling writer Tabitha. And then of course there's Lennie, ever loyal, ever the gentleman, but never the love of Zelda's life.
As you follow their adventures, you'll feel the heat of the Italian sun, smell the lemons growing on the trees and taste the limoncello.
My Lemon Grove Summer by Jo Thomas is published by Headline Review in paperback, RRP £7.99
For the chance to win a free copy, and to read an exclusive story by Jo Thomas, pick up a copy of this week's My Weekly, issue dated July 13
 More Summer Escape Reading