Summer Salad With Feta & Pickled Cherries
---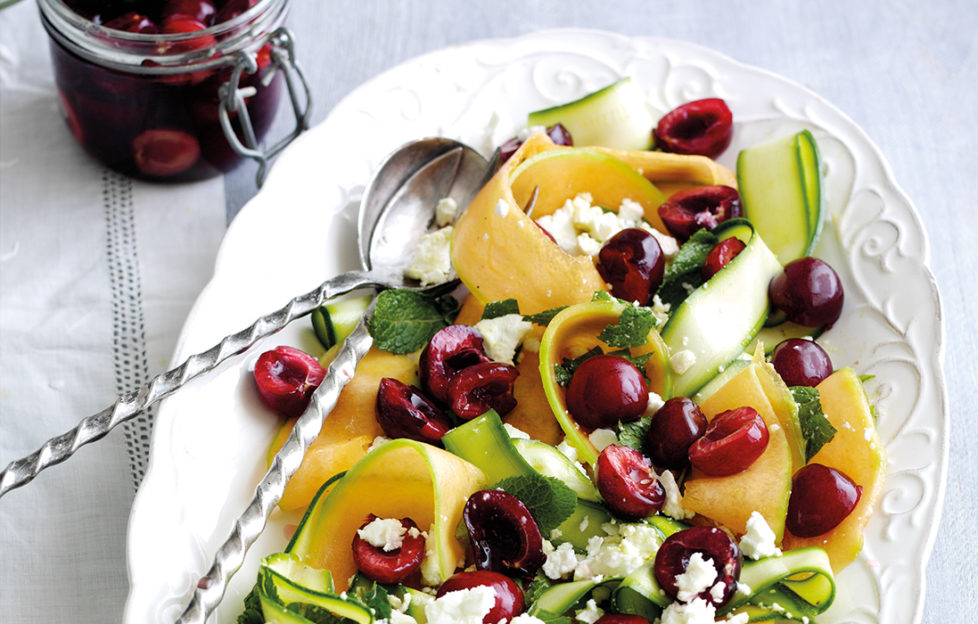 Sweet, salty and sour combinations really liven up a plate of food. Cherries are perfect for pickling. They have a sweet note that pairs perfectly with a simple red wine pickle. Throw them together with some melon, courgette and some salty feta for a surprisingly refreshing summer salad.
Serves 2 for lunch, 4 as a starter
Preparation time: 10min
Cooking time: 10min + 30min cooling
Place the red wine vinegar, salt, water and sugar in a small saucepan and bring to a boil. Boil for 2min, stirring to make sure all the salt and sugar has dissolved.
Take off the heat, pour into a bowl or container and leave to cool for 5min. Add the cherries and leave to cool to room temperature. (if making ahead of time, place in the fridge to chill).
Use a speed peeler or mandolin to make courgette ribbons the length of the courgette. Thinly slice with a knife or use a mandolin to thinly slice the melon into long strips.
Toss the melon in a bowl with the olive oil and a pinch of salt.  Spread on a large platter. Sprinkle on the mint, crumble on the feta and scatter over the pickled cherries. Drizzle a couple of tbsp of the pickling liquid over the top.
Some handy tips…
Feta can be replaced with a creamy burrata or mozzarella.
Pickled cherries make a great accompaniment to a cheese board.
If kept in the fridge for a few days, the cherries' flavour will intensify.