A Tale of Two Brides
---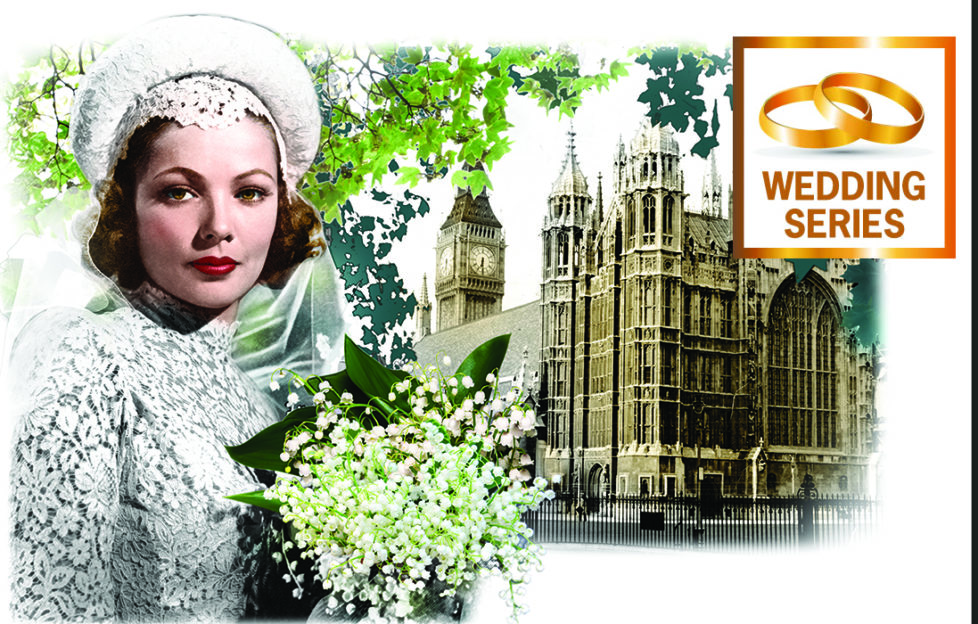 Illustration: Getty Images, Mandy Dixon
What could a cockney bride and the future Queen of England possibly have in common?
A pale winter sun had scarcely struggled over the rooftops of Shipton Street, but already a palpable sense of excitement was gathering.
Beattie Shepherd lit the flame under the copper, hugged her housecoat about her well-padded frame and poked her nose out of the front door of her terrace.
A smile creased her face. Not yet seven am and old Mrs Doolaney at number twenty-two had bleached her nets and was attacking her step with a hearthstone.
Violet Gladstone was merrily stringing bunting from window ledge to gas lamp, and Alfie Beaumont at number forty-eight whistled as he and his three sons rolled a piano out onto the cobbles.
Their joy was infectious and all along the narrow East End street, not a hand was idle. For today, the twentieth of November, 1947, was the day of the biggest party Shipton Street had seen since the jubilation of VE Day swept the nation not two and a half years previous.
A flare of joy ran through Beattie's heart as she gazed up the sooty cobbles. It was finally happening. Just as she wanted.
Today, Princess Elizabeth was to wed her sweetheart, Prince Philip, the Duke of Edinburgh at Westminster Abbey.
Five miles from the Abbey, in the less salubrious East End of London, another princess was to pledge her troth. Beattie's youngest daughter Doris, Bethnal Green's answer to royalty, was also to marry her prince. Well, not quite a prince – but Charlie Hops, a French polisher from Hackney, was as good as in Doris's eyes.
Elizabeth Windsor and Doris Shepherd were both twenty-one. Both had trained under the Women's Auxiliary Territorial Service during the war and both had to use their coupons to marry in rationed wedding finery. But perhaps, Beattie reasoned, there the similarities between her Doris and the heir presumptive ended.
All ready for the big day?
"Morning, Beat, how's your Doris? All ready for the big day?" Violet called as she hung precariously out of her window to string up the last piece of bunting.
"Hello, Vi love," Beattie called back. "Just about to take her up a cup of tea and start to get ready."
"It's gonna be a smashing day." Violet grinned, her blue eyes sparkling. Everyone in the East End adored a wedding, and the fact that it coincided with a royal one was cause for double celebration.
They'd planned it to a tee. Everyone in the street would be glued to their wireless sets for the eleven am BBC Radio broadcast of the royal wedding. Then, at one, there'd just be time to touch up lippie before the whole street hotfooted it over to St John's for Doris's ceremony.
After that, it was all back to Beattie's for a right royal knees-up that would go on into the night – or until the beer ran out.
"Hello Mum, what you doing out on the step?" Beattie whipped round to see her two elder daughters Dolly and Doreen – Beattie was fond of names beginning with D – teetering up the cobbles.
"There you are, girls," she flapped. "I've a million things still to do, I don't know if I'm on my head or my heels."
"Come on, Mum." Dolly chuckled. "We'll take Doris up a tea tray and you can get cracking."
As they busied themselves in the scullery, Beattie's gaze was drawn to a photograph of her and the girls' dad on the mantel. Her eyes misted over as she picked up the faded sepia snap.
"Hello, sweetheart," she murmured, rubbing an imaginary speck of dust with the hem of her housecoat. "I promised myself I'd not get maudlin, but I don't half wish you was here today, Ted Shepherd."
Planting a soft kiss on the glass, she blinked back angry tears. Why had he gone and left them like that?
---
"Mum. Mum. Where's Doris?"
Dolly's shrill voice tore through her thoughts.
Beattie was up the stairs at lightning speed and felt her heart lurch as she took in the well-made bed, the gown with its sweeping fishtail train neatly hooked up on the back of the wardrobe door. The hand-embroidered ten-yard veil cascaded over the looking glass of Doris's small vanity table. Everything one might need for a wedding was there. Everything, that was, except the bride!
Beattie's hand flew to her mouth
"Don't fret, Mum," Doreen soothed, eyeing Dolly nervously. "There's hours to go yet. She probably popped out for some fresh air, I shouldn't wonder."
But as nine o'clock crawled to ten, there was no sign of Doris. By quarter to eleven, instead of gathering round their wireless sets, the front parlours of Shipton Street were left cold and abandoned as the entire neighbourhood set out to search for the runaway bride.
Alfie Beaumont and his sons took to Victoria Park, Violet Gladstone combed the surrounding streets and old Mrs Doolaney made discreet enquiries at Bethnal Green police station.
Dolly stayed at home with Beattie, while in desperation Doreen took a tram to Westminster Abbey in the hope of finding Doris among the milling crowds.
"I don't understand it," Beattie wept back in Shipton Street, wringing a handkerchief feverishly through her trembling fingers. "She seemed so excited when she went to bed last night."
"Mum –" Dolly ventured as the church clock chimed eleven times over the jumbled chimneystacks of Bethnal Green. "Oughtn't we to get word to Charlie?"
"No!" Beattie snapped, switching on the wireless. "She'll turn up."
They listened in silence to the BBC commentator, his crackling voice barely audible over the cheering crowds.
"The crowds are at the peak of expectation as his Majesty the King and her Royal Highness, the bride, ride through the streets in an Irish state coach, accompanied by a sovereign escort of household cavalry…
"Every yard of the route sees the same tremendous ovation as the beautiful dappled grey horses pass by, taking our princess one step closer to the Abbey."
"Least they got a bride to deliver," Dolly muttered under her breath, but Beattie wasn't listening.
"That's it!" she cried, leaping up.
Half of Bethnal Green were out looking for the bride-to-be. The eyes and ears of the rest of the nation were waiting for history to be made as their future Queen married the man of her choosing. No-one noticed a slight, pretty girl slip in to a Shoreditch stable.
Beattie found her in the musty gloom, arms round the neck of a dappled grey mare, tears seeping into her mane.
"Doris, love," Beattie whispered.
Her youngest daughter looked up, startled, her eyes red from weeping…
"I'm sorry, Mum," she sobbed, "but I can't do it. Not without my dad."
Beattie walked slowly to her daughter's side, letting her fingers trail down the horse's velvet soft muzzle.
"Do you remember when he used to bring Rosie home for dinner, Mum?" Doris asked in a tiny voice.
Oh, not much." Beattie smiled. "Used to drive me flamin' potty."
Rosie looked up, her huge brown eyes fathomless.
"D'you think she misses Dad too?"
"Course she does, don'cha girl?" Beattie scratched behind the animal's ears as Ted used to. "They were together on his rounds every day for twenty-odd years."
"I used to think Dad was the strongest man in the East End."
"So did I love, so did I," Beattie said softly, thinking of the number of times she'd seen him carry a two hundredweight sack of coal on his back like it was nothing. Except, one night six months ago, he'd gone to sleep and never woken up.
His heart, the doctor reckoned. Ted Shepherd's death at the age of fifty-six had torn the heart out of his family.
"It ain't fair, Mum," Doris cried, bewilderment etched in her hazel eyes. "It ain't bloody fair. It should be him walking me down the aisle today. Cracking terrible jokes, getting nervous about his speech."
"Oh love, no-one said life was fair," Beattie whispered, pushing a curl behind her daughter's ear. "But I do know your father wanted this day more than anything. He took out an insurance policy soon as you was born to pay for it.
"Doris, do you love your Charlie?"
"Y-yes."
"Then you must marry him." Beattie hesitated. "I'm gonna tell you something and you're forbidden from telling your sisters.
He wanted you to have the day we never had.
"The reason your father wanted you all safely married, why he paid every last penny he earned into wedding clubs, was simple. It was because he could never make me his bride… He wanted you to have the day we never had."
Doris's eyes opened wide.
"Y-ou and Dad ain't married?"
Beattie shook her head. Rosie's soft nose nuzzled the palm of her hand.
"But you've got the same surname!"
"I changed my name by deed poll, so it was the same as his. So you girls wouldn't have to bear the shame."
"So we're illegitimate?" Doris gasped.
"We never saw you that way." Beattie shrugged. "In every way but the eyes of the law, we were husband and wife. Your father was married, you see, before I met him. He and his wife had long split up by the time I came along, but she refused to divorce him, out of spite I think."
Beattie sighed. "So you see now? All your father ever wanted was to see his three precious girls married and respectable. So you didn't have to live in sin, like me."
Both women stood in silence with their thoughts
Suddenly a roar of excitement and applause rang out from the nearby pub, startling Rosie and sending a flock of pigeons soaring off the stable roof.
"I think that means our future Queen has said 'I do'," Beattie chuckled, soothing the old grey mare, before turning to her youngest daughter.
"What about you, sweetheart? Is it your turn now?"
---
Just after one o'clock, a second solemn vow was made. This time, not in front of two thousand guests in a flower festooned Abbey, but in a humble East End church. As the wedding march pealed out gaily through St John's, the guests breathed a sigh of relief.
Mother and daughter never again spoke of Doris's vanishing act, nor their conversation in the stable, but in an odd way, Beattie felt unburdened from that day forth.
Back in Shipton Street, as a third piano was rolled out onto the cobbles and a community celebrated the wedding of one of its own with music and song, Beattie stole a private moment with her daughter.
"For you." She pressed a parcel into Doris's hand. "There's salt, so you may always have food. A piece of coal, so you'll always be warm, and soap, so you can always be clean."
"Thanks Mum – for everything."
"Don't thank me, love. It's from your father. He had it ready from the moment you announced your engagement. You've made him a very proud man."
---
Beattie was jigging her newest grandson on her knee one grey February morning five years later when the shocking news broke that King George VI had died. He was just fifty-six.
Doris rushed through from the yard where she'd been scrubbing baby napkins in the dolly tub to listen in silence with Beattie. In that moment, her thoughts didn't chime with the rest of the country, wondering what it must be like to take on such a burden. Wondering how on earth a twenty-five-year-old mother would adapt to her new role as the Queen of the United Kingdom and head of the commonwealth.
No – Doris felt nothing but profound empathy for a girl who would surely, when all was said and done, just be missing her dad. Perhaps she and the new Queen were not so unalike after all.
More wedding stories