A Family Holiday
---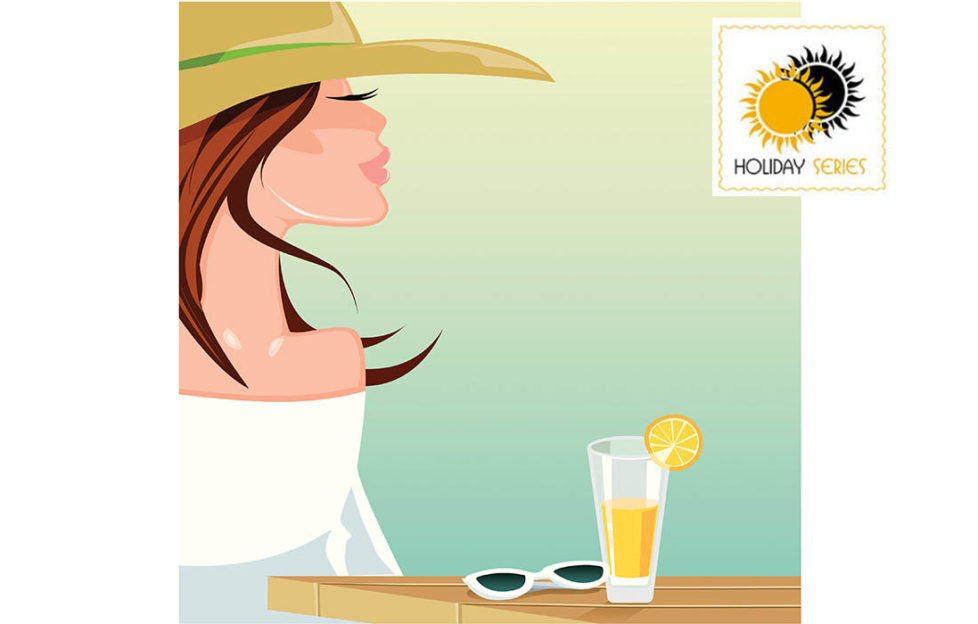 Pic: iStockphoto
Val sat on the banquette in the hotel bar. She watched as other people got drinks and settled in pairs or groups of four. Most tapped on their phones.
It seemed crazy – ignoring each other for the sake of messages to other people.
She wished for a hundred moments back. Moments when she'd stuck her nose in a book and ignored the husband sitting next to her.
He was gone now, and she was a single woman on a family holiday.
Her daughter had insisted that she go away with her brood, but it wasn't the same.
Not the same as having Bob to warn about his sunburn, to have someone to share a pizza with. To hold hands with as they strolled along the lakefront.
And the grandchildren had so much energy. She sipped her freshly squeezed orange juice. At least she'd found one spot in the hotel the girls hadn't.
There was nothing here to entertain them, anyway. It had become the one place where Val could take an hour to be herself, not someone's nanny.
Sometimes it felt as if her daughter was having more of a holiday than anyone. Not that she minded, it was nice to see her relax.
Though if she were honest, she was lonely. Lonely, even while surrounded by her family.
They'd arrived last week. While Val had led little Charlotte towards reception to check in, Ella had made straight for Val, clutching a storybook.
Her daughter had hastily scooped up her youngest.
"Come on, Ella, Nanny will read to you both later. Perhaps she'll tell you one of her own stories as well. Let's call the lift. We can all get unpacked and down to the pool."
Within the hour, Val was stretched out on the sun lounger as Liz handed her a drink.
"There you are, Mum. Cheers!"
She tasted the white wine spritzer, ice-cold and sparkling on her tongue.
"Mmm, that's good, thank you, darling. The children seem to be having fun."
"Yes – they love it when Andy swims with them."
Val closed her eyes, wondering if she'd get a moment to read her book.
Memories of Bob and Andy swimming in another pool slipped into her thoughts. They'd pretended to be sea-monsters to entertain the girls.
Other holidaymakers had let their own children join in and they'd kept everyone laughing for hours.
She hadn't realised how much he'd done for the children. It was so much harder nowadays, playing for Grandad as well as Nanny.
"Nan!" Ella yelled from the children's pool. "Please, you haven't told us our story yet. You said you would."
"Come and get dry and I'll tell it then," Val promised, dismissing all hopes of books or naps.
With both girls perched on the end of her sun lounger she began.
"Once upon a time, there was a young woman who worked as an usherette in a cinema."
Liz glanced up from her magazine, and her eyes shone.
"And there was a very, very handsome man who came to watch the same film every day for a week."
"…And he always sat in the same seat, on the same aisle." Ella continued.
"Yes, always in the same place. And every day he smiled at the usherette, but he didn't speak to her."
Charlotte joined in.
"And it took a whole week until he was brave enough to talk to her."
"Yes, that's right, princess. And then he asked her to go out with him."
"What happened then, Mum?" Liz prompted, eager for her daughters' reactions.
"Well, after a few happy years, the usherette and the man got married and were husband and wife for a long, long time. Until one day, they became a nanny and a grandad."
"Until he went away to live in heaven," Ella finished.
"Yes, that's right, honey," Val replied.
She swallowed hard. And they should have lived happily ever after until they died on the same day asleep in their bed.
But life's not that kind. Real life leaves someone behind and it hurts. Really hurts.
Val smiled as the waiter brought her a second freshly squeezed juice. He knew her routine now. She wondered if the girls would stick to the habit of afternoon sleeps. When in Rome…
Although they weren't in Rome. They'd chosen Lake Garda in an effort to suit them all. Beautiful scenery and good local wines for the adults; a hotel close to the water park and a zoo for the children.
---
It was day three before Val started claiming the latter part of the afternoons for herself. Andy had teamed up with another dad and they were teaching their collective children how to swim underwater like dolphins.
Giggles of delight echoed across the patio when they came up for air. It was fine to leave them. She would slip off the sun lounger and into her robe.
"Just going inside for a few hours," she would explain. "I've had enough sun."
However it was too hot in her room. The air conditioning was useless and the traffic kept her awake.
She showered and went downstairs with her book.
Today there were several other holidaymakers in the bar waiting for a coach to collect them for their return flight.
People muttered about a delay. Rumours about the reason for delay took hold.
Val tried to read until she heard a man's voice beside her.
"Excuse me, may I share your table?"
She glanced up. He wore leather sandals and cream trousers. Her eyes travelled upwards until they reached his warm smile.
"Of course," she replied. "It's busy at the moment."
"Yes. They'll all be gone soon – normality will resume," he said, adding sugar to his coffee.
"Normality? Are you sure?"
"You've got a point. Travel is always a great people-watching opportunity, don't you find?"
"I do. Do you travel much?"
She groaned inwardly. Why not ask him if he's been to this hotel often and be done with the corny conversation?
"Not so much these days. I'm actually on a cycling holiday for the first time in years. I've injured a tendon, though, so my friends have left me here to rest."
He rubbed his knee, as if reminded about the pain.
"They've gone on one last ride before taking the bikes back to the hire shop. It's our last day. We leave in the early hours, so at least I've not cramped their style till now."
"I've seen a lot of cycling enthusiasts around the lake."
"Oh, the others in my group are the enthusiasts, not me. My brother is here on his stag holiday. He's a bit of a geek – He'd rather clock up miles than have a pub crawl.
"That's fine with me, though. I'm over the partying stage. Are you staying for long?"
"Another four nights."
"And are you here with friends?"
"My daughter and her family. I've escaped from the grandchildren for a few hours," she confessed. "I lost my husband a while ago and they seem to be clinging onto me – literally!"
He met her eyes with sympathy.
"They can be exhausting. Mine live with my ex-wife at the moment. My daughter is hooked up in a difficult house move. She's very grateful when I take them out for the day."
"That's sweet of you."
"I like spending time with them. Listen, if you're escaping, let's make a proper job of it. Could you join me for dinner? I'm Greg, by the way."
Val thought for a moment. The family wouldn't mind, she reasoned; they had found new friends.
"Yes – if you're you not going to meet your group?"
"Not likely. They'll be boasting about their speeds, the miles they've covered. I've heard it all before.
"It's nearly six-thirty – we could go for a limp around town and then eat. My knee could do with a stretch."
"OK, that sounds good. I'll just text my daughter and let her know."
---
As they finished their drinks, Liz and the girls arrived in the bar.
"Nana, are you on a date?" Ella called out excitedly, her voice echoing loudly round the bar.
Val felt her cheeks flush pink as people turned to look at her.
"Yes, she is," Greg replied. "And dates are for two people, unless of course, the others are all below five years old. How old are you, ladies?"
The girls smiled as they told him their ages while Liz shot quizzical looks at her.
Val replied to all three of them.
"Did you see my text? Greg is taking me to the restaurant along the road for dinner. I'll bring you back some bread so you can feed the ducks again."
Andy arrived, and Val introduced him. While the men chatted about cycle routes, Val stood and allowed Liz to pull her to one side.
"Are you sure about this?" her daughter whispered. "I'm guessing you've only just met him."
"I am, and I have. What time do you want me to be home?"
"Less of the backchat, Mum, or you'll be grounded." Liz hugged her and called to the children. "Come on, girls, kiss Nana goodnight."
"Are you sure I'm not monopolising you?" Greg asked, as they left the hotel. "Would you prefer we eat with them?"
"No – to tell you the truth, it'll be nice to have some exclusively adult conversation."
"No pressure for me there, then," Greg returned jokingly.
---
Val stifled a yawn at breakfast. They had stayed at the restaurant until it closed, then returned to the bar for a nightcap. That had lasted until Greg had to collect his bags and meet his brother for their flight home.
He'd kissed her.
Then she had watched from her balcony as they'd driven off to the airport. She'd watched the minibus disappear and wondered how half a day could make such a difference.
Liz looked across the table, eyes full of questions. Val was used to answering things the girls challenged her with. Why was the moon white and the sun yellow? Why was it rude to stare?
Like her children, Liz wasted no words.
"So, Mum. Are you going to see him again? Where does he live? What did you talk about?"
Subtleties were not her daughter's strong point, Val decided wryly, sipping her orange juice.
"I'll tell you all about it later, but suffice to say, we had a lovely time."
Andy got up from the table, tapping the girls' shoulders.
"Right, you two, let's go and quickly get our swimsuits on so that Mummy and Nana can finish their breakfast in peace while we go and do some dolphin practice."
Liz softened her voice.
"I hope I didn't sound tetchy last night, Mum. I just wanted to be sure you'd be safe."
"That's fine, love. I'd have been exactly the same in your shoes."
Liz poured more tea for them both. Her expression softened.
"Until one day," she began, "the woman realised that being a nanny was not quite enough."
Val looked up from her cereal.
"The thing was that inside the nanny, there was still a young girl whose heart needed to beat fast every now and then. It wasn't surprising, Nanny had known what it was like to be in love. She didn't want to be on her own forever."
"Sweetheart, I just went for dinner with a man while his friends had left him alone and gone cycling."
Val heard herself playing down the evening, knowing it had been much more.
"And I believe the grandad might look down from heaven and see his usherette really does need someone. Someone to go to all the boring places without bouncy castles. To go on the long walks she likes. The places with no swings or slides or even ice creams. Am I right?"
Val nodded.
"He does like you, I could see that myself. Will you be seeing him again when we get back home?"
"Yes," Val replied. "He's often in our area for his work."
She reached over and squeezed her daughter's hand, realising there'd be a new tale for the girls.
It might be about the man who hurt his knee and took her to dinner one night, or it might be about someone else. But the time was right to move forwards into her future, into the next chapter.
She'd lingered long enough, part way through her story.
Enjoy a new holiday-themed short story from our archives every Monday and Thursday during August