Chef Adrian's Lamb Shank Rogan Josh
---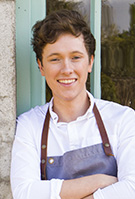 TV and online chef Adrian Martin says, "The inspiration for this recipe came from a time when my lecturer Gabriel McSharry made his incredible rogan josh in college. I loved the spices and felt they gave the ordinary lamb shank a complete lift. Here is my take on his recipe. Cheers, Gabriel."
Like this? Try more of Adrian's recipes!
Preparation time: 10min
Cooking time: 20min + 3hrs roasting
Serves 4
1 Preheat the oven to 180ºC/350ºF/gas mark 4.
2 Heat the oil in a frying pan over a high heat and sweat the cinnamon, cardamom, fennel and cumin seeds and bay leaves in it. Then add the onions, ginger and garlic and fry, stirring constantly, until they turn golden, using a pinch of salt to help them sweat.
3 Add the ground cumin, coriander and chilli and continue to stir, adding 2tbsp cold water to prevent the spices from burning.
4 Add the tomato purée and the chopped tomatoes with the sugar to balance the acidity.
5 Gradually add the yogurt and stir in to the mixture. Keep stirring until all the yogurt has incorporated into the sauce, making sure the oil has not separated.
And now for the lamb…
6 Sear the lamb in some oil in a frying pan on a high heat, ensuring that it is sealed and browned all over.
7 Place the meat in an oven roasting tray, then pour over the sauce, cover with foil and roast in the oven for 3 hours, until the meat is tender.
8 Remove from the oven and mix the garam masala into the sauce with a spoon. Adjust the seasoning with sea salt. Spoon the lamb shanks into bowls and ladle over that amazing sauce. Finally sprinkle with the chopped coriander and enjoy with a side of your choice. I love serving this with some mashed potato or sticky rice.