The Truth About Ibiza
---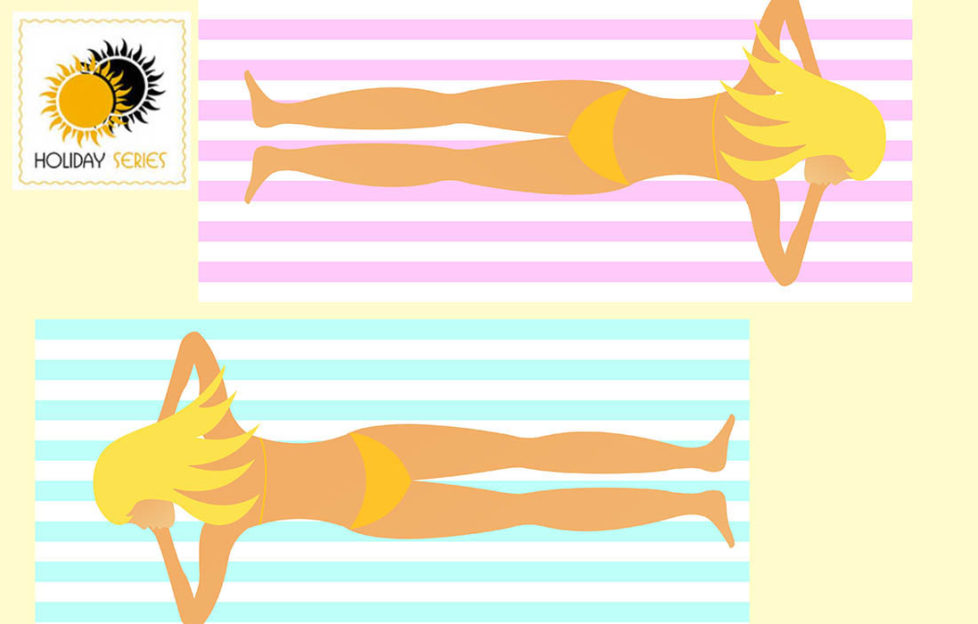 Pic: Shutterstock
Darling, I always promised you that on our twentieth anniversary, I'd tell you the truth about Ibiza, so here it is. Brace yourself.
It was 1992, the summer of raves and all-night parties in obscure locations. Do you remember?
News programmes showed people dancing in a trance blowing whistles until dawn in hot, sweaty warehouses. That yellow smiley face logo was everywhere, and any parent with a teenager was frantic about what the kids were up to.
One girl in our sixth form turned up on a Monday morning with a tattoo she couldn't remember getting.
Stephanie, her name was. We bumped into her in that baby shop, she was the one who teased me about Ibiza and implied there was a whole story you didn't know about.
You probably already guessed that Rach and I weren't part of the dance scene. Our only brush with anything illegal had been buying half-pints of cider when we were seventeen.
But we knew about Ibiza – who didn't? So where else would we choose to go for our first parent-free holiday?
We'd finished our A-levels on the Wednesday and the very next morning, dizzy with the freedom of being eighteen and a half and out of school, we headed to the travel agent's.
We couldn't afford an 18-to-30 holiday (just as well, we feared they'd be a little raucous) but we could get a cheap deal where your accommodation is allocated on arrival.
She showed us examples in a brochure (this being pre-internet) and we gazed longingly at the hotels we could expect.
We handed over our money and practically ran out of there.
"Wait!" cried Rach, holding me by the shoulders and looking serious. "What happens in Ibiza stays in Ibiza, all right?"
And we squealed with a ridiculous glee.
On that last day of term, we swanned about the sixth form block, casually mentioning our trip.
Everyone knew we were hard-working and rarely spontaneous, so there was a mixture of disbelief, admiration and envy that was especially gratifying.
---
My mum drove us to Birmingham airport, Rach and I in the back like pop stars, listening to George Michael's Too Funky on the radio.
Looking back as an adult, I can only imagine what my mum must have been thinking but she bore it well.
We said our goodbyes ("tickets, money, passport" repeated every five minutes) and checked in, where the red-lipsticked check-in agent smiled.
"Oooh, party central! You be careful!"
Which of course, just made us even more giddy.
The third person in our three-seat airplane row was a man in his thirties, married, but much amused by our obvious excitement.
"Eighteen, hey, ladies? I remember it well. Time of my life. You just watch those lads and keep an eye on your drinks, check nothing gets slipped into them, OK?
"And when you get to your hotel, check where your nearest farmacia is in case you need any supplies."
We giggled, not fully understanding the whole joke. It was sensible advice, I thought, if either of us were to fall ill.
We made it through Spanish customs – aware of the rather greasy gazes of several officials – located our cases and tottered to the Sunbreak Holidays sign.
"Hello there, ladies, I'm Carol," announced a broad Essex accent through fuchsia lipstick. I don't think I had ever seen anyone with skin quite that orange. "I'll make sure everyone's on the coach and then we'll confirm your hotel. Welcome to Ibiza!"
The coach wound its way through hot, dusty zones, dodgy-looking districts and plush upmarket areas, occasionally dropping people off.
One elderly couple had been allocated a studio in the party district of San Antonio.
They looked as distraught as we were at this irregularity.
"I'm sorry, there's nothing I can do about it," chanted Carol in a not-at-all-sorry, sing-song voice that had clearly been used every week since her arrival.
We pressed our noses up against the window, watching clubbers dance by the coach, some waving glow sticks, others tipping water over themselves.
"Not to worry," said Rach, "it's better to be a few minutes away from the main clubs and crowds, isn't it?"
In fact, we were nearly 45 minutes away when our names were finally called. The hotel was pleasant enough, not far from the sea, in a quiet little village with a couple of restaurants and a local bar. It was… nice.
We tried so hard to tell each other how great that apartment was, convincing ourselves and each other that it was the best place for our holiday.
"Look at the balcony!" I said to Rach. "If you stand here, you can see the sea!"
"And check out the hot plates in the kitchen!" she enthused in return.
To be fair, it was great to be able to nip to the little square to buy breakfast and supplies, the sea was two minutes away, and I noticed that there was even a pharmacy. We'll come back to that later.
"OK everyone, are we all here?" sang Carol at extreme volume to open her welcome gathering. "Anyone feeling a little worse for wear after their first night? Too much Sangria, is it? Ha ha ha!"
We took advantage of the welcome drinks, but what we were totally focused on was the excursions, particularly the coach trip entitled "Ibiza Club Extravaganza".
As soon as we could prise Carol away from simpering to fellow tourists, we pestered her for the details.
"That's right, girls. You pay the fee and a coach will pick you up right here at the hotel and take you to San Antonio on a tour of the top three clubs.
"Your entry fee to the clubs is included but you do need to pay for your own drinks – at least until you pull some nice young man who can pay for you!"
We paid up, more than ready for our Tuesday tour and determined to get a good suntan beforehand so we could look our gorgeous best for the clubs.
After all, this was our chance to be different, to be clubbers instead of being sensible. We had to make the most of it.
---
We spent the next two days on the beach – avoiding the time around midday as we'd promised our parents, but sunning ourselves stupid morning and afternoon, glistening with sun-oil on sand so hot you could barely walk on it.
In the evenings we went to a local restaurant and enjoyed dressing up and dining out, feeling terribly sophisticated.
"This is it," I smiled at Rach as we sipped a cocktail on a beachfront terrace. "This is a million miles from A-levels, from revision and from curfews. How ace is this holiday?"
We spent the rest of the evening describing the type of bloke we hoped to meet on the Club Extravaganza Tour.
The next morning, I made breakfast and got ready to go to the beach when I heard a squeal from the bathroom.
Rach emerged, covered from head to toe in a spectacular red rash.
"Look at the state of me!" she cried. "I look like salami!"
I tried to calm her down and make her feel better but she did look absolutely awful. Even worse, it had started to itch.
We got hold of Carol who got hold of a doctor, who confirmed it to be a severe heat rash and prescribed anti-histamine, talcum powder and various other items.
Thankfully, I knew where the pharmacy was so I trotted off to buy what we needed, which cost about half our spending money.
Rach had to stay indoors in the cool, covered in powder like a dusted almond, and I kept her company from the balcony.
We missed our Club Tour Coach Trip and even had the added bonus of food poisoning two days later, so our remaining days were spent dashing in and out of the bathroom.
We couldn't stomach another cocktail, which was just as well because we'd run out of money so we lived on dry bread and water.
Well, our digestion only recovered in time to catch the coach back to the airport, where Rach bought some duty-free fake tan and topped up to a suitable shade when she got home.
Our street cred certainly went up a few notches when we went to our local pub.
There were countless nudge-nudge comments about our weight loss and worn-out appearance, plenty of innuendo and "dish the dirt" requests, but we kept to our deal: what happens in Ibiza stays in Ibiza.
So, I'm sorry it's not the juicy story that you've probably been imagining all these years, but there it is.
You now know the truth about Ibiza, 1992, in all its unsavoury detail.
Enjoy a new holiday-themed short story from our archives every Monday and Thursday during August