Hoisin Glazed Chicken Protein Bowl
---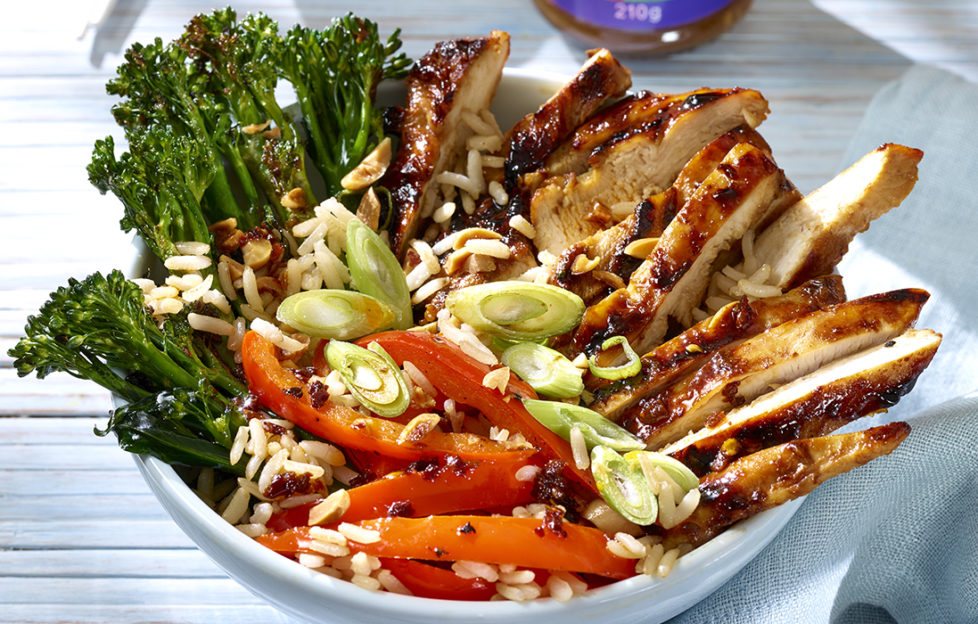 Chicken and nuts in this protein bowl from Lee Kum Kee will keep you feeling fuller for longer. The wholegrain rice is also packed full of nutritional goodness. The crunchy peppers and scorched broccoli add great texture and good amounts of antioxidant vitamins.
Serves: 4
Preparation time: 10min
Cook time: 20min
Marinate the chicken in a large, shallow bowl with the hoisin, soy and 1tbsp sesame oil.
Heat a griddle pan (or a BBQ) on medium-high heat. Drizzle the remaining sesame oil over the red peppers and tenderstem broccoli and cook in the pan for around 7-9min, turning regularly, until softened. Remove from the pan and set aside.
Add the chicken breasts to the griddle pan and fry for around 4-5min per side until charred and cooked through, brushing with the remaining marinade from the bowl towards the end of the cooking time. Remove from the heat.
Divide the rice between 4 bowls and add the red pepper and tenderstem broccoli to each. Slice each chicken breast into strips and add to each protein bowl. Top with the spring onions and roasted peanuts. Drizzle with a little Chiu Chow Chilli Oil. Enjoy immediately.