Capital Crime Writers! Q&A with Fiona Barton
---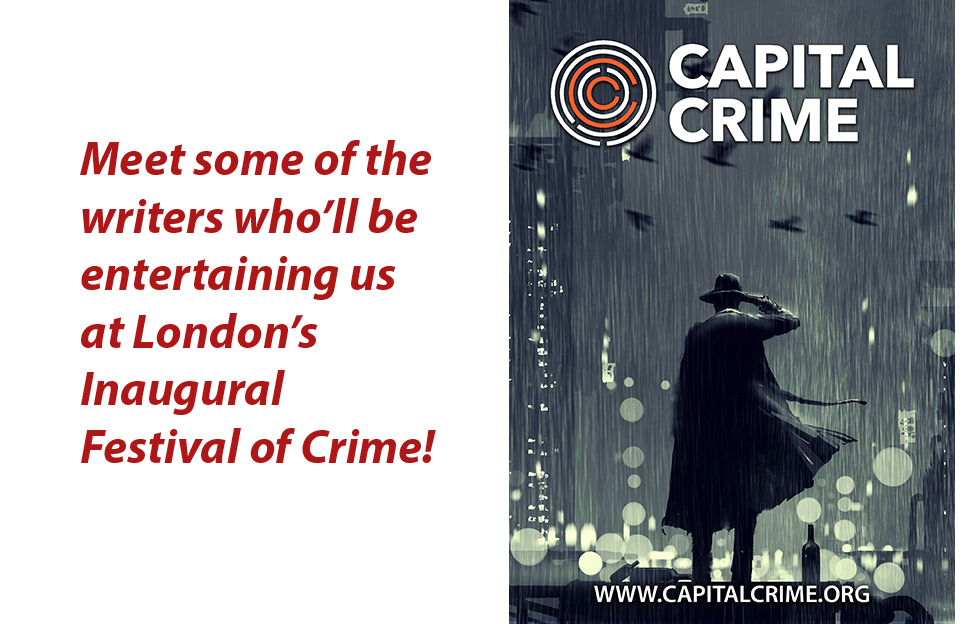 BY KAREN BYROM
There's an exciting event coming to London this weekend! From September 26 – 28, 2019, big name crime and thriller writers will gather together at London's Grand Connaught Rooms for over two days of an amazing programme of events in the city's first ever Capital Crime Festival!
Fans will thrill to the likes of Ann Cleeves, Mark Billingham, Martina Cole and Robert Harris as they discuss their craft, their influences and the past and future of great thriller writing!
For a full list of the writers who'll be there, a programme of events, and ticket information, visit Capital Crime's site.
Meanwhile, enjoy our chat with Fiona Barton, best-selling author of The Child and The Widow, in which investigative journalist gets to grips with historic crimes. Her latest novel, The Suspect, involves Kate in a crime that's just a bit too close to home …
What drew you to crime/thriller noir?
A fascination with hidden lives. I've always been drawn in by the idea that the invisible people we sit beside on the bus or stand behind in a supermarket queue are not who we think they are. As a slightly spooky child, I would invent stories about them and I think it is what probably led me to journalism – the idea of uncovering the truth.
Because I had to know. I still do. But now I create my own webs of deceit as a writer of psychological thrillers.
What writers have influenced you?
Number one will always be Daphne du Maurier. In Rebecca she revealed to me for the first time that we can never really know anyone completely – even – or, perhaps, especially, those we love. I was in the head of the second Mrs de Winter from those iconic first lines, chilled and intrigued by the menacing undertow (and the scariest housekeeper ever created).
The brilliant Kate Atkinson showed me the power and possibilities of a story told by many and gave me the confidence to try for myself.
And the richness of Hilary Mantel's writing makes the marriage of Henry VIII and Anne Boleyn and the adulterous and political secrets that destroy it as accessible and immediate as an episode of Coronation Street. (Of course, no one actually loses their head in Corrie…)
I owe them all a huge debt.
What crime book/thriller noir do you wish you'd written?
Rebecca (see above…)
Who's your favourite fictional detective hero?
I have been through so many phases – Sherlock Holmes, Miss Marple (never sneering Poirot), Marlowe, Rebus, Morse, Jackson Brodie – but Susie Steiner's DI Manon Bradshaw is my current pash. She is tender, outrageously rude, insightful, funny and flawed. The third in the series – Remain Silent – is due out next year.
And your favourite criminal?
I've always had a soft spot for Hannibal Lecter (don't judge me…). And Norman Bates. Oh dear, think I'd better leave it there…
Choose quickly! Agatha Christie or Arthur Conan Doyle?
Agatha Christie. I devoured both of them as a teenager and while Sherlock astounded me with his deductions it is Christie's characters and plots that have stayed with me. And she was less clever dicky than Conan Doyle
If you were a master criminal what would you be?
I would be a hopeless master criminal – too easily distracted, too squeamish, too eager to please. But if I had to choose, please can I be a jewel thief? I think I'm drawn to the outfits, mental challenge and lack of open wounds.
How would you get away with it …?
Let's be honest, I wouldn't but it would be fun having a go.
Do your own plots give you nightmares when you're sleeping?
No but they can frighten me while I'm writing sometimes. When I wrote Glen, the husband in The Widow, I had to stand in his head and look out of his eyes. I lost time completely and came to feeling very shaky.
"Blurb" your latest novel in no more than three sentences.
The Suspect has at its heart every mother's worst nightmare – the disappearance of their child. It is told by three women – the parents of two girls who vanish on a gap year in Thailand and Kate Waters, the journalist sent to cover the unfolding story. But, in this, the third book featuring Kate, she finds herself becoming the story instead of the reporter.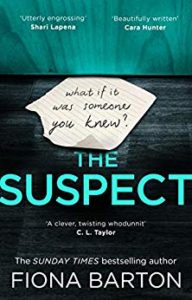 The Suspect by Fiona Barton is published by Corgi in paperback, RRP £7.99 Fiona is appearing at Capital Crime on Saturday September 28 in conversation Elly Griffiths, Ali Land and Louise Candlish. For tickets, click here
Read our review of The Suspect here
More About Capital Crime