Chocolate & Pear Upside-Down Cake
---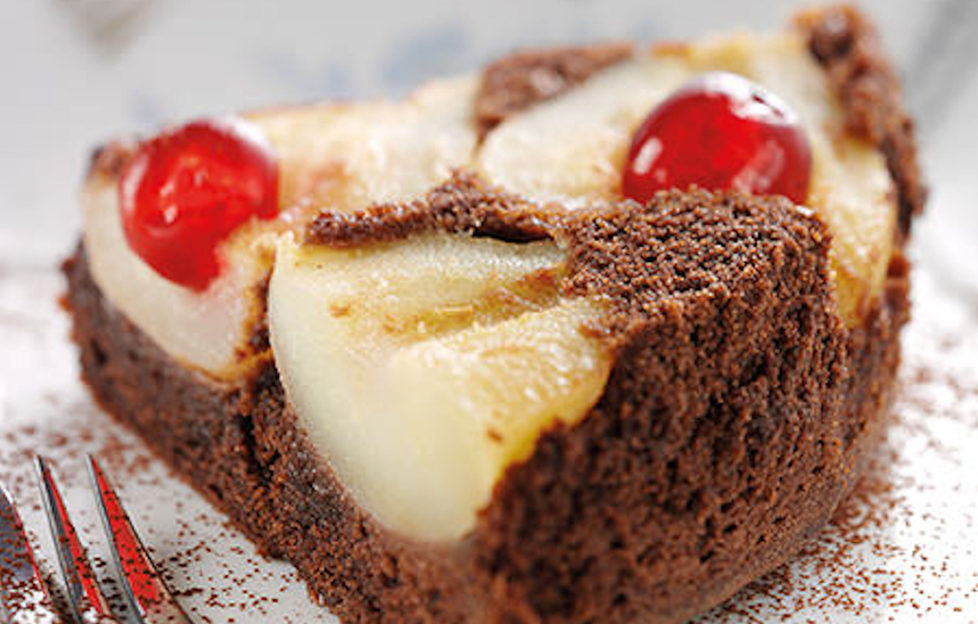 National Chocolate Week runs from October 14-20 – and that means one thing! Here's a delicious fruity upside-down cake to help you get today's mandatory quota of chocolate…
Preparation time: 15min
Cooking time: 35-40min
Serves: 8
Preheat the oven to 180°C, Fan Oven 160°C, Gas Mark 4. Lightly grease a round 23cm shallow cake tin with a little Trex.
Spoon the syrup into the cake tin, spreading it over the base. Place a cherry in the centre and arrange the pear halves, cut side down, in a fan around the central cherry. Place the other glace cherries among the pears.
Sift flour, cocoa powder and salt into a mixing bowl. Add the sugar, Trex, unbeaten eggs and vanilla extract. Use a wooden spoon to beat the mixture together until smooth and creamy – this will only take 1-2min.
Spoon the mixture into the cake tin and spread it out carefully to cover the fruit. Transfer to the oven and bake for 35-40min.
Cool the upside-down cake in the tin for 10min, then run a knife around the edge to loosen the edges. Place a large plate on top of the tin, invert quickly and lift the tin away. Cool completely before serving.