Top Tips For Staying Healthy This Autumn And Winter
---
Pic: iStockphoto
By Nutritionist Shona Wilkinson
1 Coming up to winter, most of us are concerned about our immunity and protecting ourselves from colds and flu – after all, we can experience a cold on average 2-4 times a year!  Luckily we can arm ourselves by making sure we have good amounts of the right nutrients from a healthy diet as well as taking a good quality supplement to ensure our immune system is ready for any onslaughts!
2 We can help ourselves by eating lots of foods rich in vitamin C and bioflavonoids: dark-coloured berries such as blueberries or blackberries, dark leafy greens such as kale and spinach, red fruits and vegetables such as cherries, strawberries and red peppers and orange vegetables such as carrots and sweet potato.  Zinc is another particularly essential nutrient: zinc-rich foods include pumpkin seeds, nuts, oysters, fish and other seafood, lean meats and whole grains.  Include also plenty of warming spices such as ginger, cinnamon and turmeric in the cold months.
3 Limit sugary foods and alcohol which may weaken the immune system response.  Moderate exercise (not over-strenuous or exhausting) can also be supportive. Stress can be another trigger for immune problems. Stress may have a direct suppressive effect on the immune system, can affect our digestion and absorption of nutrients, and may also lead to other habits that can affect immunity, such as a poor diet or lack of exercise. It's easier said than done, but try to reduce your stress levels – perhaps try meditation or yoga.
4 In addition to a healthy diet, many people may benefit from substances that can't be found in our diet.  We know that ingredients such as Olive Leaf extract, elderberry and acerola cherry can really help our immune system.  Recent research has shown the benefits of Reishi mushroom for our immunity and, of course, our friends – the bees, help us with their bee propolis.  All these can help protect us during the winter months from the increase in viruses.
5 If you are the type of person who is commonly in a place with many other people such as schools, offices, on public transport or even in a supermarket, it makes sense to arm ourselves with everything we can to help reduce our chances of catching a virus.  Taking a good quality supplement can be really helpful.  We can't always avoid getting a virus but with the help of these ingredients, we can make sure our symptoms aren't as bad and we recover more quickly.
FOR EVERYDAY IMMUNITY… 
Bee Prepared Daily Defence costs £9.99 for 20 capsules. Available from Holland & Barrett, Boots and various online retailers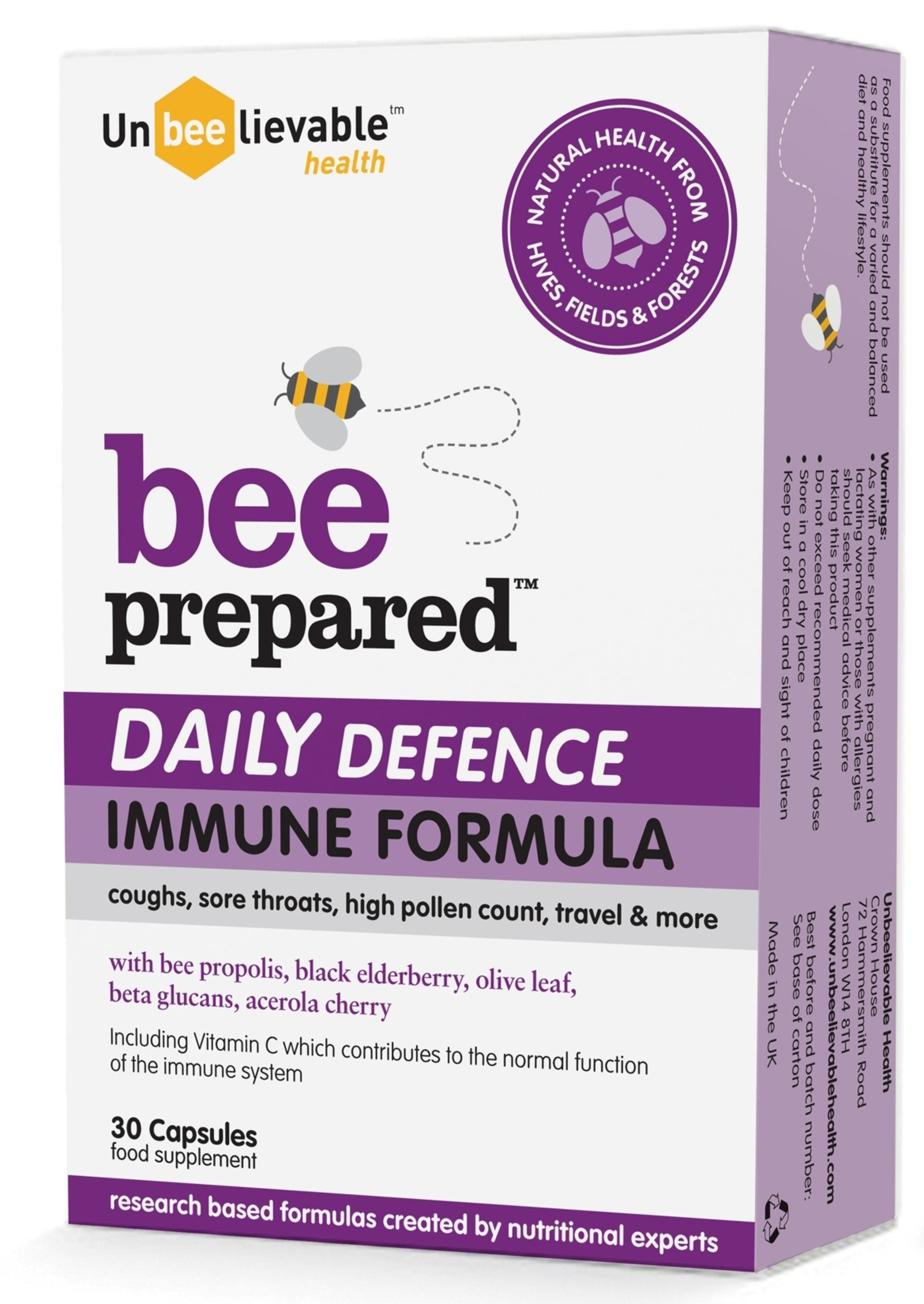 Strengthens the immune system, and allergy response (particularly helpful for winter skin conditions such as eczema) and is also helpful for colds, illness, hay fever & travel.
Combines therapeutic amounts of bee propolis, olive leaf, elderberry, olive leaf, acerola cherry and beta glucans.
The research based formula combines therapeutic quantities of high quality, plant sourced, immune supporting nutrients, all of which have a proven history of benefits.
Bee Prepared is unique in that the nutrients it contains are not usually found in a regular diet or multivitamin, making them the perfect addition to any health regime.
Bee Prepared Daily Defence may be taken daily or as needed- for colds and flu, during allergy season, before and during travel or detoxing, during intense fitness or sports training, when run down or when recovering from a serious illness.
FOR SUPER CHARGED IMMUNITY… 
Bee Prepared MAX Strength Immune Support costs £12.99 for 20 capsules. Available from Holland & Barrett, Boots and various online retailers
A potent, all natural supplement containing high quality nutrients to support the body's natural defences.
Provides all-in-one combinations of highly concentrated ingredients with antioxidant, antiviral, antibacterial and anti-inflammatory properties to aid the body's immune system function.
Has the added benefit of one of nature's most powerful antioxidants, Astaxanthin, and the immune tonic, Reishi Mushroom.
Bee Prepared Max Strength can be taken during the cold and flu season, before and during travel, during hay fever season, and when feeling run down.
FOR ENERGY…
Bee Energised, £9.99 for 20 capsules. Available from Holland & Barrett, Boots and various online retailers
An all-in-one, synergistic formula combining all natural, nutrient dense ingredients which have been shown to help support energy and focus without the jitters and crashes.
Bee Energised ingredients help maintain a steady stream of energy, stamina, concentration levels and mental alertness.
Benefits build with time to help resolve on-going issues of fatigue & lethargy.
Combines highest quality organic bee pollen, organic matcha tea (rich in l-theanine), organic spirulina, Siberian ginseng, organic green tea leaf, androse hips along with Vitamin B6 & Vitamin B12. The capsule contents may be opened into smoothies, juices and raw recipes.
FOR ANXIETY AND RELAXATION…
Bee Calm costs £12.99 for 20 capsules. Available from Holland & Barrett, health stores and various online retailers
This multi therapeutic formula contains 8 active ingredients to help you stay calm, even at the most buzzing of times.
Lemon balm (also known as Melissa) aids with relaxation and decreases tension.
Passion flower supports calmness and helps increase the body's resistance to stress.
Magnesium contributes to normal psychological function and for the normal function of the nervous system by being involved in the production of GABA – the calming hormone.
Royal jelly is a nutrient rich food usually fed to bee lava to make them into a queen Bee and provides many nutrients for the equilibrium of the body.
Rhodiola contributes to optimal mental activity – something we all need at times!
Also includes lion's main mushroom and vitamin B5 to also aid with normal mental performance.
FOR SLEEP…
Bee Rested costs 12.99 for 20 capsules. Available from Holland & Barrett, health stores and online retailers
Bee Rested contains 9 therapeutic ingredients to help you rest and sleep, even when your brain is buzzing.
Lavender helps you to find better sleep while chamomile contributes to relaxation and helps to maintain sleep.
Griffonia seed extract provides 5- HTP, a substance which converts into serotonin and then melatonin – the sleep hormone.
Bee Rested also provides bee propolis extract, royal jelly, humulus lupulus, Montmorency cherry, saffron and magnesium to contribute to the normal function of the nervous system – essential for good quality sleep.