Calming Halloween Pumpkin Chews For Dogs
---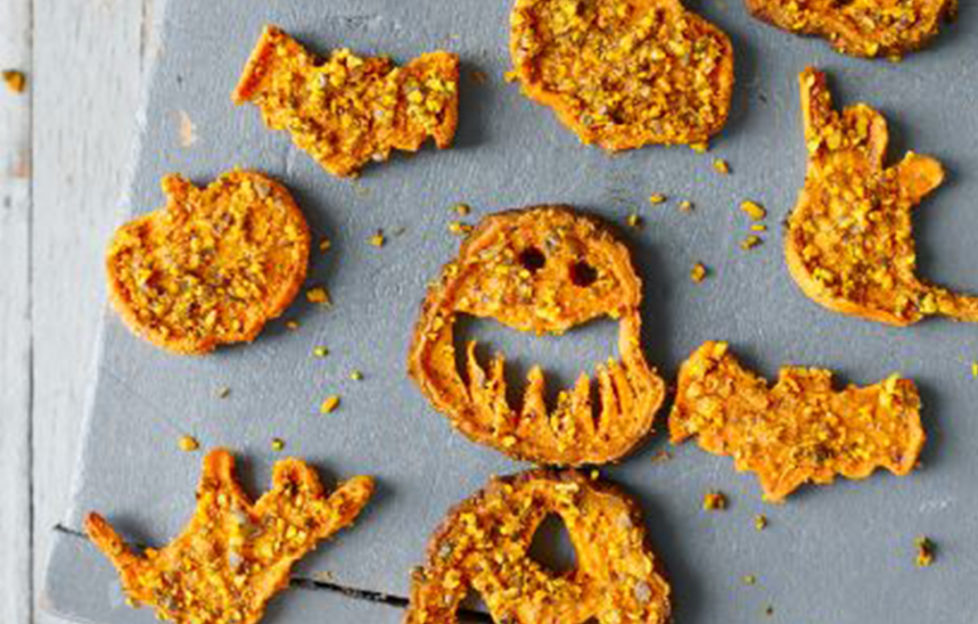 Halloween can be a scary time for nervous pups, with fireworks and loud bangs at night. These chewy treats from The Happy Dog Cookbook by Sean McCormack, featuring Annabel Karmel, not only occupy them, but have calming ingredients too.
Chamomile can be a good herbal aid for anxious dogs. Pumpkin seeds contain L-tryptophan and glutamate, important for the brain to produce the happy hormone serotonin as well as other anti-stress chemicals.
Sean McCormack, the in-house head vet at Tails.com has partnered with Annabel Karmel MBE, author and renowned nutrition expert, to create a beautiful book of 24 seasonal, easy-to-make at home recipes, out on October 16. Available from Amazon and Waterstones, £14.99 hardback. Profits are going to StreetVet, the charity that supports homeless people with medical care for their pets.
Makes: 20-30 chews
Preparation Time: 20min
Cooking Time: 3-4 hours
Preheat the oven to 100C fan/gas ½. Line 2 baking trays with non-stick baking paper.
Scrub your sweet potatoes but leave the skin on. Slice the sweet potatoes into 8mm thick discs. Cut scary Halloween faces into them using Halloween cookie cutters if you have them, or get arty and (carefully) cut your own face designs. Place them onto the prepared baking trays, making sure they aren't touching each other.
Using a food processor or mortar and pestle, grind the pumpkin seeds into a fine powder. In a small bowl, mix the pumpkin seed powder with the turmeric, chamomile tea and coconut oil. Brush this oil over the top of each sweet potato slice.
Bake in the preheated oven for 3-4 hours until nice and chewy; cook them slightly longer for a crispier treat.
For best results, allow them to cool in the oven for a few hours after turning it off. Store the pumpkin chews in an airtight container for up to a week.