The Secret Santa | Trish Harnetiaux
---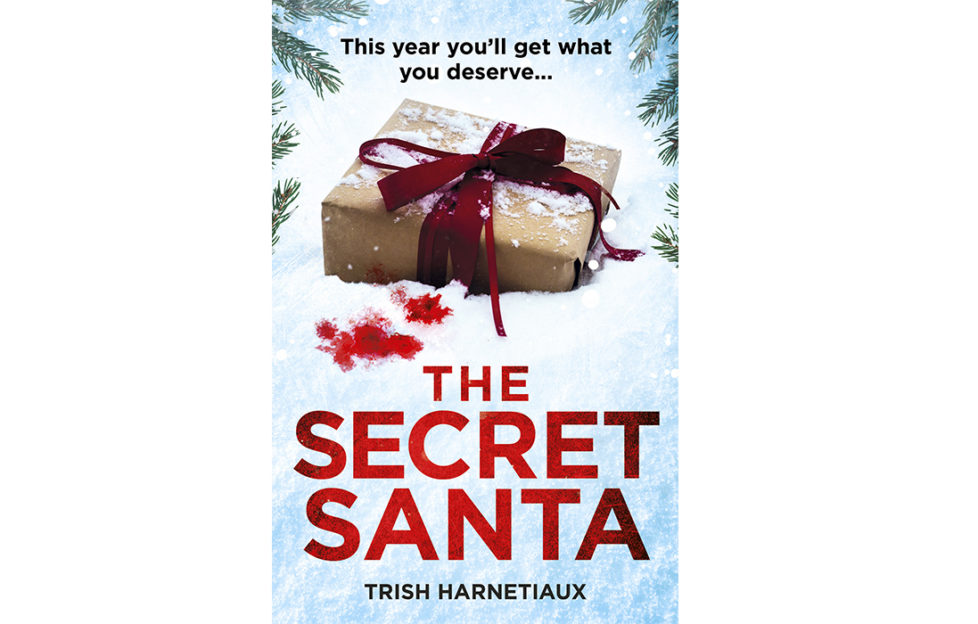 REVIEWED BY BARBARA BEATON
This year, you'll get what you deserve…
A lavish party.
An isolated mansion.
Two hosts who will do anything to protect their secrets.
When husband and wife Henry and Claudine organise their company's Christmas party in a remote mansion, they expect it to be a night to remember.
But the festive mood quickly turns sour when a sinister gift is unwrapped in the Secret Santa gift exchange.
As heavy snow traps the guests inside the mountainside lodge, it quickly becomes clear that one of the party is out for revenge.
It's no longer just about enduring the evening. It's about making sure you get out alive.
Utterly ruthless in her ambition
Calhoun & Calhoun is a successful highbrow estate agency in Aspen, Colorado. It's owned by the ambitious Claudine, who sells the properties and her architect husband Henry, who designs them.
Montague House was the first property they built and sold together. But there is something about its past that means Henry will now not even drive past it.
This year, however, Claudine is desperate to sell it to A-list pop star Zara, thinking this will appeal to their rich client base and rescue their failing business. To do so, she invites Zara to her annual Christmas party – and changes the venue to Montague House…
Claudine is utterly ruthless in her ambition. She even uses the Secret Santa at her annual party as a kind of power game to keep her employees on their toes.
This year, someone's Secret Santa gift hits too close to the mark and sets off a chain reaction. Claudine and Henry's thoughts tumble over themselves trying to work out who might have done this.
One plot element is a true story – I Googled it!
Short chapters written from different characters' points of view makes for a fast read. One (in italics) has an unidentified narrator, but as the story oh-so-gradually unfolds, you start to form ideas of who this might be.
The chapters narrated by Zara are first person, as if telling the story at a later date, so you feel she may be important to the denouement.
Zara is obsessed with the story behind Claudine Longet, married to crooner Andy Williams, who shot her lover, Aspen ski champion Spider Sabich – a true story, I Googled it!
I thought I had been very clever…
I kept wondering how this was going to fit into the mystery of Montague House's past. It seemed too much of a Chekhov's gun not to be significant to the plot.
How, exactly, had the Calhouns managed to get the land they'd built Montague House on? And why was Henry unable to remember anything about the night the previous land owner had been killed? Was Claudine telling Henry the truth, or spinning a lie – and who was she trying to protect?
The Claudine Longet story does resurface – but not in the way I had expected. I thought I had been very clever and guessed whodunit about three-quarters of the way through, but I was wrong!
A page-turner of a murder mystery
Arranged in sections that switch back to the past, this book is a compelling read, teasing you, urging you to read on and uncover the mystery of Montague House.
It's not all that Christmassy other than a snowy setting and the use of a Secret Santa game to get the significant item into the plot. It is, however, a page-turner of a murder mystery – I read it in one day!
An atmospheric, thrilling, good read.
The Secret Santa by Trish Harnetiaux is published by Arrow in paperback, RRP £7.99
More thrilling mysteries