Part 2: A Real Middledip Christmas
---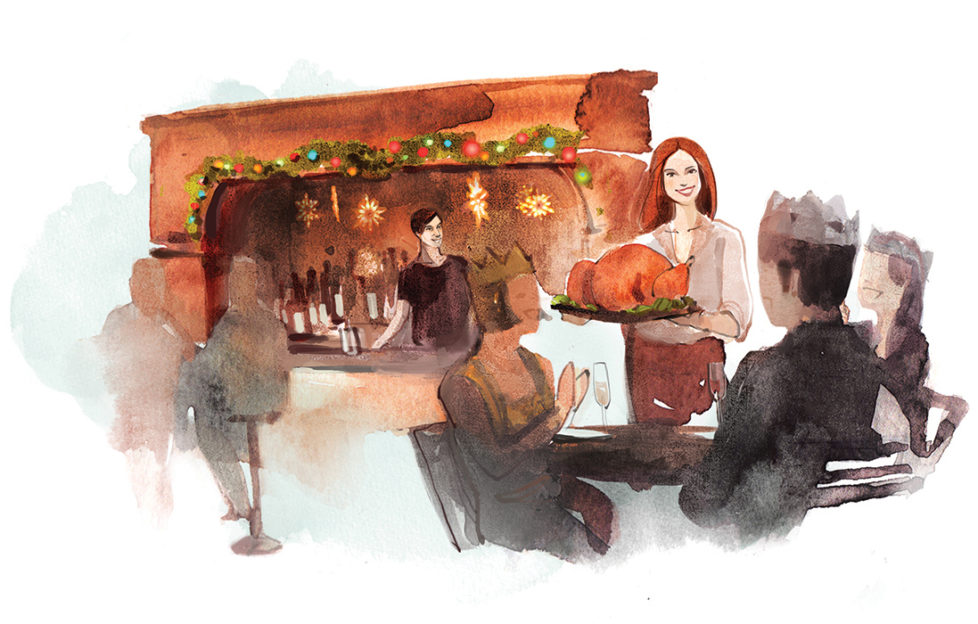 ILLUSTRATIONS BY CELINE WONG, WWW.ARTOFLIHUA.COM
Will Janice overcome her boss's reserve and find out his true feelings at the "singles" lunch?
Christmas Day
Jack Frost had visited Middledip village to spin his delicate web of white over every cottage Janice passed on Christmas morning. Though coloured lights burned in many a window, the streets were so quiet she could hear her footsteps crunching.
When she reached The Three Fishes in Main Road, she let herself in. The pub, too, was unusually quiet, apart from the distant sound of a radio from the kitchen.
Taking advantage of being unobserved, she popped into the bar to plant a neatly-wrapped parcel in the Secret Santa box.
There was one parcel in there already. It must be Tubb's contribution to the present-giving, as he would be the
only one who was here before her.
After exchanging her outdoor things for kitchen garb of hairnet and white smock, she pushed her way tentatively through the swing doors into what was usually Chef's kitchen of stainless steel and gleaming white.
Instead of Chef, the pub landlord Tubb stood looking unfamiliar in kitchen whites, mixing something in a big white bowl.
"Merry Christmas, Janice," he said.
"Merry Christmas, Harrison!" she replied. Since she'd discovered his first name three weeks ago she'd used it but, for some reason, only if they happened to be alone. In front of others he had remained "Tubb". Janice breathed in appreciatively. "Something smells good."
He looked pleased.
"The turkey crowns are cooking. A couple of people are having fish but that doesn't need to go on yet."
"I'll begin the chocolate mousse so it has time to chill."
Janice went to the dairy fridge feeling, for some reason, self-conscious. She saw Tubb most days and was often alone with him. He'd been her boss for years.
Why did she have a funny feeling this morning, just because they were on unfamiliar territory in the kitchen and it was Christmas Day?
As she melted chocolate, she tried to conjure up the easy kind of conversation they were used to.
"Did you ring your brother?" she queried, at the same instant as he asked, "Did you ring your son?"
She felt her face relax into a grin.
"Max and the children were on Skype from Switzerland before it was light. Dugal and Keir were so excited. It was, "Grandma, look at this!" and "No, Grandma, look at mine!" They speak very well, considering Keir's only two and Dugal four."
She put the chocolate aside to cool.
"My daughter-in-law, Ona, said the kids haven't worked out what being in another country means and keep wanting to see everybody in the UK. They're loving the snow, though."
She kept her voice light, determined not to feel sorry for herself.
"They were on for ages. I'd sent Christmas jumpers and the children put them on over their pyjamas. Keir's had a snowman on the front and Dugal's a Christmas tree. They were far too warm indoors and got all pink in the face."
Tubb tipped a mass of stuffing from his bowl and began to divide it into balls.
"I'll ring my brother later, because of the time difference. His children are teens now and they're fun to chat to."
"I can't remember where they live." Janice rubbed at a smear of chocolate she'd got down her white smock already.
"Boston." He began arranging the balls of stuffing on a baking sheet, moving economically, rapidly, capably.
Janice hadn't seen him working in the pub's kitchen before – unsurprising if he only did so on Christmas Day, when she was always with her family – but he looked quite comfortable doing it.
"Boston?" she repeated, surprised. "But that's less than an hour away. How come I've never met your brother?"
And how come you don't spend Christmas with him? she wanted to ask.
He pushed the tray into a fridge, washed his hands and began weighing out flour for Yorkshire puddings.
"It's the Boston in Massachusetts, America." He sent her a small smile. "He's lived there for about fifteen years."
"Of course! That's why you go to the States in the summer sometimes."
He talked so seldom of personal things like family and holidays that it had slipped Janice's mind.
He began tipping the flour into the big food mixer.
"His family are outdoorsy, so they rent a cabin on a lake or in the mountains and I join them for a week or two. They go climbing or kayaking. And I …" A twinkle lit his eyes. "I drive off sightseeing, or lie on a swing seat and read."
Janice laughed. She knew he wasn't lazy from the long hours he put in at The Three Fishes, but when he wasn't working behind the bar he was leaning on it and talking to the locals, so she'd guessed he wasn't sporty.
Time whizzed by as they stirred and chopped and whisked together. Tubb, unusually forthcoming, talked about how different he and his brother Garrick were. How Garrick had met the love of his life and married her in his mid-twenties.
"And they all lived happily ever after," he added softly.
By then, Janice was decorating her mousses with chocolate swirls. Cautiously, she said, "But you've been content to be single?"
Until the last few weeks, when he'd unexpectedly begun showing her his human side, she hadn't questioned the fact that he lived alone over the pub.
He paused. "By the time I'd got over Roma, the woman I told you about, and pulled myself out of the financial quagmire, I was focused on buying this place and making a success of the business. The reason things didn't work with my ex-wife Elaine was that she never took to The Three Fishes. The long, anti-social hours aren't for everybody."
Janice understood. The pub wasn't her be-all and end-all, as it seemed to be to Tubb, but whether men could accept her working evenings and weekends had proved a useful filter when relationships had looked like becoming serious.
"What about you?" He checked the contents of the oven in a cloud of steam, his face shiny from the heat.
"Your husband died a long time ago but you've never remarried or anything."
She nodded. "True. It takes a long time to move on from something like that and by then, I was used to it being just Max and me. Like you, I've had other relationships but…" She shrugged, picking up the tray of mousses. "I never felt like sharing a home with anyone."
Tubb took the tray from her and slotted it into the chiller.
"Do you think you ever will?"
His back was to her as he held open the chiller door with his elbow.
"Never say never." She tried to laugh but it somehow came out as a sigh. "I've been thinking recently that if I'd met someone else I loved enough to completely share my life with, maybe it wouldn't have hit so hard when Max and his family moved to Switzerland."
When he turned around he wore a small frown. "You focused on giving Max the best life you could; I focused on building the business. We weren't wrong."
"But maybe it meant we missed out on other things," she said quietly.
He stared at her for several seconds. Then, silently, he nodded.
---
Lunch was a lively affair, filled with laughter and delicious food. The spirit of Christmas was alive and well and living in Middledip.
The dining area of the pub sparkled with tinsel and lights. Tubb had pushed tables together to make one large square one, draped in a white cloth, and ten adults sat down around it with Scarlett in a high chair at one corner, living up to her name in a dress as red as Santa's suit.
"What a great arrangement," Janice said, carrying in a first course of pumpkin soup, Lily in her wake. Neither had felt right about not helping out – even if they were guests.
"It's brilliant," Carola agreed. "Everyone can see each other to chat and nobody's left out.
"When my sister realised it's the girls' turn to go to their dad for Christmas, she invited me to join her family. I said, 'No, thanks! I'm going to try The Single Person's Christmas Club lunch."'
She thanked Janice for her steaming bowl of soup and began to pass around the bread rolls.
Don, who worked at the local performing arts college, took two rolls for himself and his wife.
"Hey, what's all this 'single' nonsense? Bette and I have been married for thirty years but we like Christmas lunch out."
Jodie buttered a roll and tore a piece off to give to Scarlett, her daughter of twenty months, who was trying her hardest to grab a cracker from the table.
"With Mum and me having had 'flu it's fantastic that Tubb puts this on, so neither of us had to cook."
She still looked pale and peaky, but she grinned at Tubb, who'd brought in the last bowls of soup, kitchen whites discarded to reveal jeans and a T-shirt.
"You might regret not charging for Scarlett's meal. She loves food."
"Mmm-mm-mm," Scarlett agreed, sticking buttery bread into her mouth.
Tubb wrung his hands in mock distress. "And I suppose it's too late to charge you now."
Lily pretended to write a note. "Next… year… remember to charge … Scarlett."
Joining in the teasing and laughter, working her way through succulent turkey and crisp roast potatoes after the soup, Janice found she was thoroughly enjoying herself.
Seated to her right was Gabe, who lived in a cottage with a patch of land. He grew vegetables and looked after the animals that seemed drawn to him.
He made her laugh with stories of Snobby, his elderly pony, and a litter of pups he'd ended up with because he'd taken in their mum as a stray.
"The puppies were already on board when I got her," he said, wiping his mouth after clearing his plate. "Six of them! They're going to create havoc when they're old enough to get around."
Maybe she'd ask for one of the pups, Janice thought. She hadn't had a dog since she was a child.
It would be fun to join village dog walkers on the bridle paths and lanes.
After the main course was cleared and people wanted a break before dessert, it was decided it was time for Secret Santa. Each person coming to the lunch had previously drawn the name of another guest and bought him or her a gift to pop into the box.
No one was supposed to know who'd bought what for whom.
With mixed emotions, Janice had drawn Tubb's name. She'd devoted almost all her recent knitting time to making him a navy jumper with a cable pattern up the front and moss-stitch panels on the shoulders.
She hadn't been able to take his measurements, but it had been easy to peep at the size label in a jumper he'd discarded while he worked in the cellar.
"Lily, will you play Santa?" Tubb asked, shaking the box of gifts.
Lily set to with enthusiasm. "Gabe!" she cried, doling out a large parcel wrapped in red paper bearing pictures of robins.
Gabe's gift was gumboots – sartorial elegance wasn't his thing and he stumped about in boots most days. He put the new boots straight on, ornamented with a twist of tinsel filched from the Christmas tree.
Carola received a book on furniture restoration, which she fell on with a cry of joy; Jodie a pretty scarf; Don a seventies music CD. Some bright spark had bought little Scarlett a drum.
"Who on earth would buy her that?" Jodie cried, looking suspiciously at Gabe.
He tried to hide the laughter in his eyes, then clapped his hands over his ears as Scarlett banged gleefully.
When Tubb opened his jumper, his startled gaze jumped straight to Janice. Her face flamed as she realised, belatedly, that her passion for knitting was too well known for anonymity.
Nobody else seemed to notice, thank goodness, but to make her feel still more bashful, she knew the bulky present in her own lap was the one she'd seen in the box earlier… the one that could only have come from Harrison Tubb.
Opening it under his gaze made her fumble with the wrapping for so long that Scarlett abandoned her drum – to everyone's relief – and came to help.
When, at last, the paper was off, Janice stilled in amazement.
Inside a clear plastic bag rested a pair of black and grey snowboots, laced up the front. The orange label informed her that their temperature rating was -20C, perfect for a snowy country.
"Gosh, you must have been a good girl for Santa to bring you those," breathed Carola, as the others exclaimed and murmured at the giver's generosity.
Stunned, Janice nodded, acutely aware of Tubb noisily collecting paper and stuffing it back in the box.
"They'll be fantastic when I visit Max in Switzerland. Thank you, whoever bought me these. Thank you very, very much."
Then she fled to the kitchen to grab the desserts. It allowed her a few moments to collect herself as well as the laden tray – before sailing out as if it wasn't on her mind that her present had cost ten times as much as anyone else's.
"There's mousse to eat now," she cried gaily. "And gingerbread people for you to take home."
In the flurry of delighted exclamations that greeted the gingerbread men and women, she found that she didn't have to meet Tubb's gaze at all.
But that was fine, because he seemed to be in no hurry to meet hers.
---
By five that afternoon, the Christmas lunch guests had departed. Lily had stayed to help clear but now she, too, had gone with a last call of "Merry Christmas!" and a joking complaint about returning to work tomorrow – Boxing Day.
Janice lingered, making certain Chef's kitchen was returned to its usual pristine state while Tubb silently filled disposables like salt, pepper and napkins.
She glanced at him, knowing she couldn't leave without saying something about her Secret Santa gift.
The obviously expensive boots made her feel guilty that she'd never contradicted any views in the village that Tubb was a skinflint.
OK, he was careful with money – but wasn't that natural when he knew what it was like to be in financial difficulty?
Harrison Tubb might hide his feelings, especially his soft side, but he'd certainly taught her something about the spirit of Christmas today. Nobody should ever question his generosity.
She set the dishwasher going. Tubb was watching her with an odd expression, as if he wanted to say something but wasn't sure how it would be received.
The air seemed suddenly thick and hard to breathe. Janice spoke first.
"Thank you for the boots," she said. "I'm overwhelmed by your generosity."
He didn't pretend not to be the giver.
"Thanks for the jumper," he replied. "I don't think anybody has hand-made anything for me since I was a kid. And navy's my favourite colour."
"Good." She decided not to say, "I know," because it would betray to him that she'd noticed a lot of things about him, even if she hadn't really seen through to the man beneath. "Does it fit?"
"I haven't tried it on yet. What about the boots? Are they OK?"
"I'll try them now."
Janice fetched the parcel, kicked off her shoes and pushed her feet into the boots that looked enormously heavy, but weren't.
"Ohhhhhh," she breathed. "They feel like armour lined with cotton wool."
He laughed, then pulled on his Christmas jumper over his T-shirt. It sat neatly over his shoulders and chest without pulling, the sleeves needing just a small turn to the cuffs.
"Perfect."
They gazed at each other. Absently, he smoothed the jumper.
"Do you have plans for this evening? If not, we could spend some time together." Then he frowned. "Except nowhere's open in the village and we've both had wine so we can't drive to Bettsbrough. And if I invite you up to my flat you might feel… awkward."
"Oh," said Janice, disappointed at the way he was talking himself out of it.
But then his face cleared.
"Actually… I know a nice village pub."
A smile began to tug at the corners of Janice's mouth.
"It's a lovely place, if it's the one I'm thinking of."
He closed the distance between them and took her hand, leading her out into the bar she'd worked in a thousand times, switching on the lights, including the twinkling Christmas ones.
He took her to a table by the fire, still smouldering from lunchtime, then fetched a glass of ruby red wine and a caffe latte with sugar, the way she liked it. For himself he produced a cappuccino and a tall pint of lager.
Then he sat down across the table and took her hand, stroking her fingers occasionally as they began to talk.
Janice found herself telling him all kinds of things that had never come up before – of favourite holidays, childhood Christmases, her sisters who lived in Scotland, her plan to get a puppy.
"I should look on Max, Ona, Dugal and Kier moving abroad as an opportunity to do things I haven't had time for."
"That sounds like a fantastic idea."
He spoke about his childhood in the village, pondering why he'd stayed when Garrick hadn't been able to wait to go.
"You got married to the pub," she joked. He pulled a face.
"Then, like you, it might be time for me to widen my horizons."
He moved closer, slid his arms around her – still encased in the jumper she'd made him, just as she was still wearing her snowboots, despite the fire.
"I don't have any mistletoe, but…" And he gave her a sweet, gentle Christmas kiss.
Heat rocketed through Janice at the feel of his lips, firm and warm on hers. The kiss went on for a long time, yet was still over too quickly.
Finally, heart beating fast enough to make her breathless, she said, "At this rate we might not be allowed in the Single Person's Christmas Club next year."
He smiled wistfully.
"Next year you'll have a real Christmas in Switzerland with your family."
Her arms were threaded around him.
"This was a real Christmas! Can it get much more real than people doing nice things for each other? Spending time together? It was all thanks to you. And you don't need mistletoe, by the way."
And she kissed him again. Because it was Christmas. And it was real.

Enter a winter wonderland as Middledip resident Lily leaves the village for a Swiss adventure at Christmastime. She's looking for her father – but will she find love along the way?
With its sparkling cover and romantic story, Let It Snow by Sue Moorcroft (Avon PB, £7.99) is the perfect festive read! Like a chance to win one of 10 copies? Pick up My Weekly issue dated December 3 to find out how…