Date Night
---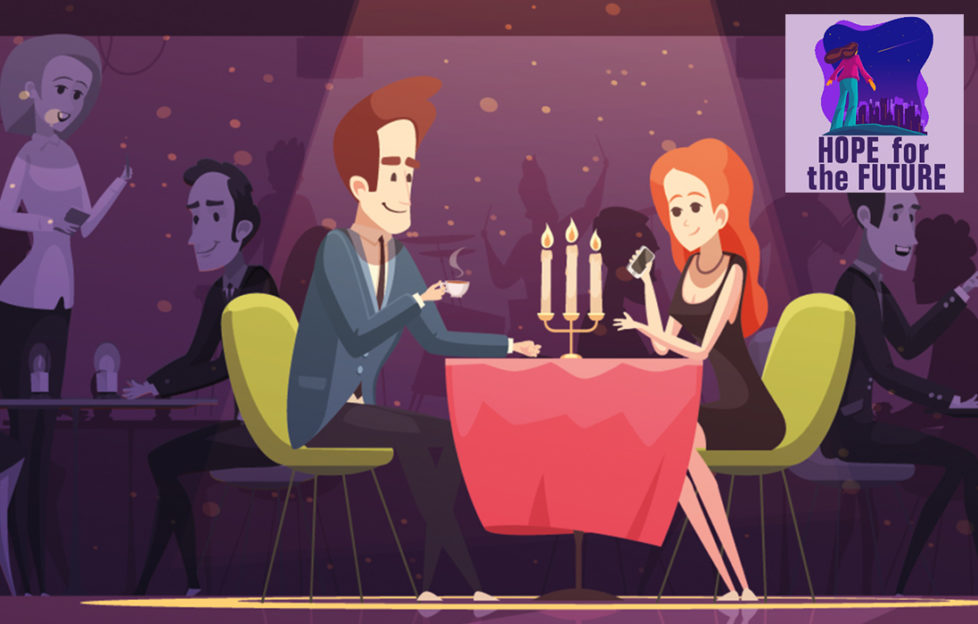 Pic: Shutterstock
A luxurious finish isn't needed when piecing your life back together
Michelle looked towards the beautiful old hotel. It was locally accepted as upmarket. Very upmarket.
"Are you sure we can afford this, love?"
"Yes, with that voucher dinner is the same price as any hotel."
Michelle worried about any hotel prices, but they were on a date night and this one was special. She smoothed her hair.
"Do I look all right?"
"Amazing. Let's go."
The path was edged with fairy-lights.
Flagstones led them seamlessly to reception where a young man greeted them.
"Good evening, Madam, Sir. May I take your coats?"
He did a funny little bow as he took Michelle's jacket, then led them to the bar. There was more delicate lighting and a black and white mosaic floor, not new and shiny but matte, after hundreds of footsteps had worn the marble.
Liam followed her gaze.
"It's not original, they imported it from Italy during the restoration."
"It's beautiful."
A waiter ushered them to their table. Liam looked worried as the guy passed them large menus with no prices.
"Um, we're here on the internet deal."
"Ah," he replied, giving them cards that stated what choices you could make.
Liam clinked his glass to hers. "I'm hooked on bargain hunting."
"That's handy, since we're both on short hours."
The starters arrived, then the main, which was no bigger than the first course. The desserts going to the next table weren't exactly generous either.
The women there nibbled tiny chocolate mousses and laughed about a day at the spa while their husbands did business.
Liam smiled. "OK?"
"Yes, though I'm still quite hungry."
"They are tiny portions. Let's finish with cheese and biscuits, but they're not on the voucher."
She loved that he'd tried to make it perfect. The hotel had only been open for a few months since the rebuild. A bit like their marriage.
Mum used to say that when money went out the window, love left by the door.
Being broke turned some into workaholics and some to depression. It had been depression for Liam.
Ironically a strict budget had been his salvation – and they'd had professional help. Odd, that you had to sink so low to get a hand up.
They'd been advised it was important, even essential, to allow for treats. Treats like tonight.
As they ate, she and Liam overheard conversations about private schools, the difficulties in finding the right nanny and the cost of horseshoes. Michelle wondered if these women had any idea how different their lives were.
---
From the bench in front of the church, they gazed down at the city. A bag of chips kept Michelle's legs warm.
"Delicious," she said.
"You're telling me. Are you cold?"
"Not at all."
"On the perfect date you'd find a diamond ring in the chip wrappers."
Michelle hoped he hadn't blown their rainy day fund.
"You're so corny. I'd want something less obvious, anyway."
"Being with me is enough, I know," he said, squeezing her close. "But I do want to spoil you. I hate not having spare money any longer."
"Any longer? We've never had any!"
"We did, when I had more work."
"Listen, I'm happier up here on this bench than in that hotel." She kissed him. "And I don't need to be spoiled."
"Close your eyes," he said, popping a chocolate into her mouth.
"Mmm, just a hint of orange."
It was true. All she needed was a hint of luxury.
She didn't even need date nights, but they'd keep following the advice.
What was important was their relationship. The marriage they'd worked so hard to piece back together.
Like that reclaimed floor. A thousand mosaic tiles that needed to be next to each other to make it whole again.
Liam reached for her hand and held it inside his coat.
"You're freezing," he said. "Shall we go?"
"Yes," she replied. "Let's go back to our beautiful home."
We'll be sharing another inspiring short story of hope for the future from our archives, every Monday and Thursday throughout January. Look out for the next one!