Butternut Squash Risotto
---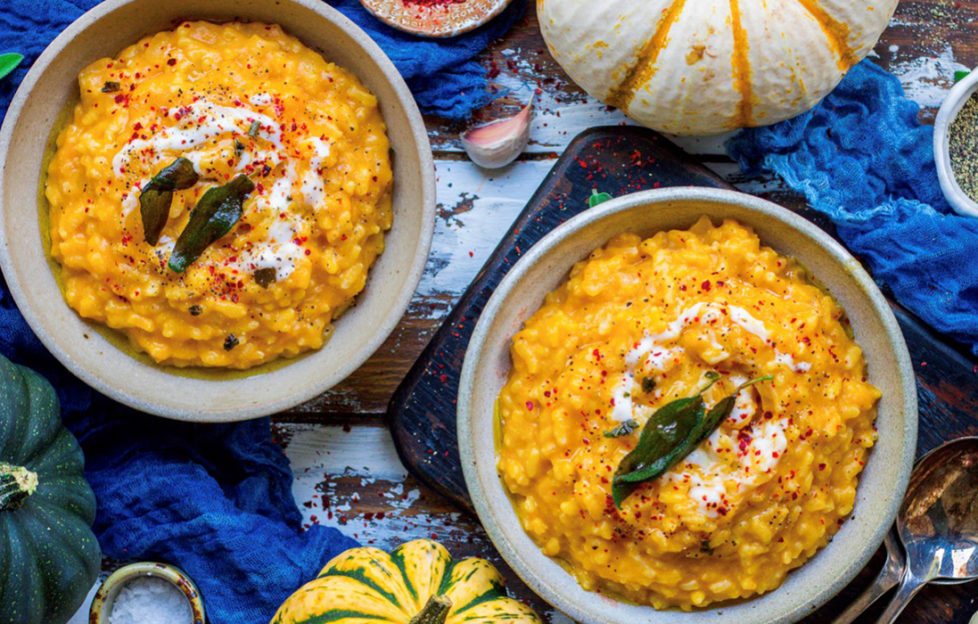 This vegan risotto is the best bowl of comfort food for a chilly winter evening. It's super easy to make, using seasonal squashes. Don't skip on the crispy sage as it really adds tons of flavour and a lovely crunchy texture.
Serves: 2-3
Cooking time: 40min
Place the finely diced onion in a pan with the glug of olive oil. Saute the onion on a medium heat until it starts to soften and becomes translucent.
Add in the crushed garlic, cook for another minute and keep stirring to prevent from burning. Add in the chopped butternut squash and the rice. Add in the miso paste.
Pour in some veggie stock until the rice is covered. Add a glug of white wine and place the lid on. Cook on a medium heat for a total of 25-30min (it also depends on what kind of rice you are using). The key with risotto is to keep stirring from time to time and keep adding the veggie stock and equally some of the porcini mushrooms soaking water. The rice will gradually absorb the liquid and eventually once it's cooked it will be quite gloppy (kind of like porridge). Once the liquid has been absorbed and the rice is cooked, adjust with salt and pepper and add in the nutritional yeast. Switch off the heat and let the risotto rest for few minutes. Stir in some vegan cheese if you fancy!
For the crispy sage, simply add a glut of oil to a pan and once hot add in the sage leaves. Cook for only few minutes until very crispy. Serve them with the risotto.
Gavi Poderi Della Collinetta wine
The Sarotto family trace their history back to the end of the 18th century and from the 1800s began making wine from their own vineyards. Poderi della Collinetta are wines made with the great passion of a famous winemaker, Roberto Sarotto. One of Italy's most revered and fashionable white wines, this Gavi offers a bouquet of floral overtones and captivating hints of pineapple, apricot and peach. On the palate it is pleasingly fresh with marked apple characteristics. Use in the recipe and enjoy a glass with your meal.