Exotic Vietnam
---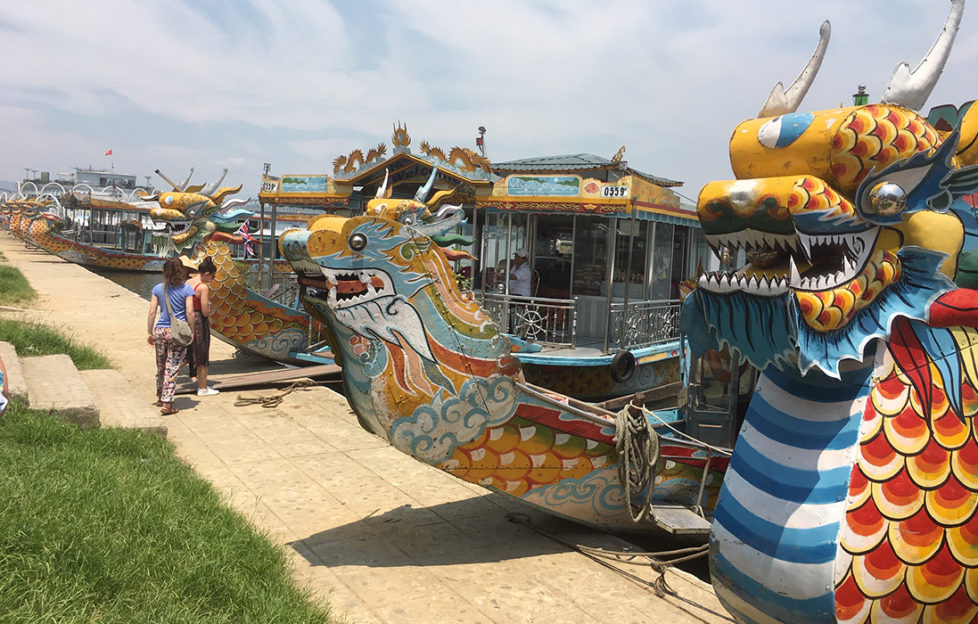 My Weekly's Fiction Editor Karen Byrom was thrilled to have the opportunity to visit mysterious Vietnam with its ancient temples, enthralling history and exotic street food –  a trip that left her with wonderful memories and a desire to return!
If Vietnam is on your bucket list, check out our travel partner, Riviera Travel's holiday offer to Vietnam & Cambodia.
My journey begins in Hanoi…
…in an empty airport just before dawn. But fast forward an hour and it's a different story. Hanoi comes alive with the sunrise as cars and buses hurtle towards the centre, vying with the multitude of mopeds the Vietnamese favour to get around their crowded cities. But there are also buffalo being herded along the busy road by farmers in conical rice hats, and many of the moped riders carry yokes of produce over their shoulders as they weave in and out of the traffic. It's a typical Vietnamese scene, one I'll see many times as I journey through this land of contrasts.
Hanoi is a beautiful city with its own unique architectural style, a blend of ancient and modern. In the old quarter, ancient, narrow streets lined with shops snake down towards tranquil Hoan Kiem Lake. Here citizens gather to share a glass of tea, engage in Tai Chi or play badminton.
It's tempting to linger but the shops are calling – each street has its own speciality, with sellers of silk in one area, jewellery in another, shoes in another. And of course there is the street food – hunker down with the locals for a bowl of delicious pho, a traditional Vietnamese noodle and meat broth that definitely calls for seconds!
Next stop is Hue
Like Hanoi, Hue offers so much in the way of culture, history and beauty. First on my agenda is a trip on a colourful dragon boat along the fabled perfume river to Thien Mu temple with its iconic, seven-storey pagoda, an ancient place of worship and important symbol for the continuing prosperity of Vietnam.
After a quick bowl of noodles, it's time to explore the Imperial Forbidden City, with its pillars, pagodas, painting and pictures of the royal family, once a fierce and proud dynasty, then puppet kings before finally being deposed in 1945.
Discover beautiful beaches in Nha Trang
Another day, another new city to explore. It's Nha Trang, a coastal city with beautiful beaches stretching for miles.
At the markets, I buy a pair of elephant print harem pants for under £5 – everything in Vietnam is so cheap – then indulge my feet with a traditional massage, before heading to the Thap Ba hot springs for a relaxing mud bath. In between there's time for a quick tour of Po Nagar Tower, a Hindu temple dedicated to Yan Po Nagar, the country's goodess.
Ho Chi Minh and the Cu Chi War Tunnels
My final destination is Ho Chi Minh – once known as Saigon. Such a contrast to the other cities, with its modern buildings, yet still so typically Vietnamese in its markets and street food.
Don't leave Ho Chi Minh without taking a trip out to the Cu Chi war tunnels, now a war memorial site, where visitors can learn more about the war from the Vietnamese point of view in a grainy back and white documentary following the fortunes of the villagers, who threw in their lot with the army in the desperate fight for their country's freedom. Here you'll learn how the men, women and even children lived, fought and died in the massive network of tunnels and even get the chance to explore them for yourself in the short section open to the public.
The lovely Vietnamese people don't let you leave without sampling some boiled cassava and ginger tea – a tasty end to my jungle experience!
Karen's tips for travellers:
Learn to use chopsticks. Once you've mastered them they really are the easiest way to eat the delicious street food.
Pack your favourite coffee. Local Vietnamese coffee is strong, sweet and definitely an acquired taste!
Master the local currency, then you won't swoon with horror at being charged 20,000 dong for a cup of tea (it's actually only 65p!).
Step out bravely. The traffic won't stop for you, so the only way to cross the city streets is to trust that it will go round you. And it does!
Hop on a cyclo for an individual guided tour of the city streets.
Many of the locals don't speak English so learn a few basic words in Vietnamese and brush up on your sign language as you barter in the markets.
Be adventurous! There is so much delicious food on offer in Vietnam. My favourite was pho, but who knew jellyfish salad could be so delicious?
Take plenty of photographs, but do remember to ask permission if you want to snap stallholders at work. Not everyone wants to be a photo opportunity.
The markets are cheap and cheerful. Buy cottons, bamboo goods and floral tea as souvenirs, but visit specialist silk shops if you want something special made.
Don't turn your back on a Buddha. Though living in a Communist country, the Vietnamese are a spiritual people who respect all religions, so return the compliment when visiting temples and shrines.
Vietnam & Cambodia Travel Offer
If Karen's adventure has given you the travel bug, we have great value holiday offers to many worldwide destinations with Riviera Travel, an award-winning trusted partner of DC Thomson Travel.
For a 16-day trip to Vietnam & Cambodia, the tour is fully escorted, with an expert tour manager who will fulfil the tour, giving local knowledge of the history and culture to make your holiday that bit more special. Riviera Travel has a passion for giving you the best experience possible, and their Worldwide Escorted Tours are no exception – click here to see what's new for 2020 and 2021!