Chicken In Orange Sauce For Chinese New Year
---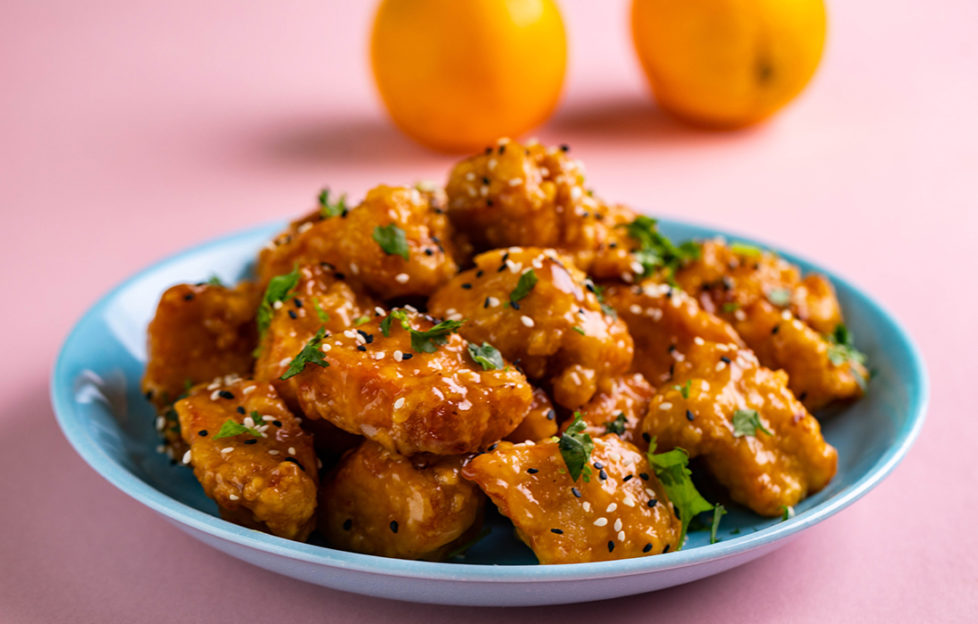 Once you have all the ingredients, this dish is easy to put together – and irresistibly tasty too. Xīnnián hǎo (shin nyen haow) – New Year goodness!
Preparation Time: 20min + min 1hr chilling
Cooking Time: 10min
Serves 3-4
Mix together the shaohsing wine, soy sauce, garlic and ginger and add the chicken. Coat the chicken well with the mixture, then cover and refrigerate for one hour or overnight.
Add the lightly beaten egg to the chicken mixture and mix well.
Place the cornflour into a sealable tub. Drain off each piece of chicken from the wet mixture and add to the cornflour. Seal the tub and shake well to coat each piece of chicken with cornflour.
Heat the vegetable oil in a fryer, or a wok, to 180°c using a thermometer to check. Fry the chicken, in batches if necessary, for 3-4min until the coating is crispy and golden brown.
Remove from the oil using a slotted spoon and place on kitchen paper to absorb any excess oil. If cooking more than 2 batches, keep the chicken warm in a preheated oven at 150°c.
While the chicken is frying, heat another wok over a low heat and combine all of the orange sauce ingredients. Stir the sauce until it thickens and bubbles gently.
Once all of the chicken has been cooked, turn up the heat on the sauce to high and add the chicken. Stir-fry for 1-2min until all of the chicken has been coated evenly with the orange sauce.
Serve immediately and sprinkle over the sesame seeds and coriander.