Venice – A Writer's Inspiration
---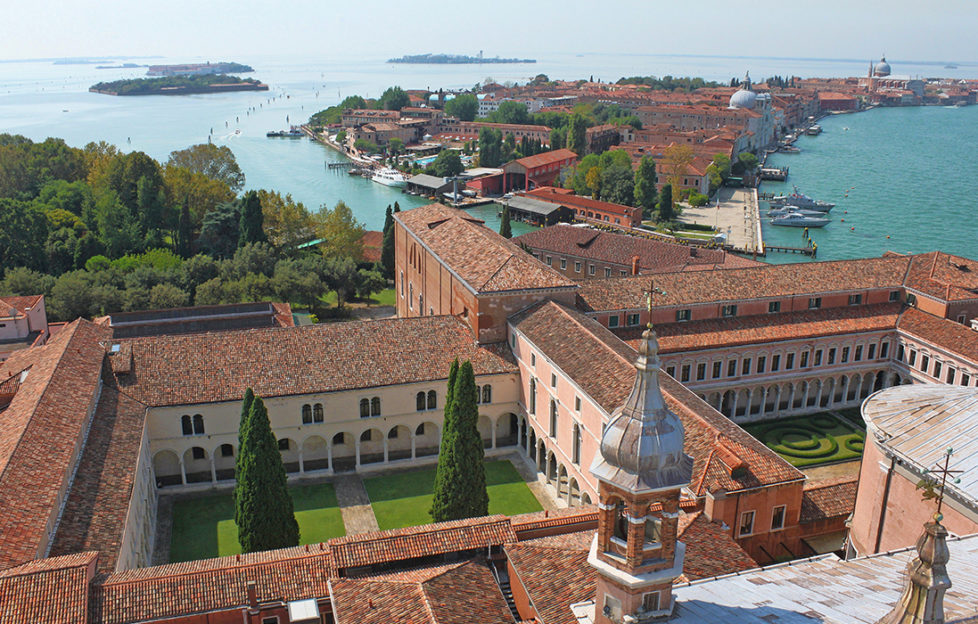 The island of Giudecca from the abbey of San Giorgio Maggiore, Pic: Shutterstock
International bestselling author Mandy Robotham has just released her latest novel, The Secret Messenger. Set between German-occupied 1940s Venice and modern day London, this fast-paced WWII novel explores the bravery of Stella who leads a double life during the war in her beloved Venice.
Here, Mandy writes about her love of the unique Italian city which inspired her latest story…
My love affair with Venice began more than thirty years ago – a beginner's taste, in 1987, as a fledging sixth-form backpacker the summer before university, amid the hot summer crowds and sulphurous pong of its waters.
I suppose I count the next – in 1990 – as my first, proper introduction. With my partner in tow and carried away on the romance of a city squatting on a gently lapping lagoon in winter, I proposed to him against perfect pink setting sun – ring, champagne, glasses and all secreted in my suitcase. He said he'd think about it.
Twenty-nine years later, two houses and two children later, he's not forgotten it, mainly because I don't let him. The glasses survive to this day, and our joint passion remains intact; we've introduced our two boys, as toddlers – the canals and bridges make a great playground – and now as young men to its unique beauty.
A bedrock of wooden spikes in the mud
Thirty years on, the magic, enchantment and the sheer madness of Venice has not left me.
From the sky, nose pressed against the aircraft window, Venice looks to be out on a limb. And it is – a fish on a hook in the midst of a lagoon. You can't imagine setting foot on soil that won't wither under your feet like a giant lily-pad.
And yet when you do throw yourself mid-lagoon (with the aid of the brilliant vaporetto waterbuses) and then onto its islands, Venice is solid. A bedrock of wooden spikes in the mud, overlaid through centuries with granite and stone. And yet solid as a rock. How did that happen? A city still floating on spikes, with only the slap and saw of the lagoon water to remind you of it. It is madness.
With each successive trip, we cast out, and on my last trip especially in researching a book set in the less-known wartime occupation. We've always aimed to spread our tourist tentacles further and further afield from Piazza San Marco and its generic restaurants touting identical pictures of Spaghetti Vongole – up the Via Garibaldi and onto the tiny islands locked together by bridges, few tourists, and even fewer people as you reach yet another leaning tower, an empty grandiose church.
The main island's poorer cousin
And peace. And quiet, save for the clanking of the boats. Those locations made it into my text, as well as what is often thought of as the main island's poorer cousin, Giudecca.
Across the expanse of water (the wonderfully efficient vaporetto gets you there), Giudecca is a real home to many Venetian residents – the apartments are perhaps less grandiose, but it has a realism; those walking dogs, the chatter and squeal of a school playground rising up. Walk the entire width and through to the other side, and there is the vast lagoon bleeding into the sea.
We sat there on a bench and absorbed a white-hot winter sun, and thought about being on the edge of an island in the middle of the lagoon, in the midst of a sea. More madness.
Giudecca, for me, has other charms; one of the best hostels I've ever laid eyes on, the old women's prison – well used during the Nazi occupation – and the age-old flour factory, now transformed into a beautiful hotel.
Alleyways and squares still to discover
The waterfront is less pretty than most you will find on the main islands, but I tasted the best arancini, and with no tourist image to help me. It's a respite, a quiet oasis from the crowds.
Next trip – there will always be more – we will stretch our sea creature tendrils as far as Pellestrina, investigate what delights the Lido can offer apart from its sun and sand reputation, and sample the chic art deco airfield.
We never tire of what Venice has to offer – there are too many alleyways and tiny campo squares still to discover, more cafes to linger over and marvel at the sheer blinking folly of floating on a very large concrete pontoon on what feels like the edge of reality. And all couched in such utter beauty.
More tales of women in wartime: