Chocolate & Beetroot Cake For Your Valentine
---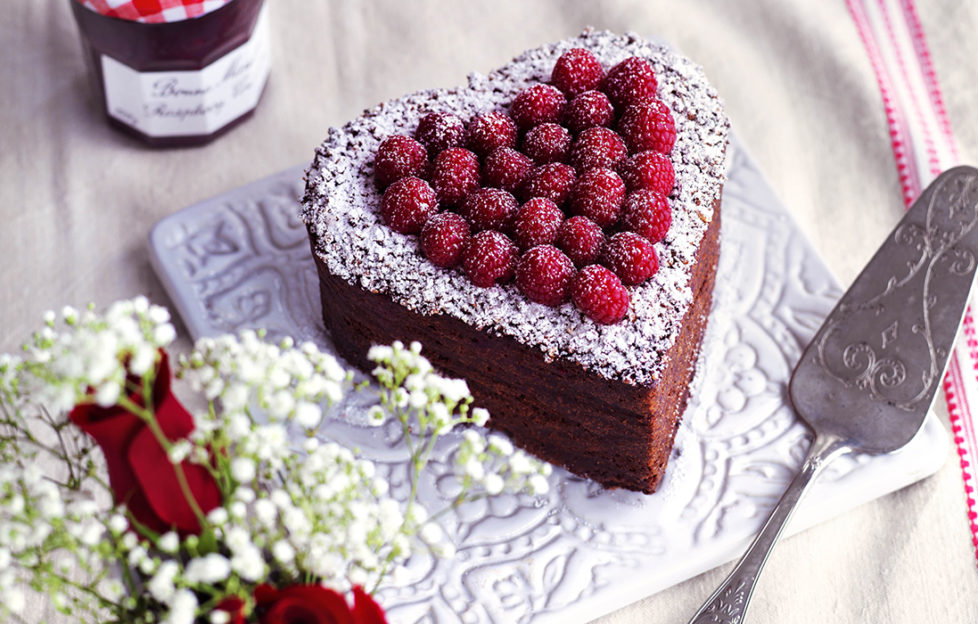 What says "I love you" better than a gorgeous gooey Gâteau coeur au chocolat that's secretly healthy and guilt-free? Finished with a crumby, chocolatey, nutty topping and fresh raspberries, it's well worth the time and effort.
Preparation Time: 1hr
Cooking Time: 45min-1hr
Serves: 2 of course (but with leftovers!)
Heat oven to 180ºC, fan 160ºC, gas mark 4. Grease and line a 15cm wide, 8cm deep heart-shaped tin with baking parchment.
Blitz beetroot and 2tbsp conserve in a blender for a few seconds to purée.
Put 100g chocolate and 100g butter into a large heatproof bowl. Set over a saucepan of gently simmering water for 10min to melt.
Meanwhile, sift together 70g flour, the baking powder and 5tsp cocoa.
Stir melted chocolate and butter until smooth. Beat in egg yolks until smooth. Fold in the beetroot purée.
Whisk egg whites until stiff, then gradually whisk in 85g of the sugar until egg whites are stiff and shiny. Fold into the beetroot mixture. Now sift the dry ingredients again into the bowl and fold in quickly using a large metal spoon.
Spoon the mixture into the prepared tin, turn oven down to 160ºC, fan 140ºC, gas mark 3 and bake for 45min-1hr. A skewer pushed into the centre should come out clean. Cool in the tin before turning out.
Meanwhile, make the crumbs. Put remaining 55g plain flour, 1tsp cocoa, 25g caster sugar and 25g butter into a small bowl and rub together until crumbly. Spread on a foil-lined baking sheet and bake for 15-20min. Cool.
Finely grate remaining 25g chocolate into the cold crumbs. Add the hazelnuts.
Turn the cake bottom up and spread with remaining conserve. Spoon over the chocolate crumbs and pat down well into the conserve.
Arrange a heart of fresh raspberries on top. Dust with icing sugar before serving.
Cook's tips
Any of Bonne Maman's red fruit conserves can be used. Try Black Cherry, Wild Blueberry or Strawberry and Wild Strawberry.
 The width of heart shaped tin is measured from the dip in the top of the heart to the point. You could use a 900g loaf tin instead.
Vacuum-packed, cooked beetroot is available from supermarkets. Make sure it's not in vinegar!
Without the raspberries, the cake freezes well for up to 1 month.