Say I Love You With Mini Blueberry Cheesecakes
---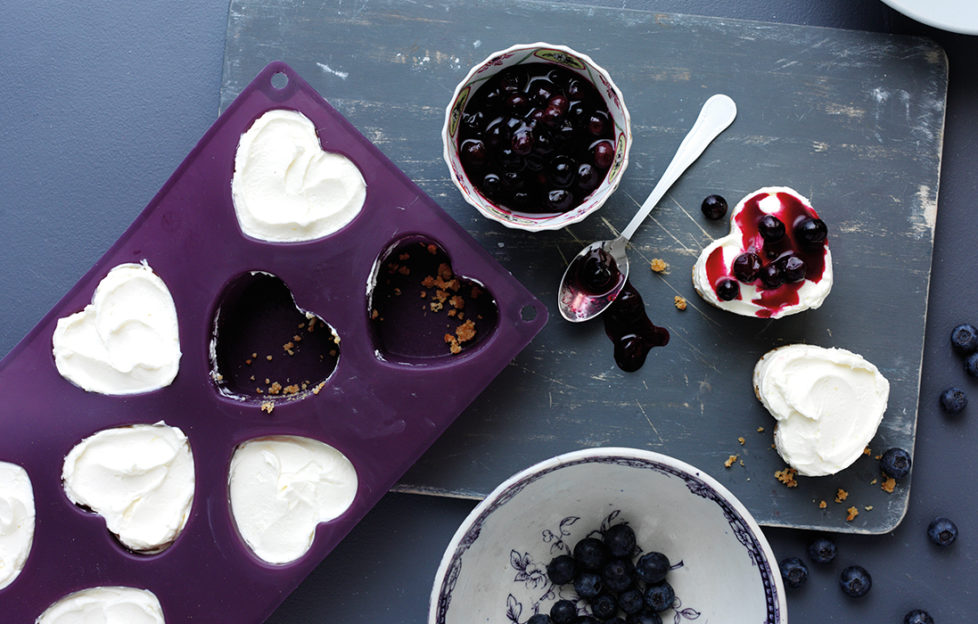 Make these easy, no-cook cheesecakes the night before and leave in the fridge. There are some spare for second helpings – or just freeze the extras with a little pot of blueberries for another time. From Love Fresh Berries.
Makes 8
Preparation time: 25min
Cooking time: 4-5min
Chilling time: 5 hours or overnight
Add biscuits to a small plastic bag, seal the top then crush biscuits with a rolling pin. Heat butter and golden syrup in a small saucepan until melted, stir in the biscuit crumbs and mix. Divide between eight 75ml heart-shaped sections in a flexible silicone cake mould. Press the biscuits into a thin layer with the back of a teaspoon. Refrigerate.
Add cream cheese, caster sugar and lemon rind to a bowl and whisk together briefly until just mixed. Gradually whisk in lemon juice and cream until smooth and thick.
Spoon cheesecake mixture into crumb-lined moulds. Spread into an even layer and swirl the tops with the back of a spoon. Chill for 5 hours or overnight.
To make the blueberry topping, add the cornflour to a small saucepan, stir in lemon juice and mix until smooth. Add water, sugar and blueberries. Cook over a medium heat for 2-3min, stirring until the blueberries are beginning to soften and the sauce has thickened to become a rich blueberry colour. Cool, cover and chill until ready to serve.
To serve, loosen the edges of the heart moulds and press up from the base, removing the cheesecakes with a small spatula. Transfer to serving plates and spoon the blueberries on top.
Cook's tip
If you find the cheesecakes a little tricky to remove from the moulds or haven't had much time to chill them, freeze for 30min to firm up, then try again.