Jane Devonshire's Peanut Butter Cheesecake
---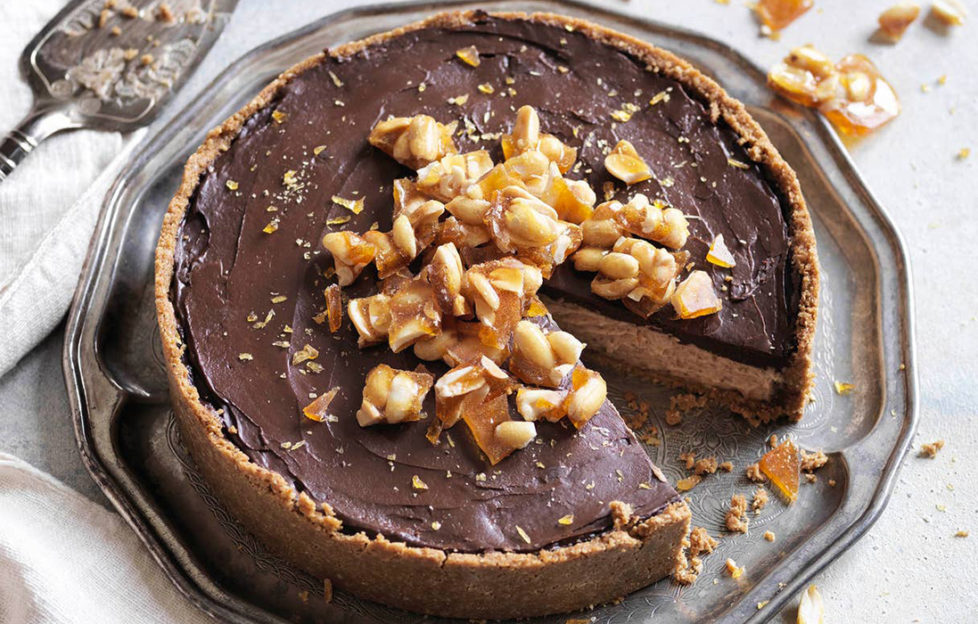 Photography © Mike Cooper
I make no apologies for this cake – it is laden with calories in every way!
It is, however, my son Ben's favourite. I make it for very special occasions, which includes Breast Cancer Haven's Big Tea Cosy event.
The only cooking involved is melting the chocolate for the topping. Decorate with crushed peanut brittle, chocolates, gold leaf – whatever you fancy! – or leave plain.
If desired, halve the mixture and make individual cheesecakes in muffin trays – they're great fun, although a little fiddly.
If you love this cake then please consider making one for your friends and hosting your own Big Tea Cosy.
Use the #thebigteacosy to share pictures of your baking on Facebook, Instagram and Twitter, and to see others' efforts.
Preparation Time: 40min + chilling (up to 3hr 40min)
Cooking Time: 5min
Serves 8-10
In a food processor, blitz biscuits to a fine crumb. Combine with the melted butter, then use the mixture to line the bottom and halfway up the sides of the tin. Place in the fridge for 30-40min until set.
Whizz peanut butter, cream cheese, vanilla bean paste and icing sugar in a food processor until fully combined. Alternatively use an electric hand whisk.
In a separate large bowl, whisk double cream until soft peaks appear. Take 1tbsp peanut butter mixture and, using a spatula, gently fold into the cream, trying to retain as much air in the mix as possible. Repeat until all of the peanut butter mixture is incorporated into the cream.
Add the mix on top of the crumbed biscuit base, not disturbing the sides. Chill for 2–3 hours until set. You can freeze this, or keep covered in the fridge for up to 48 hours.
For the topping, place chocolate in a large bowl. Heat cream in a pan until just boiling, then pour over the chocolate. Whisk until the chocolate is melted and mixture is smooth.
Take the cheesecake straight from the fridge and pour over the ganache, working from the centre outwards. Return to the fridge for 30min or until chocolate is set.
Remove cheesecake from the tin – carefully run a knife around the edge – and serve.
Did your cheesecake turn out perfectly? Why not serve a slice to your friends with a cuppa for a small donation to Breast Cancer Haven? Sign up to host a Big Tea Cosy party today.
Extract from Hassle Free Gluten Free by Jane Devonshire (Absolute Press RRP £22), available now. Photography © Mike Cooper