Loose Ends
---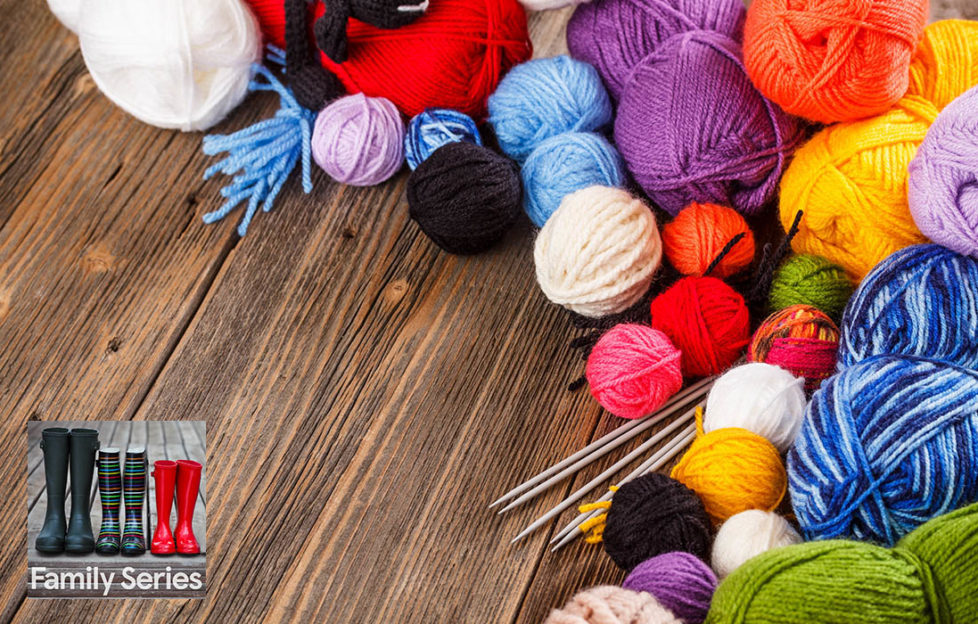 Pic: Shutterstock
Judy's impulse to tidy up set alarm bells ringing for me…
I'd grown up with Judy's knitting obsession.
She knitted on the bus, or while she sat in the doctor's waiting room. Judy knitted when she watched TV. She clicked furiously in time with passionate moments in the old films she loved.
As Liz Taylor puckered up to Richard Burton, her needles flew over the work. Never a stitch dropped, never an ease-up in speed.
Had Cleopatra and Mark Antony been on the sofa beside her, they'd have received the same secondary level of attention as my new Aran jumper.
To state that she was a keen knitter would be like saying that Alan Titchmarsh likes to grow a few flowers.
She clicked away as we sat in her lounge, the TV on mute, ready for the one o'clock news.
At the end of the row she announced, "Go on then, you can organise me this once. See if you can sort this wool into some kind of order."
She threw a tangled ball of scarlet yarn and it landed in my lap.
A jumble of memories lay twined in these strands. And lately, her illness had brought a hundred more to the surface.
All I wanted was to know that she wasn't leaving me.
She tipped up a carrier bag, and the floor was strewn with a rainbow of colour.
For years, Judy had kept what was left of her last project. Now she'd learned to crochet, and all those remnants were going to be put to use.
She planned to make the oddments into a blanket. A blanket of granny squares to keep out the cold when the heating bills got too high once again.
I picked out a baby pink, and scooped up another three balls of a similar shade.
"Do you have a roll of freezer bags?" I asked, resigned to a long afternoon bagging up toning leftovers of yarn.
"I'll get them." Judy smiled.
Once more, she had me doing some job she didn't relish.
It was all wrapped up in my need for her approval. Praise from the woman who had brought me up, the woman who'd taken over when my birth mother left off.
I was relieved beyond words that she seemed to have recovered from her surgery. It was just a stent. Nothing serious, she'd told me.
I'd Googled it to be certain. Now she was home, I had taken a week off to nurse her.
Not that nursing was required, she'd tutted.
That pink four-ply once clothed my Sarah. As I'd laboured to produce my daughter, Mum had knitted.
She said later that it had taken her mind off me, working out that complicated lace pattern.
Sarah wore that cardigan like a china doll, swamped at first in the smallest of baby clothes.
"Here," Judy said cheerfully, nudging me back to the present. "One roll of bags for the use of."
"Thanks, Mum."
She rubbed my shoulder in acknowledgment. As my foster mother, she'd started off as "Judy". The Rules for carers.
Once she and Dad went on to adopt me, we could settle into our continued relationship.
It was as if the first half a decade had been lived with the brakes on.
I'd always been afraid, in the background of my world, that someone would move me on again.
Mum once told me she'd felt the same. That niggling feeling that you're about to drop a stitch in the fabric of your life. That it might unravel into a tangled pile at your feet.
"Are you sure you don't mind helping with this, love?"
"Helping?" I joked. "You've left me to it, haven't you?"
"Well, you're so much better at these things." She placed a cardboard box on the sofa. "I kept all these bits in case you or Dad ever needed a repair done."
The box held leftover yarn from every school jumper, every football scarf, every hot water bottle cover she'd made.
---
By Tuesday, I'd sorted the bags containing her best wool.
Mum's appointment at the doctor's loomed for the next day, so we'd got her clothes ready, then sat down for a late breakfast in the kitchen.
I noticed how much weight she'd lost, and buttered the toast extra thickly.
"That was lovely," she announced, putting the plates in the dishwasher. "We should go back to the lounge, there's still quite a bit to do."
"Do you want me to carry on sorting the yarn, then?"
"Of course! I want to get started on some crochet soon. It will be easier if I can find the right colours without looking through everything I have in stock."
The cardboard box still lay on the end of the sofa. Mum took a scrap of chocolate brown from me.
"I'll start a bag for dull colours like this," she said.
"Don't worry, I'll get round to them. You sit and rest."
She smiled, picked up her knitting and was soon racing along the rows. A blip in her health wouldn't keep Mum from her craft.
I remembered how Dad used to joke that he could see sparks coming off her needles.
In his braver moments, he would ask her to stop, so he could check his pools coupon without the persistent clicking to distract him. He'd been gone five years, but we'd miss him forever.
---
Come Wednesday morning, we walked up the ramp to the doctor's surgery. I noticed that she avoided the steps, and wondered if she felt unsteady.
I pointed to the monitor on the receptionist's desk. "We have to book in on this screen, Mum."
She looked puzzled for a moment, then tapped in her date of birth.
As we took our seats, I noticed that her bag was too flat for it to contain one of her projects.
"Are you not knitting today?"
"Yes," she replied, looking up as the monitor beeped for another patient. "It's at home, though. I'm doing a fiddly pattern, I'll need to concentrate."
She paused. "You should do more knitting, especially now Sarah's expecting again."
"I don't have as much free time as you."
"Nonsense," she decreed.
My hackles would have risen, had anyone else treated my remark with the same dismissal. With Judy, it was just the way things were.
"Shall I come in with you?"
"Um, no, love. There's no need."
That prickly feeling returned. In my head, I knew she'd not been seriously ill. Everything had gone well.
Yet my heart yelled that I couldn't do without her. Not yet. If she'd just let me in at her appointments, I'd know if she was hiding something.
Later, as we parked on her driveway she suggested we have an early lunch.
"I could do some soup – how does that sound?" I offered.
"Lovely. But I could manage. Shouldn't you be catching up at home on your week off?"
"There isn't much to do," I lied.
There was a pile of ironing that would wait. Nothing mattered as much as Judy's recovery. Mike going to work in creased shirts held no fear for me.
---
Thursday afternoon found me running a pale cream yarn through my fingers as Mum dozed.
She'd used it to make a maxi cardigan to go with a purple dress. It must have taken her weeks.
I'd worn it one winter, and it finally went to a charity shop when the fashion changed again.
It reminded me of a day close to my fourteenth birthday.
Kids really are cruel. Some never let you forget that you are different.
I'd only ever wanted to be judged the same as any other youngster in my class. Mum, Dad, siblings. The usual pattern.
I dreaded the moment when a new girl started school, and her change in manner towards me when it was clear she'd been told that I was adopted.
A leading question would follow. Thirsty, probing questions for which I had no real answer.
How on earth would I know why my parents gave me up? I'd been three years old. Nobody had asked me what I'd thought.
If they had, the conversation was lost in the platitudes that go with separation.
When I'd arrived home, Judy comforted me, shushed me quiet and held me as she told my story once again.
She talked about the mother who had so little, who loved me then and, she knew, still loved me now.
"For every woman, there are always reminders," she said. "Birthdays, girls with blonde hair, girls your age, babies in prams.
"Trust me, Karen, I know she will never forget you."
---
Mum woke, and insisted that she was happy to make us a drink while I continued sorting her yarn.
"Would you like the rest of the carrier bags?" she asked.
"There's more?" I gulped.
"A bit."
I looked through to the hallway. She'd all but disappeared into the cupboard under the stairs.
A pair of American Tan legs peeped out from the rack of coats she'd nestled into.
Every so often a bag landed behind her.
I continued winding the scraps into neater balls, rhythmically, like a human spinning wheel. Rolling the spaghetti of yarn felt therapeutic. Like tidying the past into better shape.
We sat in the garden on Friday. The sun was on our backs, and despite its warmth, Mum had layered herself in a cocoon of garments.
"Would you like a coffee?"
"No thank you, dear."
I thought for a moment.
"Hot water bottle for your back?"
She turned and looked at me.
"Karen, for goodness' sake, I am not made of glass. I had an operation, and now I'm on the way to being better."
I let out an involuntary sob.
"You promise you're not keeping anything from me?"
"No. No, I'm not." She reached out and squeezed my hand.
With the next sob, I realised how the past had wound itself around the present. All those insecurities of my childhood had surfaced to dominate the last few months.
I'd been as frightened to lose her as any three-year-old would be to lose her mother.
Judy shook my hand back and forth. "Karen, there's nothing to worry about."
"Oh, Mum. It was all this tidying up. The yarn. I thought you were sorting all the loose ends. Literally."
Those unprepared words made us both laugh aloud. The tension inside me dissolved like marshmallow in a cup of hot chocolate.
"So, Mum, you really are just making a blanket?"
"Yes, and it will take me months. Years maybe. And I want you to have it.
"When I do finally pop off, it will be there for you to remember me by. Perhaps you can pass it on to Sarah, and then her little ones."
"A family heirloom?"
"Yes. Yes, exactly that."
We sat for a while in silence. Losing people was always going to be a trigger for me, I realised.
Mum's voice brought me back.
"Are you all right?"
I nodded, and wiped my face.
She reached deep into her bag, and handed me some needles with half a side of a jersey.
"Remember we started knitting for that lady going to the orphanage in Tanzania? Then your work took over."
"Yes," I replied, taking the partly made garment. "I'm glad you kept it."
"Why don't you do a few rows? It'll relax you.
"Then I'll get that coffee. I just want to get to the end of this sleeve for the baby jacket."
The meditative action lulled my thoughts. I hardly noticed when Judy placed a mug beside me. Though when she did, a thought crystallised.
One day, at some point in the future, she would come and live with Mike and me, just as I had moved in with her and Dad. I would return the care and tenderness she'd given me and our circle would be complete.
Mum reached over to check the tension on my work.
"Is it going OK?"
"Yes, I'd forgotten how rewarding knitting can be. Thank you."
She picked up her work, and I continued with mine.
As my fingers moved, the repetition of the stitches soothed me.
The simple act of yarn round needle, slipping the stitch from one side to the other. Taking something so incomplete and making it whole.
Just as Mum had done with me.
We'll share another lovely family themed story from our archives every Monday and Thursday during March. Look out for the next one!