Blueberry & Orange Salmon With Roast Potatoes
---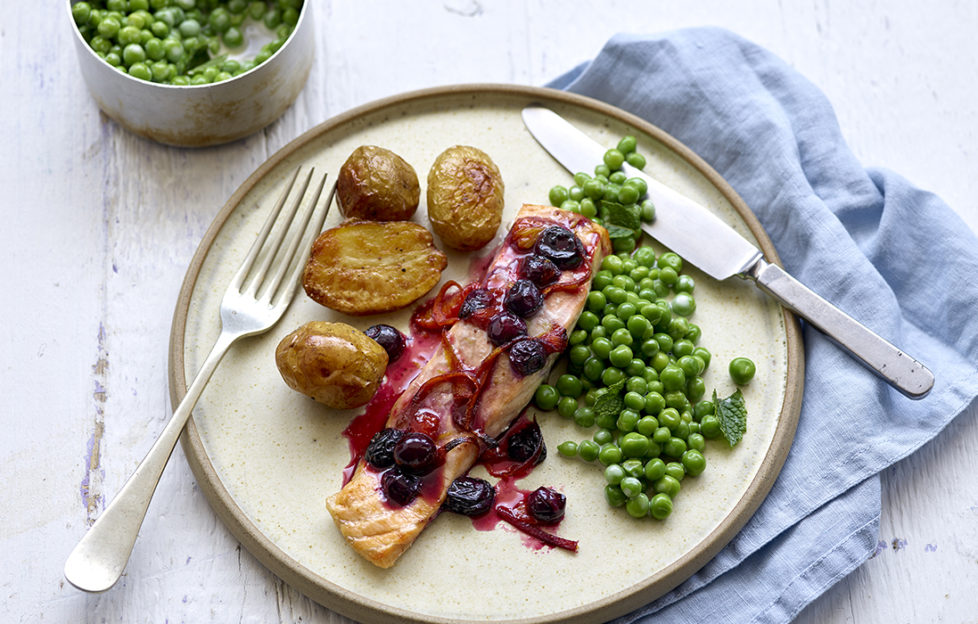 Here's an easy but impressive dinner dish from Love Fresh Berries.  The blueberries create a soft and tangy sauce which caramelises on top of the salmon – mmm!
Serves 4 
Preparation time: 15min 
Cooking time: 30-40min
Preheat the oven to 180C/fan 160C/gas mark 4. Place the potatoes in a roasting tin with the oil and some salt and pepper. Cook for 30-40min until golden and cooked through.
Pare the rind from the orange (a Y-shaped peeler is good for this), leaving behind the white pith. Cut the rind into thin strips.
Use a serrated knife to remove the white pith and then segment the orange by cutting between the segments to release the flesh. Do this over a small pan to catch the segments and any juices.
Add the zest strips, with the honey, to the pan. Bring to the boil, cover and simmer for 3-4min until the zest has softened. Stir in the blueberries and simmer, uncovered, for a couple more minutes until some have burst.
Place the salmon fillets in an ovenproof dish. Spoon over half the blueberry sauce and cook alongside the potatoes for 15-20min until the fish just flakes and the sauce is beginning to caramelise.
While the fish is in the oven, bring a pan of water to the boil, add the peas and cook for 2-3min until tender.  Drain and stir in the crème fraiche and mint.
Serve the fish with the potatoes and peas and the reserved blueberry sauce.
TIP: For a veggie version, pan-fry 100g cubed paneer (per person) in 1tbsp vegetable oil until golden. Then bake in the oven with half the blueberry sauce for 10min.  Serve as above.