Happy Mother's Day
---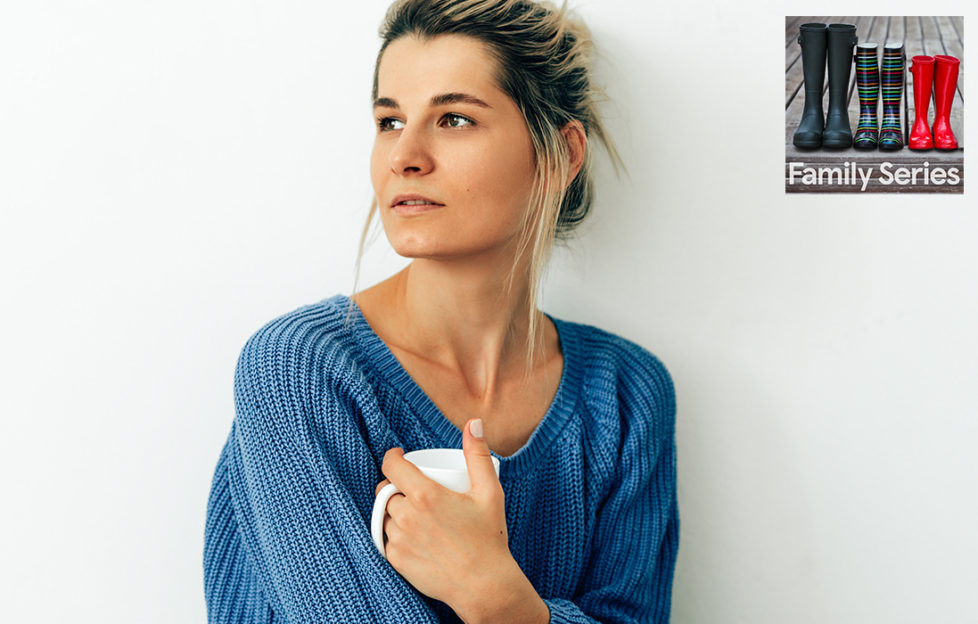 Pic: Shutterstock
All alone on this special day, Mel couldn't help feeling sorry for herself…
Mel put the coffee maker on and gazed out at the garden. White narcissi, her favourites, were stirring in the breeze.
It was the first proper spring day, perfect for Mother's Day. She should be happier.
Still… not even a card.
If her husband were home, he'd have prompted the boys to buy flowers.
But Mike was in the Navy and not due home until after Easter, and Chris and David, at nineteen and twenty-two, shouldn't need reminding about Mother's Day.
Get a grip, Mel told herself as her eyes welled up. Mike would be appalled if he could see you.
Actually he wouldn't, she corrected herself. He'd be more irritated with the boys, for forgetting.
Mel sighed. A daughter would have been nice.
Honestly! There you go again. Girls aren't perfect. You have two great sons, so snap out of it, woman!
Chris was at university, and would surely ring this evening. As for David, he was out with his girlfriend, Jenna.
She wouldn't want it any other way, Mel said firmly to herself. Jenna was a really nice girl, and they'd been going out for nearly seven months.
Only… well, it felt as though she was losing a son, that was all.
---
The coffee machine gurgled. Mel topped the mug with a shake of chocolate, then took it into the sitting room.
Before she could sit down, the phone rang. There! That would be Chris.
It was Mike, calling from the Red Sea.
"So, have you enjoyed Mother's Day so far?" he asked, sounding excited.
She didn't like to disillusion him.
"It's been great." She forced herself to sound enthusiastic. "Hang on, I think that's David home. Want to talk to him?"
"No, I spoke to him this morning," Mike began, sounding puzzled. Then he laughed. "Uh-oh, I think I've got the time difference wrong. You'd better go."
They said their goodbyes, just as Mel heard David's key in the lock.
Then the sitting-room door was thrown open and David walked in, beaming, his arms full of white narcissi.
"Happy Mother's Day," he said, stooping to kiss her.
Jenna was beside him, carrying a cake.
"Oh dear," she said, seeing Mel's cappuccino. "We've brought a Mother's Day tea. Are we too late?"
"I haven't started," Mel said happily. "Shall I make you some?"
"No," David said firmly. "Just sit there. We'll get it – but just look at the cake."
The beautifully iced words, Happy Mother's Day, looked too practised to be David's handiwork.
"Jenna did that," he said proudly. "These are for you." He handed over the flowers. "I rang Dad to find out what flowers you liked –"
"Which he ought to have known," Jenna put in, rolling her eyes at Mel.
"Then we made the cake. Well, Jenna did. But I did help."
It was Mel's turn to roll her eyes.
"Quite an achievement. Getting him to help, I mean."
Both women laughed.
"Ganging up on me?" David asked, putting an arm round each of them, then broke away as the phone rang.
By the time Mel ended the call from her younger son, more cappuccinos had appeared and Jenna had put the flowers in a pretty vase.
"This is really sweet of you," Mel said, touching her arm.
"I'm just sorry we didn't get here earlier," Jenna replied. "I'm was afraid you'd think you'd been forgotten!"
"Oh no, I was sure they'd remember. Eventually, anyway," Mel added.
They were still laughing when David came in.
"Are you suggesting I'd forget Mother's Day?" he asked in mock outrage.
"Well…" He took Jenna's hand. "I'll have someone to remind me in future.
"I talked to Dad this morning, and nothing's official yet, but we have something to tell you…"
This was turning into a really special Mother's Day, Mel conceded.
It sounded as if she wasn't losing a son at all, but gaining a daughter instead – and she couldn't have been any happier about that.
We're sharing another lovely family-themed story from our archives every week during March – look out for the next one!