A Village Scandal | Dilly Court
---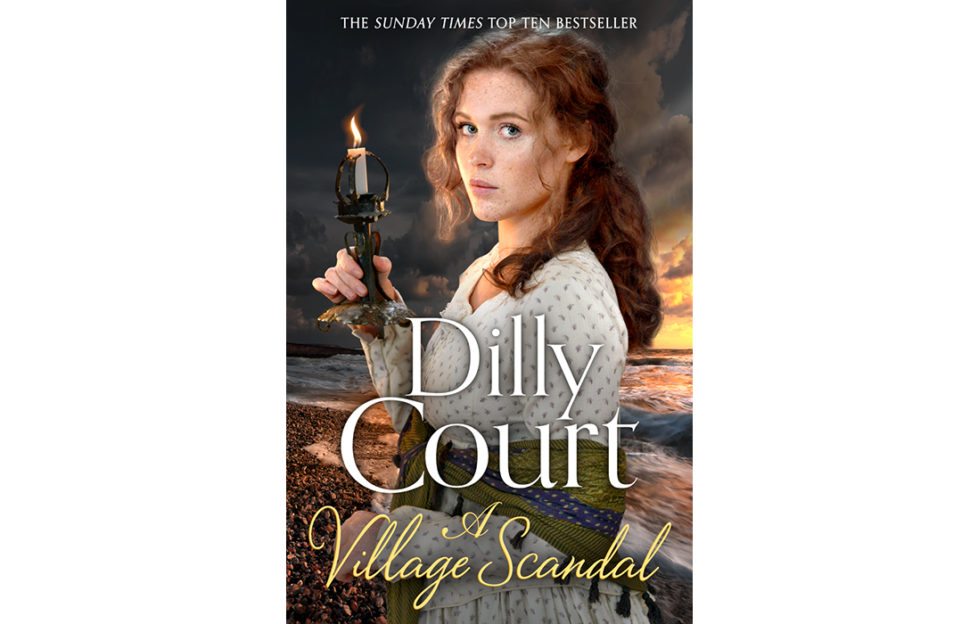 REVIEWED BY KAREN BYROM
From rags to riches… to rags again!
Fans of Dilly Court who have read The Christmas Wedding will be familiar with Daisy Tattersall's change in fortune as she left behind life as a governess in London for marriage to Jay, illegitimate son of a country squire. The curmudgeonly old man married Jay's mother on his deathbed and now Jay and Daisy are "lord and lady" of Creek Manor.
A Village Scandal (which can be read as a stand-alone – you'll soon familiarise yourself with the characters) opens with Jay and Daisy celebrating their wedding a second time with friends, family, tenants and local worthies who could not attend the first ceremony.
But just as the party is in full swing, Jay is called away to deal with a problem on the Lazy Jane, the ship that is his pride and joy.
Then tragedy strikes…
He does not return, leaving a frantic Daisy to scour the neighbourhood for answers as to what has happened to him. When two crew members turn up to tell a tale of piracy and abandonment at sea, everyone presumes Jay is dead, but Daisy's heart tells her otherwise.
Jay will return, she is sure, and till then, she'll attend to her duties as chatelaine of Creek Hall.
The problem is, she can't access Jay's money – and the estate is already in debt. With nowhere else to turn, Daisy accepts neighbour Marjorie Harker's offer to lease the manor for a year, so that she can entertain in style and find rich husbands for her daughters.
Meanwhile, the Lazy Jane has turned up, and Daisy turns to merchant Marius Walters to charter her for business. But until the money comes in, Daisy finds herself in the invidious situation of being a servant in her own home, at Marjorie's beck and call.
And all the while Jay remains missing, and her heart remains sore. Is he dead? Has he abandoned her? Daisy doesn't know, but she does know one thing. She won't give up until she has answers!
Who will come to Daisy's rescue?
Oh Daisy! Who couldn't like and admire her? Fierce, feisty, determined and loyal, she's the perfect heroine for this quick-paced, enthralling story of life above and below stairs. The former governess moves easily between both worlds, friends with everyone from the local pig-woman to the cream of society, giving us a wonderful insight into life in a nineteenth century rural community. She's surrounded by characters who add to the noise and colour of the story – people like pretentious Marjorie, gold-digger Julian Carrington, Jay's mother Mary and his likeable brothers and sisters, and of course the charming Marius Walters, who comes to her rescue time and again.
Super story-telling, a variety of characters and an enthralling plot make this saga a definite five-star read!
A Village Scandal by Dilly Court is published by HarperCollins in paperback, RRP £7.99, and is available from Amazon.
5 to give away now!
For a chance to win a copy of A Village Scandal, click here.