Easy Meals Using Tinned, Dried and Frozen Foods
---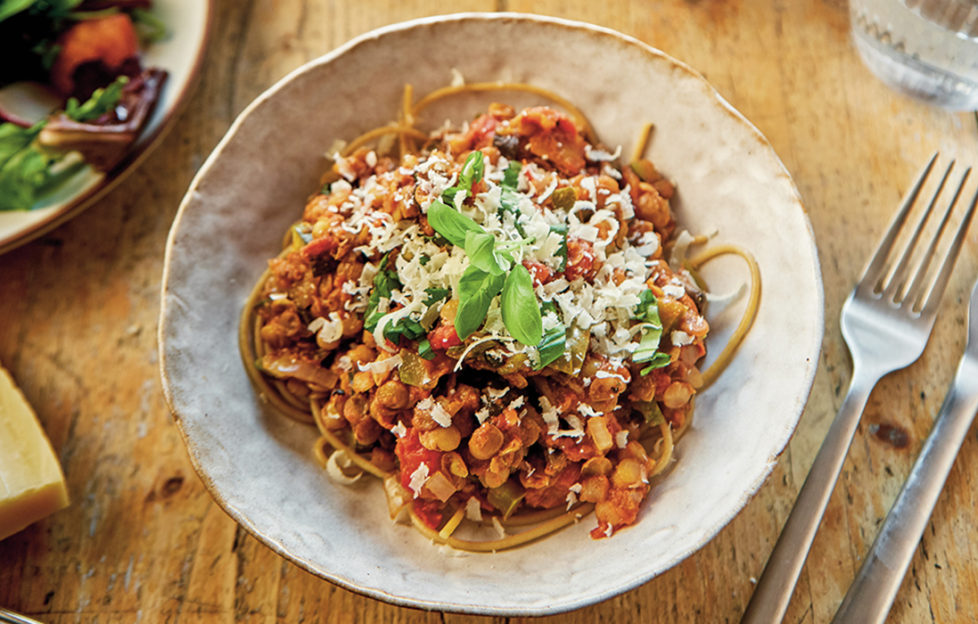 Lentil bolognese
Stock up on some storecupboard staples – you'll be amazed how many delicious meals you can make with them!
Most of us are shopping and cooking in a different way during these challenging times of Coronavirus. If fresh produce is limited at your supermarket, or you can't get out to pick it up, don't panic! Remember tinned, dried, and frozen goods can be just as nutritious and will last much longer. Qualified nutritionist Tamara Willner from NHS-backed Second Nature offers up some healthy ideas…
Stock up on some pantry staples
To help you stay in control of what you're eating, make a weekly meal plan using some of your storecupboard favourites. Here are some versatile ingredients to look out for…
Tinned chopped tomatoes
Tinned legumes and lentils
Onions
Bulb of garlic
Tinned fish (tuna, salmon, sardines or mackerel)
Eggs
Brown rice
Your favourite grains (quinoa, bulgur wheat, pearl barley)
Wholemeal pasta
Rolled or porridge oats
Nuts and seeds
Olive oil
Vinegar (red/white wine, balsamic)
Soy sauce
Mustard
Stock cubes
Herbs and spices
Fridge and freezer essentials
Keep these fresh and frozen ingredients topped up to bulk out your dishes…
Cheese (Cheddar, parmesan and maybe some mozzarella or feta)
Plain Greek or natural yoghurt
Butter
Frozen vegetables (such as peas, broccoli, green beans, cauliflower)
Fresh vegetables for basic salads (carrots, tomatoes, cucumber, spinach leaves/mixed lettuce, peppers, onions)
Frozen berries
Frozen plain white fish fillets
Putting it all together
Need some inspiration? Try some of these delicious ideas…
Two bean chilli (serves 4)
Dice 1 onion, 1 red pepper and 2 cloves of garlic. Heat 1tbsp of olive oil in a large saucepan and fry the onion and pepper until softened. Add 1tsp each of cumin, chilli powder and paprika and fry for 1 minute.
Tip in 1 tin of red kidney beans (drained), 1 tin of black beans (drained) and 1 tin of chopped tomatoes. Bring to the boil and simmer for 15 minutes, season with salt and pepper. Serve the chilli with a portion of brown rice and a leafy green side salad.
Tuna pasta (serves 4)
Finely dice 2 cloves of garlic and 1 onion. Heat 1tbsp of olive oil in a large frying pan. Cook the onion for a few minutes until softened. Stir in the garlic, 1 tin of chopped tomatoes and ½ tsp of chilli powder. Simmer for 5 minutes.
Meanwhile bring a large saucepan of water and ½tsp of salt to the boil (you can use freshly boiled water from the kettle to speed this up). Add 200g of wholemeal pasta and cook according to packet instructions.
Drain the liquid from 2 x 200g tins (or 4 x 80g tins) of tuna. Flake the tuna into the tomato sauce and heat through. Drain the pasta and stir into the sauce. Remove from the heat and season with pepper. Serve with a large mixed salad.
Salad your way (serves 2)
Chop up any fresh vegetables you have on hand, such as tomatoes, cucumber and peppers and toss together with a few large handfuls of baby spinach leaves or mixed salad leaves. Choose your source of protein – tinned tuna, boiled eggs or drained chickpeas – and add to the salad.
In a small bowl, mix together 3tbsp balsamic vinegar, 1tsp mustard, 1 clove minced garlic, 100ml olive oil and a pinch of salt and pepper. Drizzle over your salad (any leftover dressing can be stored in a glass jar or container in the fridge for next time) and toss to combine. If you want to keep the salad for longer, don't add the dressing until just before serving.
Vegetable stir fry (serves 4)
Take out a large handful of each of the frozen vegetables, such as broccoli, cauliflower and green beans. Partially cook them by heating in the microwave for roughly 3 minutes.
Meanwhile, slice 1 onion, finely dice 2 cloves of garlic, slice a red pepper into strips and chop 1 carrot into thin matchsticks. Heat 2tbsp of olive oil in a large wok or fry pan. Fry the onion until slightly softened. Add all the vegetables (fresh and frozen) to the pan with the garlic and stir fry for roughly 5 minutes, or until the vegetables have softened slightly. Add 2 tbsp of soy sauce and ½ tsp chilli flakes (more if you like it hotter) and stir fry for another 2 minutes.
Serve with cooked brown rice and any meat/fish/chicken you have on hand, or top with a fried egg.
Baked fish (serves 1)
Preheat the oven to 180℃ and oil an oven tray. Take out 1 frozen fish fillet per person and place on the oven tray. Drizzle over a little olive oil and season with salt, pepper and a pinch of chilli flakes (optional). Cook for 15-25 minutes until cooked through (when cut the fish should all be white – if grey or pink, it needs a bit longer). Serve with a mixed salad or any prepared frozen vegetables, such as broccoli, cauliflower and green peas.
Green pea omelette (serves 1)
Cook 80g of frozen peas in the microwave according to packet instructions. Grate 30g of cheddar cheese, slice 30g mozzarella or have 30g of feta ready to crumble (whichever you have on hand). Crack 3 eggs into a bowl and whisk with a pinch of salt and pepper. Heat 1tbsp butter in a fry pan and pour in the egg mixture. Once starting to set, sprinkle over the peas and your choice of cheese. Continue to lift the edges of the omelette and let any uncooked egg mixture run underneath. Once firm enough, fold the omelette in half and serve onto a plate with a leafy green salad.
Breakfast parfait (serves 1)
Take a large glass or glass jar and spoon in 1tbsp of Greek or natural yoghurt. Place a small handful of frozen berries on top, then another tbsp of yoghurt. Sprinkle over a layer of oats and crushed nuts. Repeat all of these layers once more and finish with 1tbsp yoghurt with a few berries on top.
One portion now, another for later!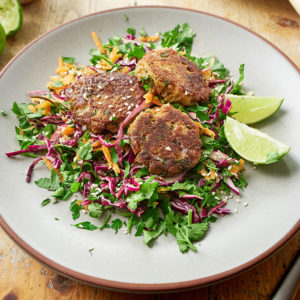 When you have some time on your hands, cook larger quantities and refrigerate or freeze extra portions for another time. Here are some delicious ideas… just scale the quantities up or down to suit!
Stay happy and healthy at home
Click here for top tips to survive self-isolation and working from home