SKIPPY® East Asian Noodle Salad
---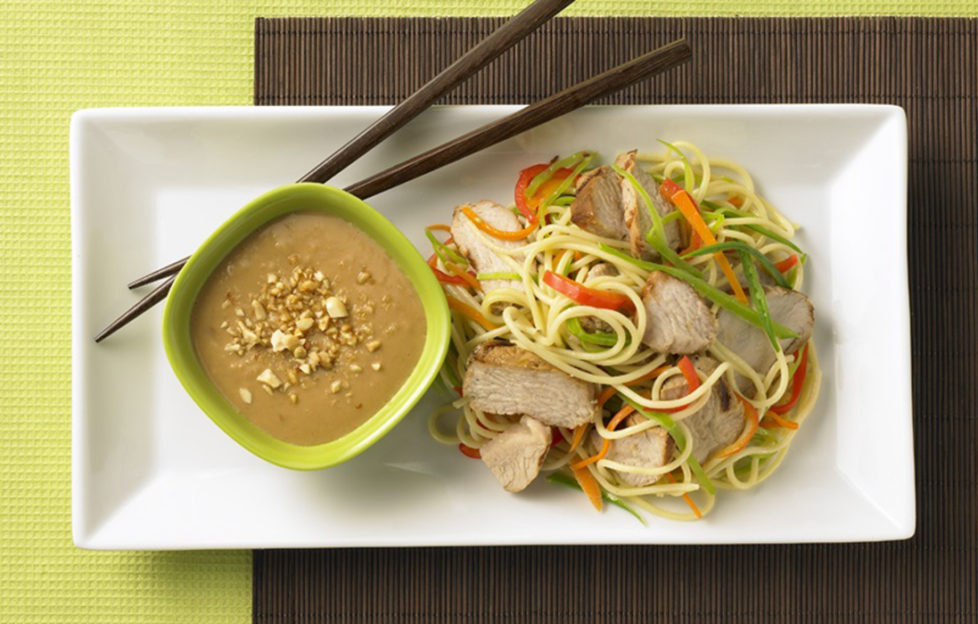 Turkey, veggies, noodles, and a dipping sauce made with SKIPPY® peanut butter – planning dinner just got very tasty!
Serves: 6
Marinade: 30min
Cooking time: 15min
Cut the turkey steaks in half lengthwise. In a large resealable food storage bag, combine the turkey, 3tbsp soy sauce and 1tsp garlic. Seal the bag; refrigerate for 30min to marinate.
Heat the grill or barbecue to a medium heat.
To make the dressing, in small bowl, combine the remaining 180ml soy sauce, the remaining 1tsp garlic, the vegetable oil, peanut butter, vinegar, sesame oil, root ginger and chilli flakes. Stir in the peanuts.
Remove the turkey from the marinade; discard the remaining marinade. Barbecue the turkey, turning occasionally, for 15min or until it is no longer pink in the middle and the juices run clear. Cover with foil and leave to stand for 10min before slicing.
Cook the spaghetti according to the directions on the pack, then drain.
Bring a small saucepan of water to the boil. Blanch the carrots, red pepper and mangetout in boiling water for 1-2min or until crisply tender, then drain. In a large bowl, toss together the turkey, spaghetti and vegetables. Serve with the dressing.
Win! Win! Win!
We have a lovely prize from SKIPPY® Peanut Butter to win between April 7-13, 2020. Click here for details!