Easter Chicks Cupcakes
---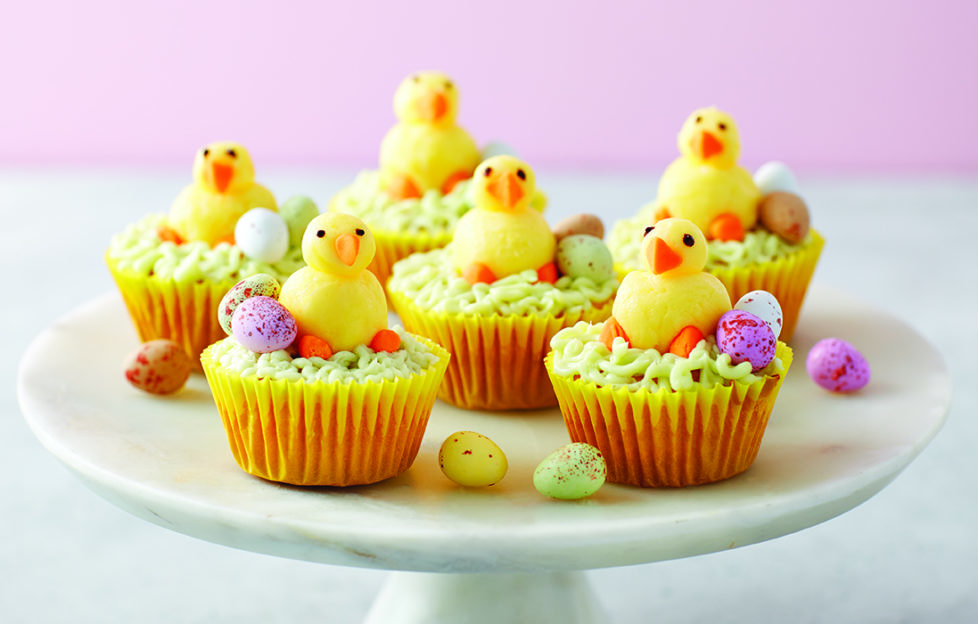 Have fun making these cute chicks for Easter – they'll definitely bring a splash of colour to your Easter spread!
Pre-heat the oven to 180°C, Gas Mark 4. Line a cupcake tin with the paper cases.
Make half of the Madeira cake mix according to instructions on the pack (or double up the recipe, using the full 500g mix for more cupcakes). Add the zest of half the lemon and the vanilla extract, then give the batter a final mix.
Add 1 heaped tbsp of batter to each cupcake case (filling roughly one third of the case) and bake for 15min. Allow to cool.
In a large mixing bowl, cream the softened butter using an electric whisk to make the buttercream. Gradually add the icing sugar and keep mixing. Finish with the juice of half the lemon. Remove half the buttercream into another bowl. Gradually add green food colouring to one bowl and yellow to the other (one drop at a time) and mix until pastel shades are achieved. Add to piping bags with round nozzles, using small for the green and large for the yellow.
Pipe the green loosely and freely around the edge of the cupcake to resemble grass. Pipe the yellow in 2 stages to make the chick. First, make a large round base, then add a smaller round head. Set aside for 5-10min to allow to dry a little. Place the ready to roll icing in a mixing bowl and knead together with a little yellow and red food colouring, mix until a pastel orange is achieved. Add more icing sugar if the mix is too wet.
Shape small pieces of the orange icing to form a beak and feet and add to each chick, add eyes using a little melted Dairyfine then decorate with one or two mini chocolate eggs.