Sweet Potato Tarte Flambee
---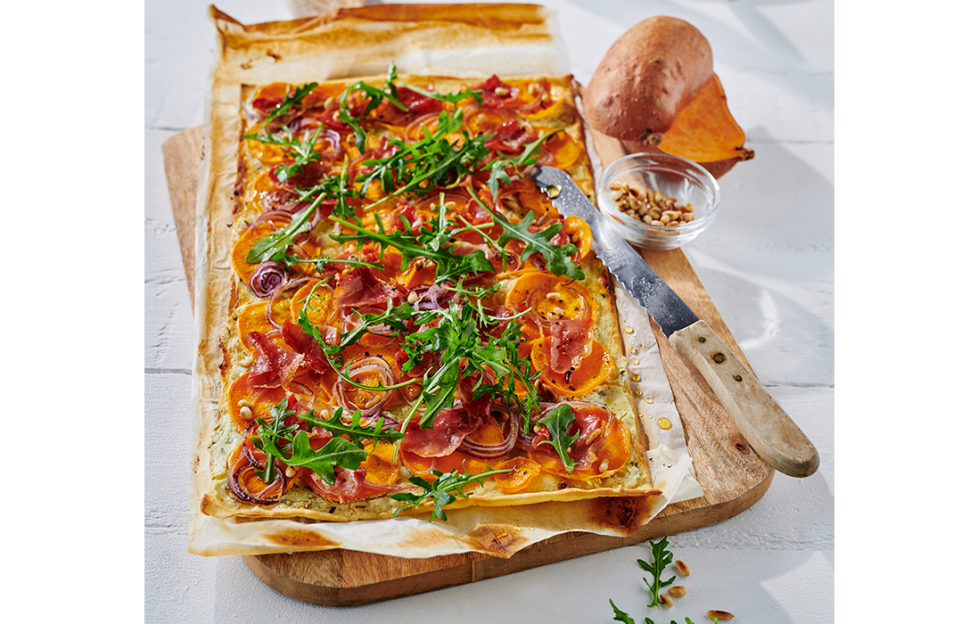 A quick and simple light lunch, this recipe creates the perfect balance between sweet maple syrup, smooth herby cream cheese and salty Parma ham.
American sweet potatoes are rich in fibre, high in vitamins A and E, and contain no fat. They're ideal at any meal, right through to desserts. Sweet potatoes are packed with flavour and perfect for those experimenting with a flexitarian diet. Stocked in all major retailers, they're a quick-cook, cost-effective ingredient.
Preparation time: approx 30min
Cooking time: 12-16 min
Serves: 4-6
Energy: 570 kcal/ 2390 kJ per serving
Roll out the bread dough on 2 baking trays lined with baking paper. Spread the dough with the cream cheese. Peel onions and cut into fine rings. Cut the ham into pieces. Peel and wash the sweet potatoes and cut them into 2mm thin slices.
Preheat the oven to 240°C. Put the sweet potatoes on the dough and spoon the oil over the slices. Spread the onions and ham on top and bake in the oven for 12-16min until sizzling and starting to go crispy.
Coarsely chop the pine nuts and roast them in a small non-stick pan until golden brown. Wash the rocket, spin or shake dry and pluck into bite-sized pieces.
Garnish the flambee with rocket and pine nuts, sprinkle with maple syrup and serve.