Leek & Haddock Pie With Cheese Saffron Mash
---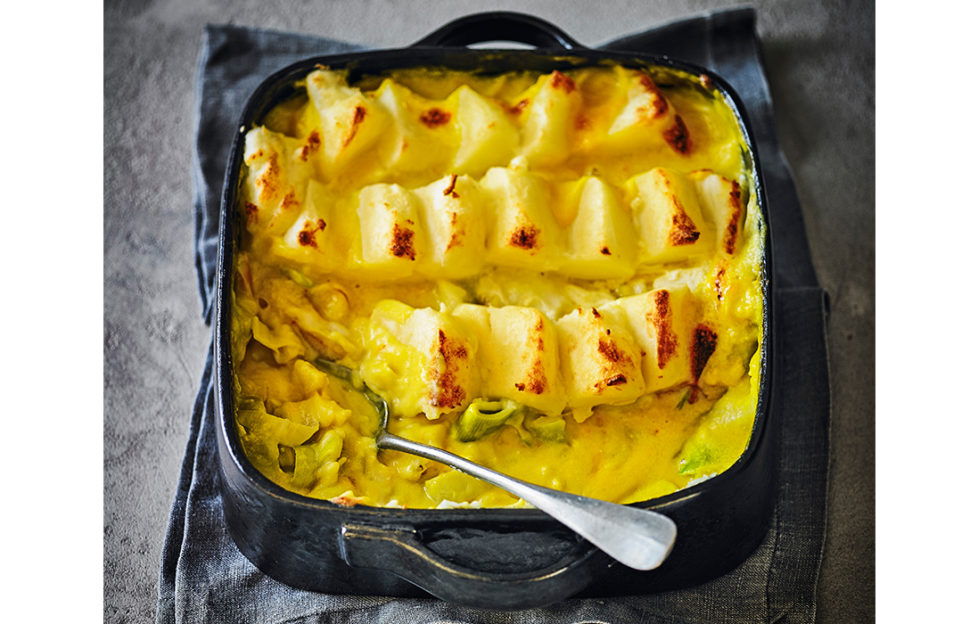 Prepare this rich, cheesy haddock pie recipe from Waitrose now and pop it in the freezer, ready and waiting for the time when we can all get together for a family dinner once again! It's perfectly safe to thaw, cook and re-freeze fish provided it's allowed to cool down fully after cooking.
Preparation time: 20min + cooling, freezing and defrosting 
Cooking time: 15min + 40-50min reheating
Serves: 4
Heat 35g butter in a large frying pan. Add the leeks, season and soften for 5min over a low heat. Sit the fish on top, sprinkle over the saffron, then add the milk. Bring to a simmer, then cover and cook for 5min until the fish is just cooked. Lift the fish and leeks from the liquid with a slotted spoon, and put into a 25x20cm baking dish.
Put the flour and remaining butter into the milk, then whisk constantly over a medium heat until boiling. Once thickened, cook for 1min. Taste for seasoning.
Make sure the fish is in very big flakes, then pour the sauce over the fish and leeks, and leave until cold.
Remove the mash from the containers, then cut each pack into 16 wedges and lay them on top of the pie. Alternatively arrange scoops or slices of your home-made mash on top.
Cover the haddock pie with greased foil and freeze for up to 3 months.
Defrost completely in the fridge. Preheat the oven to 200ºC, Gas  6. Place the haddock pie on a baking sheet, remove the foil and bake for 40-50min until piping hot, golden and bubbling. Delicious served with freshly cooked essential Pea and Bean Mix (from the freezer aisle).
Find tips on successful food freezing from a Waitrose expert here!