Comic Relief's Exclusive Charlie Mackesy T-Shirt
---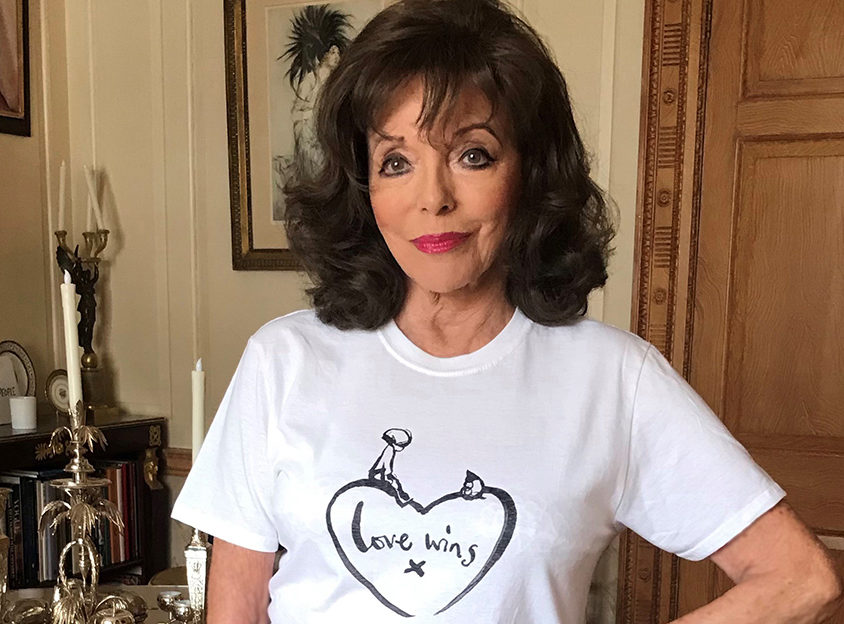 Joan Collins
Much loved British author, artist and illustrator, Charlie Mackesy, and Comic Relief have come together to release an exclusive T-shirt to raise vital funds to help vulnerable people whose lives have been impacted by the COVID-19 pandemic
The limited-edition T-shirt created in collaboration with Charlie Mackesy features his beloved characters, the Boy and the Mole alongside the poignant slogan, Love Wins. The T-shirt is on sale now for £15 and is available online at comicrelief.com/love-wins, with every pound going to charities on the front line of the coronavirus fight.
A host of stars and long-term celebrity supporters have already shown their support at home, including Claudia Winkleman, Dame Joan Collins, Himesh Patel and Nadiya Hussain.
Charlie Mackesy said,
"I've loved being involved in this collaboration, making a drawing which I hope captures the spirit of togetherness and kindness of the public at this incredibly difficult time.
The community love we have seen shine through these heart-breaking times is remarkable. It has never been so important to look after each other.
Money raised by the T-shirt will go to charities in the UK and around the world that urgently need support to respond to the tragic impact of the coronavirus crisis and navigate the complex challenges they face in making sure vulnerable people are still reached and cared for.
In the UK, many charities are seeing a huge increase in demand for their help – some are working day and night to deliver food and basic essentials to those in need, and others are doing everything possible to make sure no one is left feeling alone, frightened and at risk.
Claudia Winkleman said,
I think the design by Charlie Mackesy is just beautiful.
"I've supported Comic Relief for as long as I can remember – they fund incredible organisations, and I've seen first-hand how they genuinely change lives. If you can, please join me in wearing a 'Love Wins' T-shirt – it's gorgeous, it's entirely ethically produced, and every single pound will help support some of the most vulnerable people affected by this crisis."
Buy It Now
The limited-edition Charlie Mackesy Love Wins T-shirt for Comic Relief is available to buy now at comicrelief.com/love-wins, with all profits going to help the fight against coronavirus.
The Big Night In
The Big Night In will see the BBC's biggest charitable partners, Comic Relief and BBC Children in Need, join forces for the very first time with a live star-studded show to help raise funds and celebrate acts of kindness on Thursday April 23, on BBC One – don't miss it!