To Dye – Or Deep Condition? A Stylist Recommends Products For Fabulous Hair In Lockdown
---
At this time many people are probably thinking, "I can't cope with these grey roots any more. Do I grab a box dye? Do I ask my hairdresser if they can recommend one?"
As a hairdresser I am obliged to say that's understandable. From a young age I would dye my own hair all the time. It felt like hay – dry and brittle.
On leaving school, I started an apprenticeship in a local hairdressers. There I found out that box dyes are made with completely different chemicals from salon products. I couldn't believe what I had been putting my hair through.
From that moment I never touched another drug store item for my hair, not even shampoos and conditioners.
I discovered that the professional products hairdressers use do not contain harsh chemicals  – some even add moisture back into the hair! I'd found a whole new range of products to play about with.
To this day my clients never know what colour my hair is going to be when they come in for their appointments. The difference now is that my hair is in a healthy state and definitely does not feel like hay!
Why dye now?
So my advice during this period of lockdown is: stop and think for a moment.
My hairdresser would be doing my hair right now if they could.
No one beside my family is even going to see my hair because we aren't allowed to go out and socialise.
Can I say 100% that a home treatment will not mess my hair up?
Can I afford a colour correction from my hairdresser once this is all done?
Hairdressers are professionals, trained for 3-4 years. We provide the best services for the structure and condition of every unique client's hair.
So, during this time…
Instead of stressing your hair, treat it. Coconut oil is great if you don't want to splash out on products.
Leave the colour of your hair alone and just wait! Everyone is in the same situation right now.
Put the heated stylers away and the hairdryer, too. Why damage your hair with unnecessary heat when you aren't going anywhere?
The best thing, which I am encouraging every one of my own clients to do right now, is to invest in some conditioning treatments and masks.
If you aren't putting all the usual daily strains on your hair and instead you're actually giving it what it wants and needs, your hair is going look and feel marvellous after all this is over.
Never mind the colour – the condition of your hair will be so much better than it was to start with!
Top products to nourish your hair
So here are my personal top 5 conditioning treatments and masks that I would recommend clients to use in the meantime.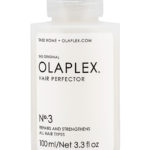 1 Olaplex No 3 Hair Perfector £26, Look Fantastic (free delivery)
This is your at-home care for beautiful colour and healthy hair. Whether you have dyed hair, or struggle with breakage from heat styling, the active Olaplex ingredients will help repair broken bonds for sleeker, healthier-looking hair. It's top of my list.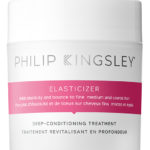 2 Philip Kingsley Elasticizer £28.80 reduced from £32, Look Fantastic (free delivery)
This product delivers a rush of moisture inside the hair cuticle, especially beneficial for extremely damaged hair. There are visible results from one application, which will build as you continue to use it.
It provides UV protection even after washing, which will help prolong the life of colour treatments.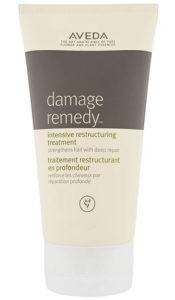 3 Aveda Damage Remedy intensive restructuring treatment Look Fantastic £30 (free delivery)
Part of a three-step restructuring system, the Aveda Damage Remedy Intensive Restructuring Treatment works to strengthen hair that has been weakened by chemical processes, heat styling and environmental exposure.
The weekly treatment is full of  quinoa protein. It works to penetrate even the most damaged hair to help repair, seal and smooth.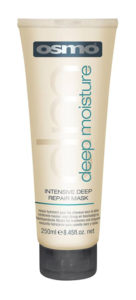 4 Osmo Intensive Deep Repair Mask  250ml only £5.30 or 1200ml for £13.85 FeelUnique
This product is a bargain! It's an intensive hydrating hair treatment mask that aims to restore moisture balance.
It contains extract of Jojoba, which adds shine and smoothes the cuticle, as well as Patchouli Oil to tame frizz and improve scalp health. Ylang Ylang soothes the hair while controlling excess sebum production. It's suitable for dry or damaged hair.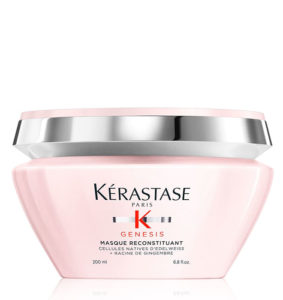 5 Kérastase Genesis Hair Mask £32.75 Look Fantastic (free delivery)
A leading dermatologist, nutritionist and hairdresser have worked on this range to target the two key causes of hair fall – stress on the fibres and breakage.
This mask delivers intense hydration and nourishment. A blend of edelweiss native cells, ginger root and Aminexil smooths hair fibres, reducing tangling and strengthening the strand.
The antioxidant formula helps to protect against environmental pollution or heat, which can damage and weaken hair. Newly nourished and conditioned, your hair will emerge from the mask feeling softer and looking healthier.
If You Can't Stand The Roots…
Joey Storey, senior stylist for SALON64, adds his tips for coping with coloured hair regrowth during lockdown.
Joey explains, "Home colour can cause trouble for the hair, including skin allergies. Many of these home colour kits are made using the most potent ingredients.
"At SALON46, we tailor-make your colour to work with your individual hair type, to disturb the hair's natural form as little as possible.
"Hair accessories such as headbands will always see you through, so get creative! Use a scarf to camouflage unwanted greys. A bit of back-combing and messy up-dos will be a great master of disguise as well.
"Alternatively, for now I would recommend temporary products such as ColourWoW (brush-on) or L'Oréal Magic Colour (spray on). These will not cause any damage to your hair.
"I sometimes place a comb along the parting just to stop any pigment from getting onto the scalp.
"For blondes, I would recommend a texture spray like Balloon by R&Co (£30 for 176ml, JustMyLook) to thicken your parting. The volume created will hide the roots and give softer-looking new growth.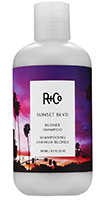 "A good purple or silver shampoo such as R&Co Sunset Boulevard (£47 for shampoo and conditioner twin pack 241ml each, JustMyLook) will soften the contrast between your own hair colour and the blonde."
And he echoes the advice to deep-condition with Olaplex products. "While you have the time, give your hair a bit of a break and some self-love. Invest in the Olaplex range to get your hair back to its optimal health, ready for your next salon visit."
The SALON64 team are on hand to answer any questions you have, Joey adds.