Come To The Virtual Village Hall! Activities For Older People
---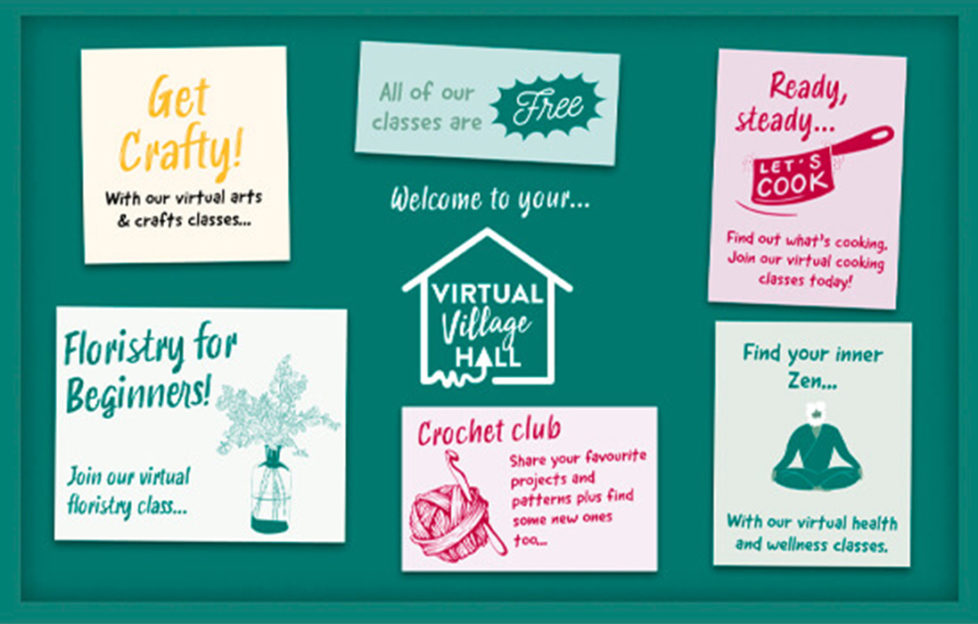 Older people keen to beat boredom and isolation are being invited to visit the Virtual Village Hall.
It's a new programme of online activities from Royal Voluntary Service, the national charity that's delivering the volunteer effort for the NHS Volunteer Responders scheme in England.
The Virtual Village Hall is a programme of themed video sessions, led by expert tutors. They include some well-known faces, as well as Royal Voluntary Service activity co-ordinators and volunteers. It's all supported by players of People's Postcode Lottery.
Activities include:
gentle exercise
arts and crafts
cooking and baking
technology skills
quizzes
Also planned are beatboxing, laughter yoga and Zumba Gold.
Learn a craft with TV personalities
Winner of The Great British Sewing Bee 2019, Juliet Uzor, will show us how to sew a simple tote bag
2019 Masterchef winner Irini Tzortzoglou will be sharing her quick fried pitta bread recipe
Couture stitcher Georgina Bellamy will share basic embroidery for beginners.
Sessions are available seven days a week, and you can join in with both live and pre-recorded activities. Here's a lovely flower arranging guide, led by a volunteer named Sue:
Some of the downloadable guides will be available to print and share. There are links to official government guidelines and Covid-19 information too (just like a village hall noticeboard).
Join in this week…
During this time, the RVS charity's hundreds of social clubs and groups are unable to meet. So the Virtual Village Hall programme is designed to bring people together to enjoy activities. This week's live sessions will be:
Monday, May 4 – Bags of Hope (craft activity)
Tuesday, May 5 – Weekly Meditation, 3pm
Wednesday, May 6 – Weekly Laughter Yoga, 3pm
Thursday, May 7 – Qi Gong, 3pm
Friday, May 8 – VE Day activities and Singing
Lockdown is encouraging many older people to try out new technology and appreciate its benefits. Royal Voluntary Service is making it as easy as possible to access the Virtual Village Hall via its website.
All sessions will be available to access on demand on the Virtual Village Hall YouTube channel.
"We wanted to offer something practical"
Catherine Johnstone CBE is Chief Executive at Royal Voluntary Service. She said, "Our volunteers run hundreds of clubs and groups in local communities. With the support of People's Postcode Lottery, they encourage people to be social and active.
"Sadly, with social distancing rules in place, these activities can no longer go ahead. Lockdown conditions are particularly tough for older people and those living alone.
"So we wanted to offer something practical to relieve the  isolation and boredom many people will be experiencing. Visitors to the Virtual Village Hall will find lots of activities they might already enjoy, as well as a wide range of new things to try.
Activities have been designed specifically for older people to do at home and need very little space or equipment.
"Keep our brains working and our bodies moving"
Supporting the Virtual Village Hall is Royal Voluntary Service ambassador Felicity Kendal CBE, who has previously made her own video about the charity's fantastic work.
Felicity said, "I've visited several Royal Voluntary Service social clubs run by volunteers and have seen first-hand the difference they make to people's lives. This is particularly true for those who may not socialise or see other people regularly.
"During this challenging time when we can't get out and about, it's vitally important for our health and well-being that we find ways to keep our brains working and our bodies moving.
"The Virtual Village Hall is a great way to enjoy the things we like doing and to learn some new ones. I'm looking forward to being able to visit more Royal Voluntary Service social clubs once this very hard time is over.
"We must take comfort in the fact that although we are isolated, we are all in this together."
Keep busy, keep to a routine
Hazel Johnstone, Senior Programmes Manager at People's Postcode Lottery, said, "We're delighted that players of People's Postcode Lottery are supporting Royal Voluntary Service and the Virtual Village Hall.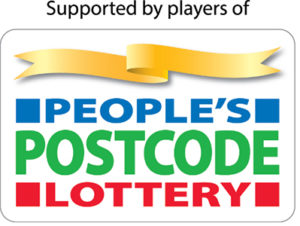 "Keeping busy and maintaining a sense of routine have been shown to be helpful in supporting mental health and wellbeing during this time. Learning new skills benefits all of us, whatever our age."
Royal Voluntary Service is one of Britain's largest volunteering charities with volunteers supporting thousands of people each month in hospitals and in the community.
The charity is also one of the largest retailers in the NHS, with its network of cafes and shops providing a valued haven in hospitals.
Find out more about the Virtual Village Hall here!