Alpine Cheesy Bacon & Potato Gratin For National Cheese Day
---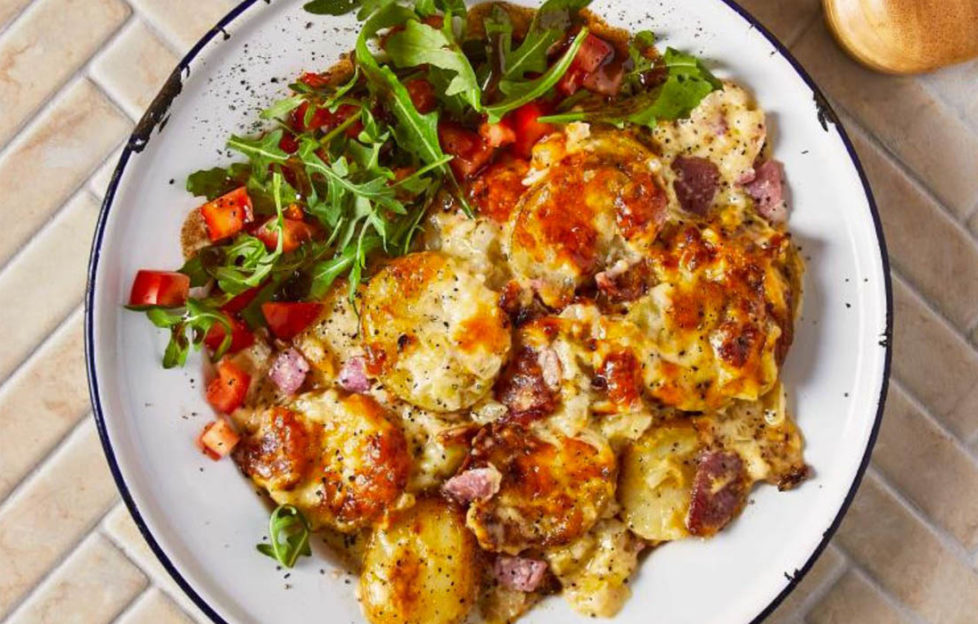 Use up your cheese board leftovers in this creamy cheese dish – a perfect comfort recipe from Gousto for the whole family to enjoy! A mix of bacon, potato and rich cheese sauce, finished with a side of peppery rocket salad.
Preheat the oven to 200°C/ 180°C fan/ Gas 6.

Slice the potatoes (skins on) into discs.

Add the discs to a baking tray with a drizzle of olive oil and a pinch of salt. Sprinkle with cold water (this will help the potatoes cook through!)

Put in the oven for 15-20min or until softened.

Peel and finely dice the onion,

peel and finely chop (or grate) the garlic, and roughly

chop the smoked streaky bacon.

Heat a large, dry, wide-based pan (preferably non-stick) over a medium-high heat.

Add the chopped bacon and diced onion and cook for 4-5min, stirring occasionally, until golden and crisp.

Add the chopped garlic and cook for 1-2min further or until fragrant.

Meanwhile, grate the Cheddar.

Once fragrant, add the Chinese rice wine to the pan and cook for 30sec.

Add 1tsp flour and give it all a good mix.

Gradually add 150ml milk, and stir until the sauce begins to thicken.                

Stir through the double cream and most of the grated Cheddar. Mix until the cheese has melted.

Season with black pepper.

Add potato discs to an ovenproof dish in a single layer.

Pour over cheesy bacon sauce to cover.

Repeat until you have a final layer of sauce, and top with any leftover potato discs.

Sprinkle over the reserved cheese and put the dish in the oven for 15-20min or until bubbling and golden.

While the gratin is in the oven, finely dice the tomato.

Add to a bowl with the rocket, balsamic vinegar, a drizzle of olive oil and a pinch of salt and pepper and

 mix.

Serve the gratin with the rocket salad on the side

. Enjoy!