Joe Swash Backs Loose Women Mental Health Campaign
---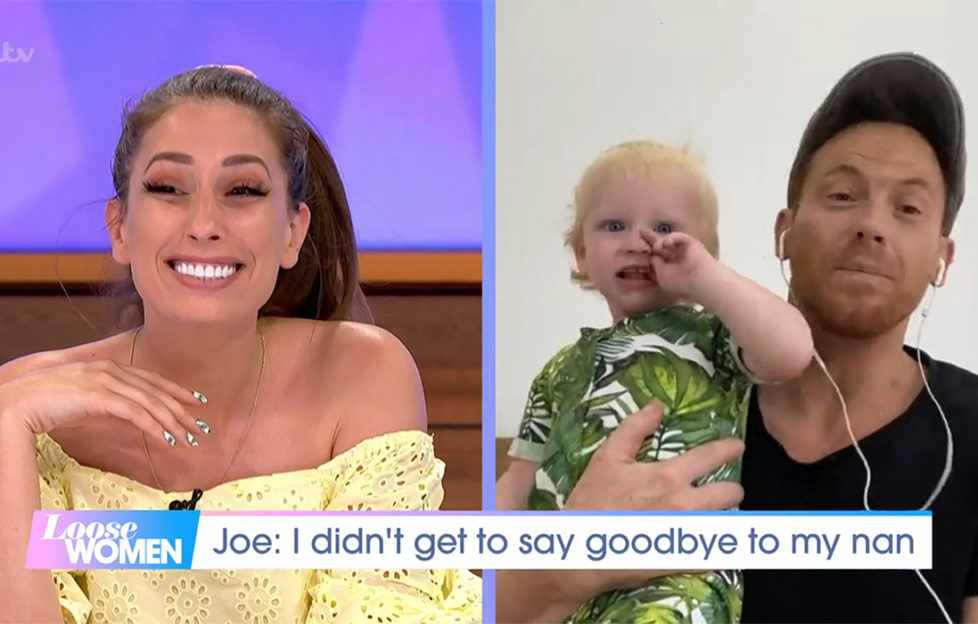 Stacey Solomon and Joe Swash on Loose Women. Photo by ITV/Shutterstock
Telly favourite Joe Swash spoke to the Loose Women panel today and threw his weight behind the show's Stand By Your Man campaign
The Dancing On Ice winner spoke about losing his nan during the coronavirus pandemic and the pain of not being able to say a proper goodbye.
"That's the difficulty with losing someone at the moment. We didn't get to say goodbye. The thought of my nan being on her own as well is really difficult. And the funeral, not everyone could come to the funeral. She was so important to us, she had 24 grandkids and 12 great grandkids, so she's going to be missed so much. We're devastated. It happening during the coronavirus means I couldn't fulfill my nan's last wishes. She'd planned her funeral, she knew how she wanted it."
The Loose Women Stand By Your Man campaign  encourages viewers to talk to the men in their lives and check on their mental health, as well as encouraging men to speak up when they're struggling.
Joe (38) is in a relationship with Loose Women's Stacey Solomon and they have four boys between them, including one-year-old Rex. He said he's getting better about being open about his feelings.
"I'm not really the best person because I don't talk a lot myself, I hold a lot in. I could take a leaf out of that book and try and open up a little bit. I think it's difficult sometimes for certain people.
I'm so lucky, I've got Stacey, I've got a tight-knit family.
"I know if I need to talk about anything, they're all there for me and I think, for me, that's the most important thing. But yeah, I think I need to work on that on myself – be a little bit more open and talk openly. Stacey will tell you the same as well."
His partner fully supported his decision to speak out, telling him he'd become "better" at speaking about his feelings over time.
She said, "Definitely at the start of the relationship, I remember thinking, 'He is a closed book', even though I could sense something wasn't right, I just never knew what it was."
The couple – who are both I'm A Celebrity… winners  – also said they were keen to set a good example to their children.
Joe said, "Having the kids, with them all being boys, and of the age where they need to know things – they need to know emotions… It's difficult, I'm having to be a lot more open, which is probably really healthy for me."
* To learn more about the Stand By Your Man mental health campaign, and for useful resources on how to support yourself or loved ones, click here.
Loose Women is on weekdays from 12:30pm on ITV