New BBC Sitcom Is Perfect Friday Night Telly!
---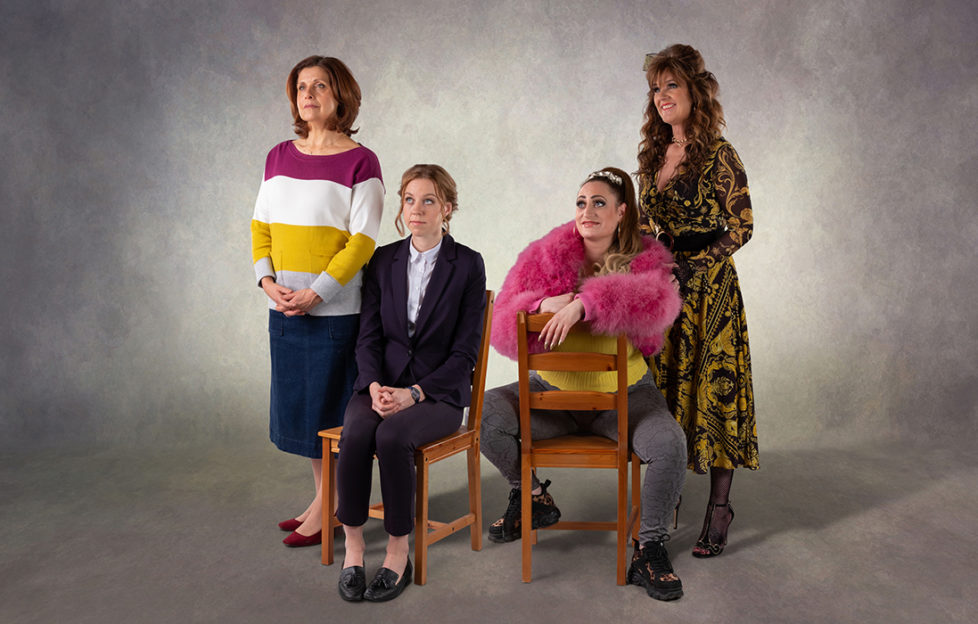 The Other One airs on BBC One on Fridays at 9pm, and is available on BBC iPlayer now. Pic: Cave Bear/Tiger Aspect - Photographer: Vish Sharma
BBC sitcom The Other One reveals what happens when two strangers – who both happen to be called Catherine – discover their late dad had a secret family, and they're sisters.
It stars Siobhan Finneran fromThe Stranger, A Confession and Happy Valley, with Rebecca Front (The Thick of It and War and Peace), Ellie White, Lauren Socha and Amit Shah.
Throughout the seven-part series the four leading women try to make sense of their newly found sisters and sort-of-step-mums. Both pairs live very different lives and adjusting to their new family members isn't easy!
It was written by Holly Walsh, the writer behind Motherland, and Pippa Brown, who produced Bad Education starring Jack Whitehall.
Here Siobhan Finneran, who plays one of the mums learning to find her feet in her new family dynamic, talks about what drew her to the project and how she would cope discovering a secret family!
What can you tell us about your character?
Marilyn is an amazing mix of wonderful and wacky which is why I wanted to play her. She has a sweet kind soul and is the sort of person people would say hasn't got a bad bone in her body (if they don't know about Colin!)
She is naïve, she is eccentric, she is damaged, she is fragile, and she is fun. She's honest, but has lived a life of secrets and lies for years.
She is very confident with her sexuality and makes no excuses for the life she's been living for 30 years. She seems to have coped with it extremely well on the surface – people may perceive her as arrogant but she's not arrogant.
She has always known the facts and has felt safe, never doubting Colin's feelings for her and has been happy with the arrangement. Once a week Colin was better than no Colin at all for her, she adored him and adores their child Cat.
She is delighted to have Cathy in her life as she brings another connection to Colin and a change for them, and is happy to see Cat with a new friend /confidante /sister.
Marilyn lives in a medicated bubble most of the time which I think is probably her way of coping with the life she has been living.
What drew you to the project?
I love Holly's writing, it's a joy to read her scripts. I'm a big fan so to get to work with her was a treat – I love Motherland. Holly's characters are beautifully written, funny and flawed human beings, so as an actress it's a joy to take on that type of role and to work out how to play it.
Have you got a favourite scene?
I enjoyed the dancing in episode two to Yes Sir I Can Boogie, I felt like I was in a pop video!
Working with the other three actresses was fantastic so all the scenes were memorable. I particularly enjoyed Cathy's and Cat's responses to practically everything – there's a childlike innocence they both have which I find charming, funny and at times very moving. Tess is dealing with shock, grief, anger and every emotion under the sun. and I think Rebecca is brilliant at making that heartbreaking whilst also hilarious.
How similar to your character are you? How would you react if you found yourself in this situation?
I don't have Marilyn's ability to live in a bubble, but I can imagine it's the only way she has coped. That and the medication! Too much real life is a struggle for her.
Marilyn's belief in the love she shared with Colin is extraordinary considering the circumstances; she's stayed devoted to a man she saw once a week for a few hours who was married to someone else.
She's the only woman I have ever come across who has no body image issues but clearly a full range of other issues, she has just bloody well enjoyed herself regardless and appears to be guilt free, not sure how that's achievable unless living completely in denial.
I think we would all (at times) like to see the world through Marilyn's heavily medicated rose-tinted specs, but as we know that's not always possible – and to live a healthy fulfilled life, not that practical!
The Other One airs on Fridays at 9pm on BBC One, and is available as a boxset on BBC iPlayer.