Raw Superfood Cupcakes
---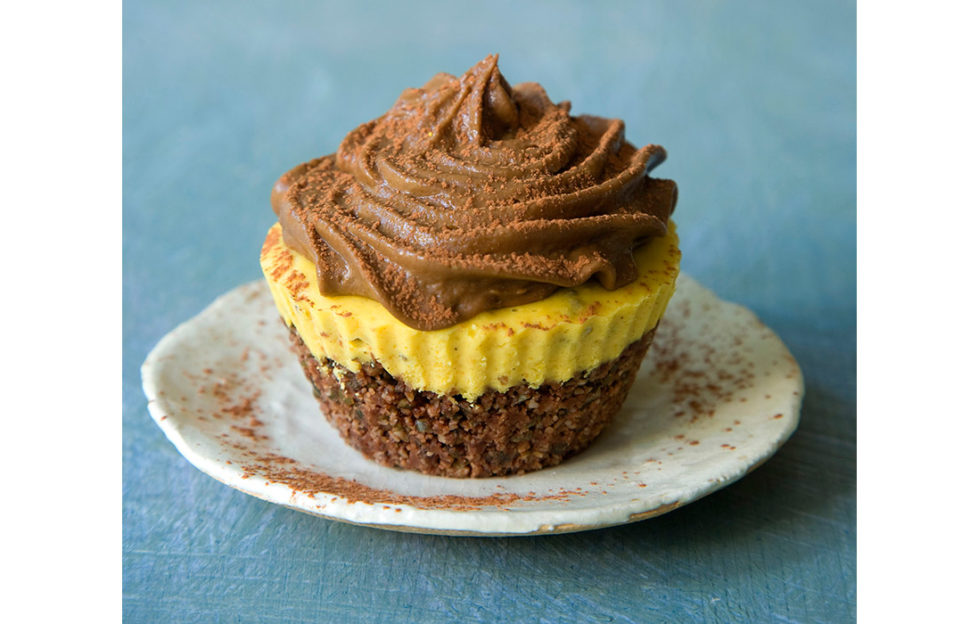 These delicious cakecakes, topped with a chocolate orange mousse, are gluten free, dairy free, sugar free and vegan.
Makes: 6
Chill time: 1hr 10min
Place the ground almonds, pumpkin seeds and dates into a food processor and blitz to break down. Add half of the coconut oil, half the cacao powder and the cinnamon and blitz again.
Spoon into 6 silicone cupcake cases, pressing down and levelling the top, and place in the fridge for at least 30min.
Meanwhile, melt together the creamed coconut and remaining coconut oil. Leave to cool slightly.
Place the mango into a small blender with the chia seeds, 1tbsp of the maple syrup, the turmeric and lime juice. Blitz to a purée. Pour in the melted creamed coconut and coconut oil and blitz again to a smooth purée.
Spoon the mango purée over the crumb base in the cupcake cases. Chill for another 30-40min, until set.
Place the remaining cacao powder, maple syrup and the avocado and orange zest into a small blender and blend until smooth. Spoon into a piping bag with star nozzle.
Remove the cupcakes from their cases and pipe the chocolate orange mousse on top.