Vegan Lemon Bars
---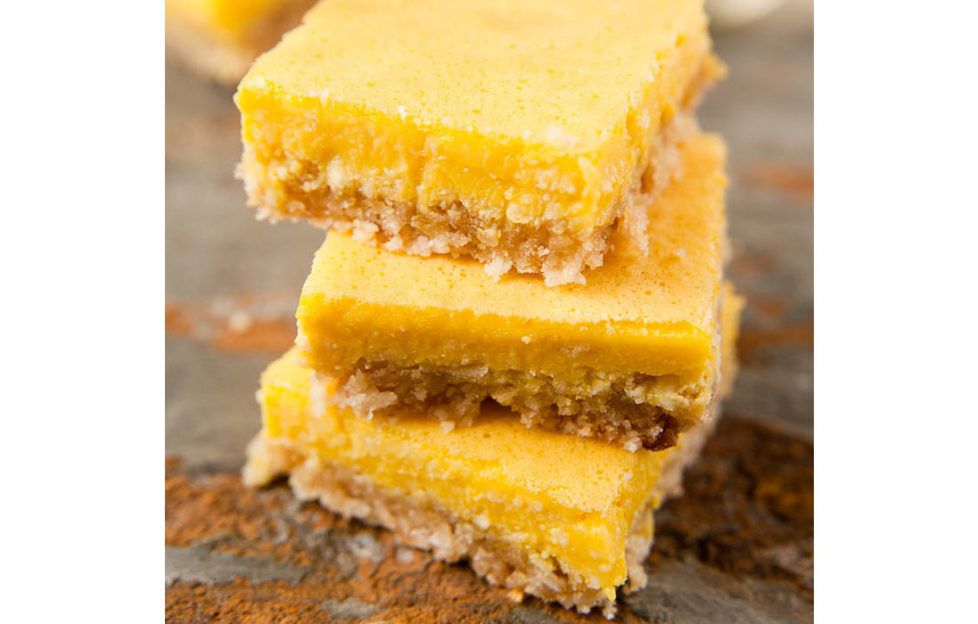 Tangy and light, these vegan lemon bars make a delicious dessert – especially with coconut vegan ice cream! Using xylitol helps keep overall sugar content down. The bars can be frozen for up to 3 months.
Why they're good for you:
Almonds and gluten-free oats keep these bars gluten-free and provide slow-releasing carbs, healthy fats and protein to help balance blood sugar, keeping you energised.
Preparation Time: 15min + 4hrs soaking
Cooking Time: 20min + 3-4hrs chilling
Makes: 16 bars
Line a 20cm square baking tin with parchment paper. Preheat the oven to 190oC, gas mark 5.
Add the oats, almonds, sea salt and xylitol to a food processor and blitz until fine. Add the vanilla extract and coconut oil and blend briefly to form a soft dough. If too crumbly, add a dash of water.
Spoon the mixture into the baking tin and press down firmly.
Bake for 15min, then lower the heat to 180ºC and bake for 10-15min until lightly golden brown. Remove from the oven.
Blend the filling ingredients together in a high speed blender until smooth and creamy. Pour the filling over the crust and spread into an even layer.
Bake for 20min or until just firm.
Cool completely , then place in the fridge for 3-4 hours to firm up.
Cut into squares to serve.
Tips
Swap the almonds in the base for another nut – walnuts and pecans are particularly good.
Cut the bar into squares and open freeze. You could serve this as a frozen dessert if wished.