Home Hair Care For Over 50s
---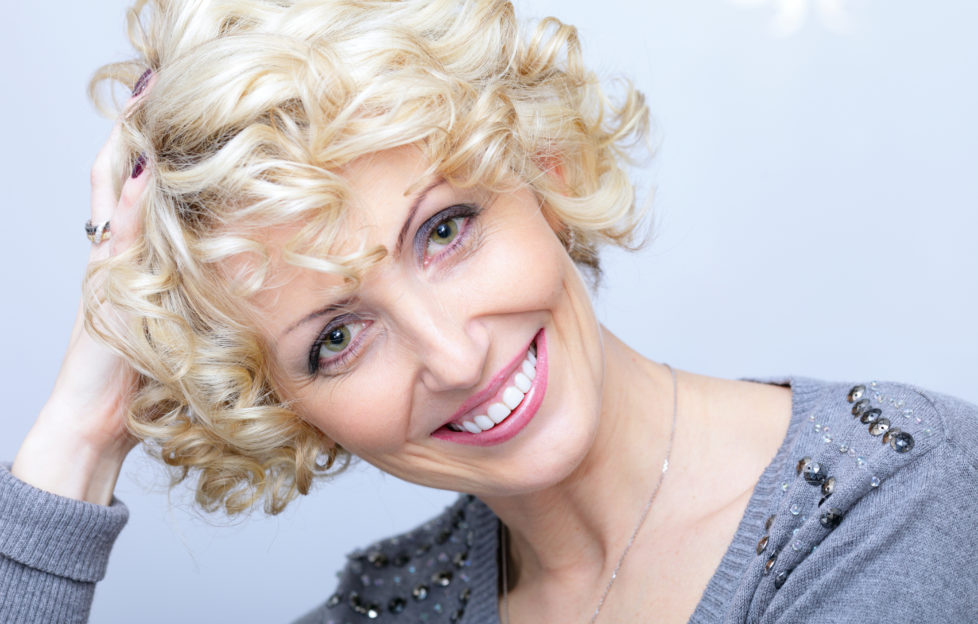 pic shutterstock
The average age of menopause is around 52, says Anabel Kingsley, Philip Kingsley Brand President and Consultant Trichologist.
"While subtle changes to the hair can and often do occur long before this, menopause speeds up these changes. As the body produces less oestrogen, and the percentage of androgens (male hormones) increase, the hair's diameter and the length to which it will grow gradually decreases.
"Again, daily application of stimulating anti-androgenic scalp drops can help to slow down the thinning of individual strands – and applying thickening protein sprays throughout the length of the hair can give the appearance of more body.
Take Care
Finer hairs are weaker, so it is important to take extra care when styling so as not to snap strands. Choose a brush that is gentle – the best are cushioned at the base with rounded, plastic prongs.
Weekly Treat
Now is a great time to give your locks extra TLC. Once a week, treat your hair to an intensive hydrating treatment. I love our Elasticizer, originally formulated for Audrey Hepburn. How to do it:
Dampen your hair in the sink, shower or with a spray bottle.
Work Elasticizer into your hair in sections, paying particular attention to your mid-lengths and ends (where hair is older and dryer).
Gently comb it through, starting at your ends and working up to ensure every strand is coated.
Pop on a shower cap and leave for at least an hour.
I suggest multi-tasking with your mask by applying it before:
Morning meditation
Doing a yoga, Pilates or HIIT class
Cooking up a storm
Or, wear it in your hair all day as you work from home!
Shampoo twice and condition as usual.
Since you're not going out as much, now is also a great time to give your hair a break from heated styling tools.
Healthy Scalp
Let's not forget your scalp – a healthy scalp is key to healthy hair! Looking after your scalp is even more important at the moment as stress, which we are all feeling, can negatively impact your scalp and hair growth – especially if you already suffer from dandruff or other scalp conditions.
I suggest that, once a week, you apply a targeted scalp mask. Use:
PK Exfoliating Scalp Mask if you shampoo less than every other day for clarifying. Formulated with the gentle exfoliant, Betaine Salicylate, and Zinc to soothe and control sebum (oil production)
PK Flaky/Itchy Scalp Mask if you have dandruff or flaking. Formulated with anti-fungal Piroctone Olamine, exfoliants Salicylic and Lactic Acid, hydrating Hyaluronic Acid and anti-oxidant-rich green tea extract.
PK Soothing Scalp Mask to calm irritation. Formulated with hydrating and calming Aloe Vera, cooling Menthol and moisturizing Olive Oil.
On top of your scalp mask, you can apply Elasticizer to your hair if you want to give yourself the ultimate hair AND scalp treat.
Stress management in itself is also essential. I am a fan of the apps Calm and Headspace.
For Blondes
If you are a bleached blonde, or highlight your hair (like me), please do not be tempted to touch up your roots at home – unless you have done it before and are comfortable doing so. Bleach can burn your scalp and break your hair if it's applied for too long, allowed to touch the scalp, or mixed incorrectly.
Instead, try using weekly intensive products to brighten blonde hues. I love our Blonde Booster weekly intensive shampoo and mask. I'm also a big fan of Josh Wood's root touch up products, which are more like a 'paint' and do not run the risk of damaging your hair or scalp.
Diet
Hair health is closely linked to diet. Being non-essential tissue, your hair is the first part of you to suffer when your nutrition is lacking. This is because your body will always prioritize the needs of essential tissue, such as your heart and lungs – your hair being the last to receive the goodness from what you eat.
So as part of your home hair care, dust off your favourite recipe books, or turn to food blogs for healthy recipe inspiration so you can create nutritious, balanced meals at home. This will benefit both your hair and your body!
When outdoor time is being limited, it's also vital to ensure your Vitamin D levels remain healthy. I suggest taking a supplement containing Vitamin D3, like our Root Complex – which also contains Vitamin C, Iron and Vitamin B12.
Split Ends
It's important to look after your ends. Ensure you're using a hair friendly hair brush. The best are those with rounded, plastic prongs as these are gentle on the hair cuticle. Avoid boar bristle brushes can tear away sections of the cuticle – a bit like string cheese.
Also, apply a strengthening split end protective product to your hair a few times a week, like our newly launched Bond Builder Split End Remedy. This contains next generation bond building technology. It not only instantly seals up to 98% of split ends to stop them from breaking further up the hair shaft, but strengthens the hair's protein structure and internal bonds. This minimizes breakage and helps to prevent split ends from forming in the future.
Create a Daily Routine
Just like you apply a toner to your face every day, give your scalp similar consideration. My favourite is our Stimulating Scalp Toner. However, if you suffer from dandruff, use our Flaky/Itchy Scalp Toner.
Telephone Consultations
If someone is very concerned about their hair/scalp, they can speak to one our experts and receive bespoke, prescription-only products.