Chargrilled Summer Greens With Yorkshire Wensleydale
---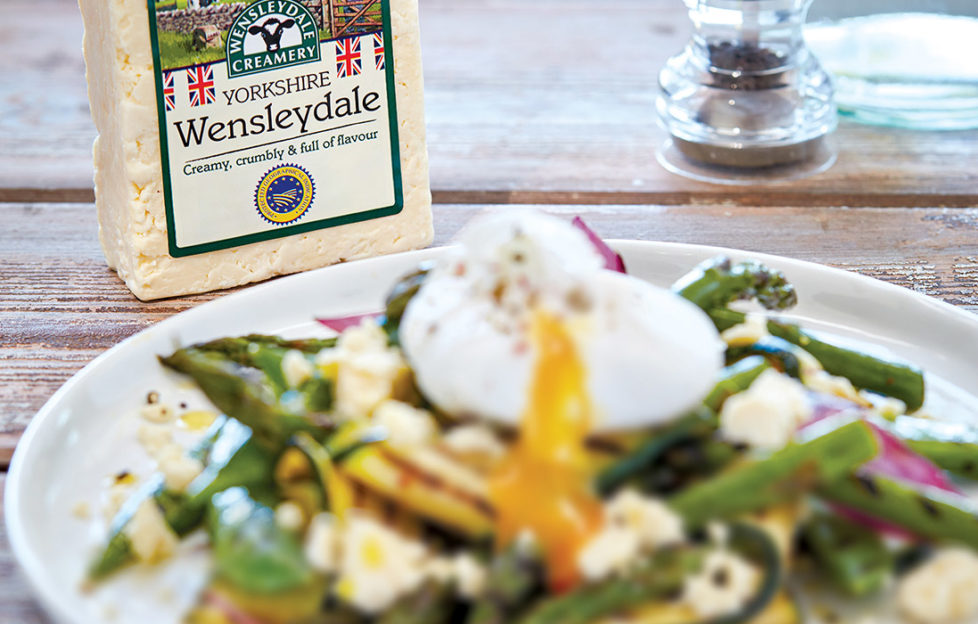 Healthy, satisfying, full of flavour and ready in 15 minutes – what more could you ask for a delicious light summer lunch!
Preparation Time: 5min
Cooking Time: 10min
Serves 2
Trim the asparagus and slice the courgette lengthways into strips.
Heat a griddle or frying pan and gently warm the rapeseed oil. Cook the asparagus and courgette for 1min on each side, remove, then place in a bowl and cover.
Sauté the onion. Add the mangetout and fresh peas, cook until tender and place into the bowl with the asparagus and courgettes.
Bring a small, deep pan of water to the boil. Add ½tsp salt and a cap full of white wine vinegar.
Crack the eggs into separate ramekins or cups, gently swirl the boiling water, add the eggs and poach for 1½min.
As the egg is cooking, place the spinach and olive oil in a bowl, add the vegetables and gently toss together. Place the greens in the middle of a small bowl or plate.
Remove the egg with a slotted spoon and place over the greens.
Finally, take your Yorkshire Wensleydale and crumble it over the top.