Chocolate, Cardamom & Hazelnut Tart
---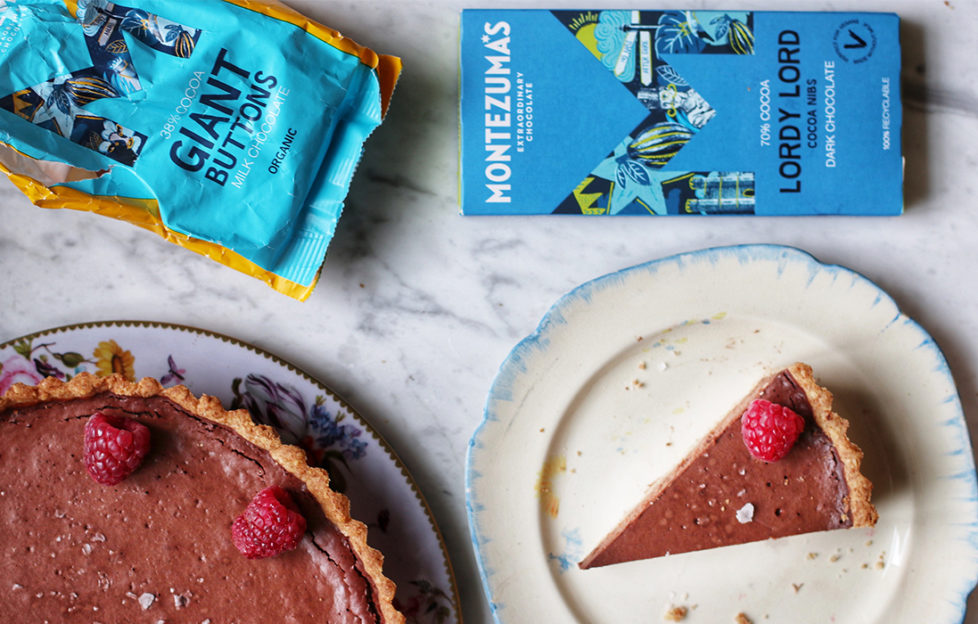 Preparation Time: 30min
Cooking Time: 50min+3hrs chilling
Serves 8-10
This tart shows how great quality chocolate can be elevated into a really special dessert. I love to serve it with fresh raspberries, which cut through its richness.
Prepare a 20cm loose-bottomed tart tin. Blitz hazelnuts in a processor until coarsely chopped. Add the flours, sugar and salt and pulse to mix.
Slide in the butter and blitz to a breadcrumb consistency. Add egg yolk and 1tbsp iced water. Pulse to bind the dough, adding the rest of the water if needed.
Once it's sticking together, but not feeling sticky, tip onto a work surface and bring together into a smooth ball. Press down to a disc. Between sheets of baking paper – it will be crumbly – roll out to a circle just bigger than your tart tin. Chill in the fridge for 30min-1hr.
Heat the oven to 170ºC fan. Put the bashed cardamom pods into the milk, bring almost to the boil on a medium heat, then cool.
Take pastry out of the fridge. Run your hands over the paper to warm it a little.
Use a rolling pin to transfer pastry to the tart tin. Press into the tin, patch up any rips, and prick base with a fork.
Line with one of the pieces of baking paper. Fill with baking beans and blind bake for 15min. Remove paper and beans and bake 10min more. Remove from the oven and reduce heat to 150ºC.
For the filling: Set up a bain marie with 4cm water in a pan over medium heat. Break chocolate into a bowl and place over the pan, not touching the water. Take off the heat when chocolate is 2/3 melted and stir to finish the melting. Cool for a few min.
Strain milk into the crème fraiche and whisk. Stir through melted chocolate. Crack in the eggs, pour in remaining cardamom and whisk to form a smooth custard.
Pour into the tart case. Bake for 22-25min.
Cool, then chill in the fridge for 2hrs. Slice and serve with raspberries.
Watch Rosie's Instagram tutorials with Montezuma's chocolate!