David Tennant and Jessica Hynes Return In 'There She Goes' Series 2
---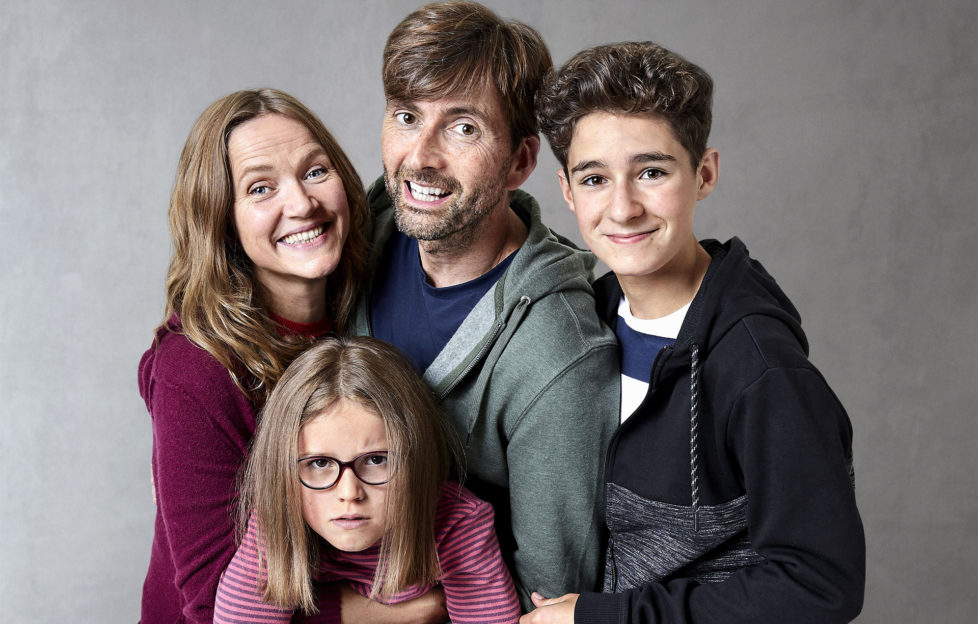 There She Goes stars David Tennant and Jessica Hynes. Pic: Scott Kershaw
Dr Who and Broadchurch star David Tennant has reunited with BAFTA winner Jessica Hynes to film a second series of the BBC's excellent There She Goes.
The show returns this month with David and Jessica playing mum and dad Simon and Emily, who are parents to a severely learning disabled girl, Rosie (played by Miley Locke) and her older brother Ben (Edan Hayhurst).
Series one, which was shown on BBC Four in 2018, followed the family's journey while trying adapt to their daughter's needs when she was a newborn, and again at nine.
Beginning on Thursday on BBC Two, series two will revisit the family 18 months on and focus on Rosie's life at ages three and 11.
The show is based on the experiences of writers Sarah Crawford and Shaun Pye, who have a daughter with a rare and as yet, undiagnosed chromosomal disorder.
"Everything in There She Goes comes from our experiences with our daughter Joey, and since we wrote the first series Joey's been working very hard coming up with new material," they told the BBC. "New ways of causing chaos, new puzzles for us to solve, new challenges to overcome. For example, trying to explain to her that it can't be Christmas in mid-February.
"We hope the stories we are recounting will be funny, surprising, insightful and emotive.
"In the earlier timeline the first series detailed how the strain of living with Rosie drove the family apart. The second series starts to show how as she gets older Rosie brings the family back together – it's a bit more us against the world."
"The truthfulness made the scripts so powerful"
Speaking about the role, David, who recently starred in Staged with Michael Sheen on BBC iPlayer, said he felt a big responsibility to tell their story well.
"I think Jess and I were always very aware that we were telling Shaun and Sarah's story," he said. "It's pretty much autobiographical. Knowing that you are retelling often quite painful moments in the life of someone who is sitting round the corner watching on a monitor feels like a big responsibility.
"But that very truthfulness is what made the scripts so powerful and drew me to the story in the first place."
Series two introduces Simon's father, played by Gregor Fisher who became a household name when he played the title role in Rab C. Nesbitt.
"I first worked with Gregor on Rab C Nesbitt about 400 years ago," Davis said. "I've always thought he is an exceptional actor and he has been a bit of a hero of mine. I was so pleased he agreed to play my dad. He was as delightful and brilliant as I'd hoped and creates a distinctive and memorable character."
While the show deals with serious issues, it has lovely elements of perfectly-timed comedy. Last year Jessica won a Best Female Comedy Performance BAFTA for her role in the first series of There She Goes.
"People that felt they'd never had a voice before"
"It was a wonderful night. I laddered my tights right before the ceremony began so I had to go up on stage bare-legged which I felt a bit self-conscious about. A very, very kind old friend texted after the show and said her husband had just said "Legs!" in a slightly Sid James way when I went up. I was pathetically grateful and happy when she told me this.
"I was also extremely grateful to get a Bafta for the show. It is one of the shows I'm most proud of being in."
She said the reaction to the first series was overwhelming.
"It was extremely moving and humbling to be part of a comedy that reached people that felt they'd never had a voice before. I well up just thinking about it."
There She Goes begins on Thursday 9 July, 9.30pm on BBC Two.