Tomato Confit, Celeriac & Asparagus Tart
---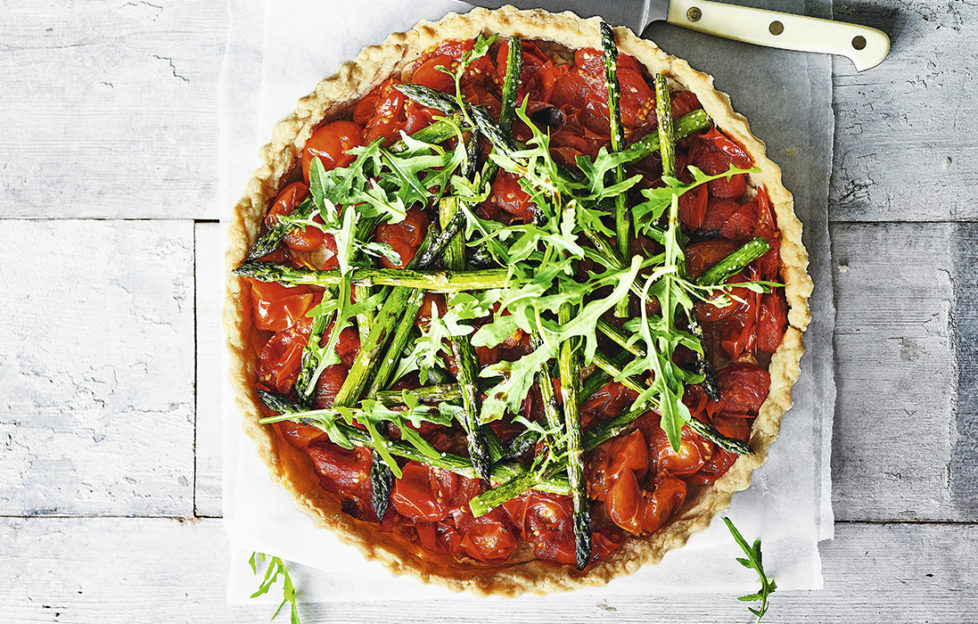 Recipe and image courtesy of Waitrose & Partners
Preparation time: 20min + chilling
Cooking time: 1hr 25min
Serves: 4-6
Preheat oven to 200°C, gas 6.
For the pastry: Add flour, coconut oil and salt to a food processor and blitz until resembling breadcrumbs. Mix in 3tbsp cold water until a dough forms. Dust a little flour on the work surface and knead the dough for 1min to bring it together.
When smooth and supple, wrap and set aside in the fridge to rest for 15min.
Base line a 23cm x 25cm x 3cm deep, loose-bottomed pie or flan tin with baking parchment. Flour the surface and roll out pastry to 0.5cm thick, between 2 pieces of parchment. Carefully lift into the tin. Press pastry into the edges, ensuring it comes slightly over the edges, then trim.
Cover dough with parchment and baking beans. Bake for 15min, remove paper and beans, and bake for 5-10min more until cooked through. Set aside to cool.
For the confit: Reduce oven to 150°C, gas 2. Add all the confit ingredients to a medium ovenproof dish that only just holds the tomatoes – the oil should come at least 1/3 of the way up the tomatoes. If not, add more oil. Bake for 40-45min until  tomatoes are soft. Remove carefully from the oven and drain through a metal sieve over a bowl to collect the oil. Set tomatoes aside, removing garlic and basil when cool enough.
While the tomatoes cook, trim and peel celeriac and cut into 0.5cm thick slices. Coat in 1tbsp oil and a pinch of salt and place on a baking tray. Bake for 20min or until tender.
Heat a pan with 1tbsp olive oil over a high heat, add the asparagus and reduce heat to medium. Sprinkle with a pinch of salt and sauté for 2-3min. Remove from the pan.
Layer the celeriac slices on the pastry base, then spread over the tomato confit and top with the asparagus. Pop in the oven for 10-15min until warmed through. Drizzle with balsamic vinegar and scatter with rocket. Serve immediately.