The Wadhams: Date Night
---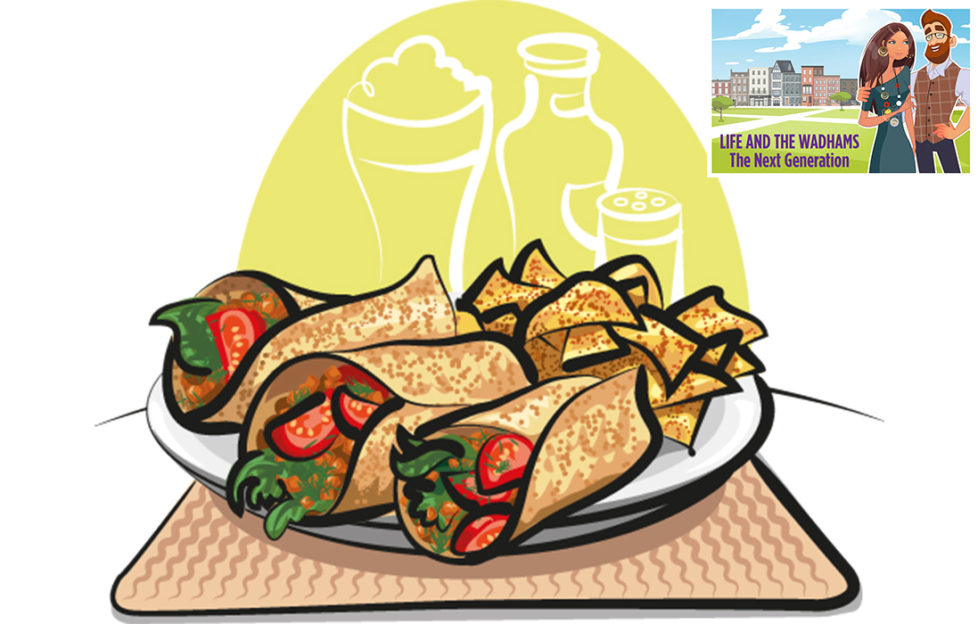 Pic: Shutterstock
We're delighted to bring you a new series of Life & The Wadhams, featuring the younger members of the family. Not yet met the Wadhams? Read the background on My Weekly's best-loved family, then come back and enjoy the next generation's adventures as Mike and Polly Wadham's elder grandson, Alex Clark settles into a new life with fiancée Natalie in the flat above the antique shop his grandfather used to own.
They're eagerly awaiting the arrival of their first baby in September. But first they have to get through lockdown …
---
As summer got into full swing, the days were blurring into each other for Natalie Jameson – unable to work as a hairdresser, at first due to lockdown and now because she was in the third trimester of pregnancy and unwilling to take any risks with her and fiancé Alex Clark's precious unborn baby.
But oh, she was bored! She and Alex should have been saving and planning for their wedding, she should have been visiting venues and wedding fairs with her their mums and Alex's sister, Jennifer, she should have been enjoying mocktail nights out with friends and shopping for sweet little Babygros. But instead she was cooped up in this flat most days.
Thankfully, her mum Carol had finally left for her own house after weeks of them all living on top of one another!
"Listen!" Alex had said that morning, after he'd silenced his phone alarm and pulled her toward him for one final snuggle before the day began.
"What to?" Natalie strained her ears but she could hear nothing.
"No shower churning out water. No breakfast TV blaring. There's no hairdryer whooshing at full blast, eating up all our electricity, no out of tune singing …"
"You can speak!" Natalie poked him indignantly. "You sound like a strangled seagull when you sing! Good job you've never auditioned for The Voice. Tom Jones wouldn't be turning his chair – he'd be overturning it in his rush to get away. Aw, admit it …" she cooed teasingly. "You miss my mum."
"About as much as I miss shaving." Alex grinned, stroking his hipster beard, of which he was justifiably proud – so he should be, the amount of time he spent grooming it. "But I still have to shower and dress in the morning, so better get on."
He leaped out of bed and was heading for the bathroom, before turning to say anxiously, "You're not missing her, are you? You're not regretting refusing her offer to go and live with her?"
"Only on sunny days," Natalie said, thinking with a small pang of her mum's large garden and airy conservatory which she could have been enjoying day after day. But at least she could go and visit her whenever she wanted to now, and even go indoors as part of her "bubble"!
But not today. Alex's reminder that they finally had their flat back to themselves had decided her on a plan for this evening – one that didn't involve her single mum or his large extended family over at No. 23 Elderslie Terrace.
---
"You see," she confided later in the morning when she popped in to say hello to Jennifer who worked at the antique shop downstairs from the flat, "Alex and I have had no time at all with just the two of us, for weeks now.
"So tonight is going to be date night! I'm going to clean the flat then go shopping for ingredients for a slap-up meal. I may even treat us to some scented candles.
"Then I'm going to have a pampering bath and get properly dressed up – if I can find something to fit, that is." She glanced down at her tummy ruefully.
"When Alex gets in from the garage, it will be to the smell of sizzling fajitas, the sound of Lewis Capaldi and the sight of his beautiful, dutiful wife." She giggled. "Do you think your grandma Polly would approve?"
Jennifer laughed. "I don't know that Grandma was ever a dutiful wife – though Grandpa liked to think he wore the trousers, as they said in the old days.
"But never mind all that, Nats! Guess what I'm doing this afternoon!" She rushed on before Natalie had a chance to even consider what her madcap sister-in-law-to-be could be planning. "I've got a driving lesson! They're restarting the tests and I've put in for mine. I should get a date quite soon."
"That's brilliant." Natalie was genuinely pleased. "I wish Alex could give you some extra practice, but I don't think you can share cars yet, can you?"
"We could if I lived with you …" Jennifer said in a wheedling tone.
"Oh no! Not a chance! We've just got rid of one house guest," Natalie squealed. "It's time for Alex and me to get some couple time before baby Clark arrives – and tonight's the night."
---
Dragging two full bags-for-life up the short flight of stairs to her flat three hours later, Natalie reflected that she'd better get a move on. There had been a long queue at the butcher's for steak, and an even longer one at the supermarket for all the other ingredients she needed.
Then she discovered she'd forgotten the to buy matches to light the candles and had to go back and queue all over again. On her way out, she'd been accosted by a woman who looked familiar despite the floral cotton mask covering half her face.
"Natalie!" the woman cried as Natalie struggled to identify her. "It's me, Laura! Of course you won't recognise me with all this bushy grey hair. Are you back to work, my dear? I've missed you so much."
"Oh, hi, Laura," Natalie finally recognised her as one of the clients from the hairdresser. "Lovely to see you. No, I'm not back yet, I'm afraid. I thought I might get back last week, but – "
"Oh how disappointing! I was just saying to Ken, you know I should phone the hairdresser for an appointment but I don't know if Natalie is back and I don't want anyone else messing about with my colour – " She was off in full swing, and it was a full thirty minutes before Natalie could get away!
Thankfully she dumped her shopping on the kitchen counter and washed her sticky hands. It was hot today … she could almost wish she was sitting in her mum's garden, sipping a cool drink. But there was work to be done!
---
The ringing of the phone cut through the hum of the Hoover just as Natalie was finishing off the chores she'd set herself and looking forward to her promised bath.
"Only me, darling," her mother trilled unnecessarily. Carol had not yet processed the fact her name came up on Natalie's phone and that she didn't need to identify herself. "Natalie, you must come over straight away and fix my hair for me. Kay and Lynn are coming over later for cocktails in the garden and I can't let them see me looking like this!"
"Sorry, Mum, I'm busy …" Natalie began, but her mother carried on as if she hadn't spoken.
"I don't need colour, sweetheart, just a quick trim and blow-dry. Please, pretty please? It's the first time I've seen them since I got back from South Africa – and I haven't seen you since I moved out last week."
Natalie looked at her watch and sighed.
"OK, Mum. I'll be over in fifteen minutes."
"And you will stay and say hello to them, won't you?" Her mum wheedled. "They're longing to hear all about the baby and the wedding plans …"
Wedding plans! If only. Didn't her mum know they were in the middle of a pandemic?
"I'll see you soon, Mum," she said firmly, and put the phone down.
---
The flat was clean, the fajitas were sizzling, but Natalie was more than just slightly frazzled by the time Alex got home from the family garage where he worked with his dad, Jim.
After being coerced to stay and say hello to her mum's friends, her leisurely bath had turned into a quick dash into the shower and she'd barely had time to squeeze into her leggings and a pretty top.
Still she was ready to greet her fiancé with a lipsticked kiss and serve up a romantic feast for him! The table was set, Lewis Capaldi was playing softly in the background, she had chosen a romantic film from Netflix to watch later on, before what she hoped would be an early night …
"Great! You're dressed up!" Alex boomed. "I'll grab a quick shower then we'll get going."
"Get going? Where?" Natalie asked blankly.
"Kev called me earlier. It's such a great night he suggested us six all going to meet up in the park. Suzi's bought one of those disposable barbecues and is bringing burgers and sausage and salad stuff – I'll grab some beer from the fridge, and we'll stop off at the supermarket for some of those mock Margarita cans for you.
"I'll need to remember a couple of big bottles of water, too, to put the coals out properly once we're done eating.
"Jake and Rhi are going to bring their Bluetooth speaker so we can have a proper mini party. It's going to be great fun!"
"But … I've made fajitas," was all Natalie could think to say.
Brilliant! I love your fajitas. Bung them in a plastic container and bring them along. They'll be great cold," Alex was already pulling off his greasy T-shirt and selecting a fresh one from the drawer. "Come on, Nats, you've been moaning about being cooped up all week – it's time to pa-a-a-arty."
Natalie laughed and gave in. It did sound fun. Maybe she'd leave off being a dutiful 1950s housewife until tomorrow – after all, they weren't even married yet.
But that was something she wanted to discuss with Alex before many days were up. After all, weddings were do-able again, even if they couldn't have the reception they planned.
It was time to set a date!
Join us again next month for more adventure with Life and the Wadhams: The Next Generation.
To see Karen's reviews of great new books, visit www.karensbookbag.co.uk and follow @karensbookbag on Twitter and Instagram