Rosie's Bellini Cream Puffs
---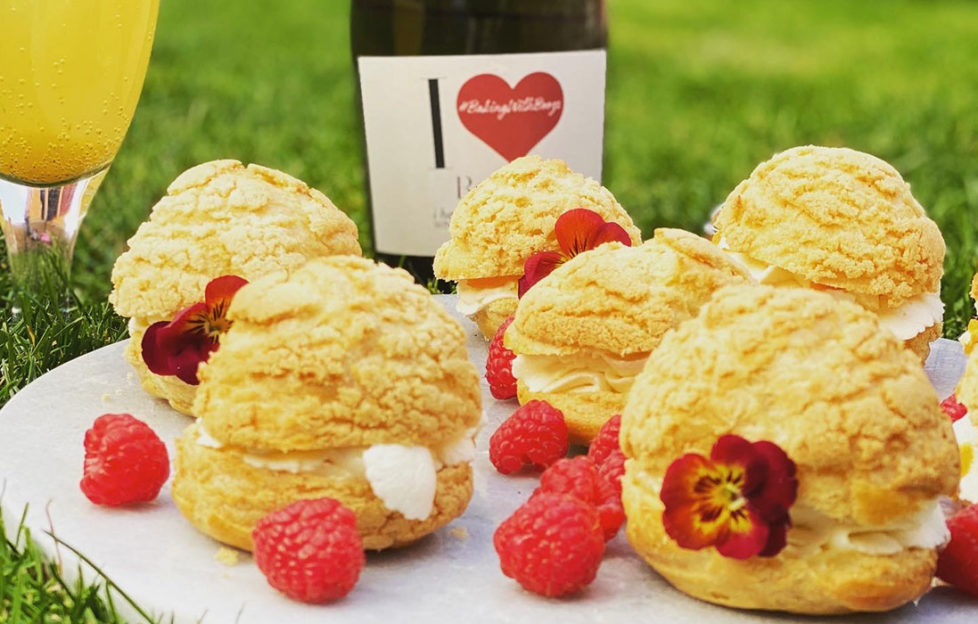 The Great British Bake Off's Rosie Brandreth-Poynter has joined the ladies at i heart Wines to create Bellini Cream Puffs, filled with prosecco cream and peach purée. Get ready for some fabulous creativity!
To make the craquelin: Mix all ingredients in a small bowl. Tip onto a sheet of greaseproof paper, cover with a second sheet and roll out to 2mm thick. Leave to chill (flat) in the freezer.
To make the choux pastry: Preheat oven to 200ºC fan. Add butter and water to a saucepan and heat until boiling. Beat in the flour.
Return to the heat, stirring, for a few min until thickened into a firmer ball. Leave for 3min.
Gradually beat in the egg. Stop when a peak of dough folds over when pinched.
Transfer to a piping bag. Pipe 8 large circles on to a sheet of greaseproof paper on a baking sheet. Cut circles of craquelin (just bigger than the circles of choux) and place one on each bun. Bake at 200ºC fan for 10min, then turn down to 170ºC for 10min.
Remove from the oven. Stab bottoms with a skewer and return to oven for 7min. Cool on a rack.
To make the peach purée: Blend chopped peaches and sugar until smooth. (No blender? Chop peaches and mash after heating.)
In a saucepan bring to a simmer. Keep stirring and simmer for a few min. Set aside to cool – this is a thin sauce to ripple through the cream. Keep any spare to make Bellini cocktails!
To make the prosecco cream: Whisk cream to soft peaks. Add mascarpone and sugar and whisk again. Beat in the prosecco.
Cut the puffs in half and fill with cream and purée.
Find i heart Prosecco in Tesco, Sainsburys, Morrisons, Bargain Booze and Ocado, RRP £8.50. It's bursting with classic acacia flower aromas and delicate apple and peach flavours.