Lamb Pot Roast with Marmalade Spiked Gravy
---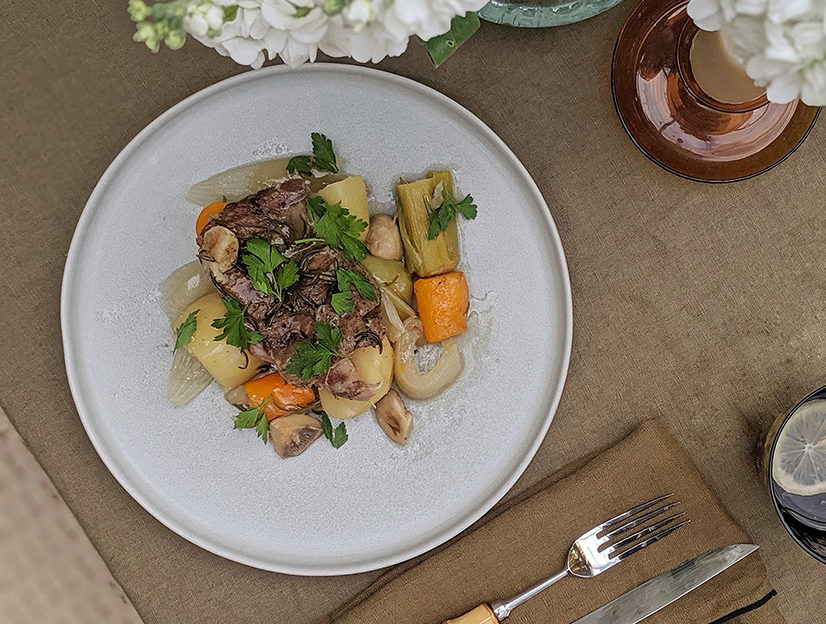 Cookbook author Laura Jackson has partnered with energy supplier E.ON to help the nation save money on their household bills. Laura has created exclusive recipes using clever energy-saving techniques and minimal waste ingredients that can help budding chefs be more energy efficient in the kitchen. This slow-cooked lamb recipe is one of our favourites…
Serves: 4
Cooking time: 5hr 15min
Put the chopped veg and 2 sticks of rosemary in the bottom of the slow cooker and season with salt and pepper.
Using a sharp knife, make holes in the lamb and insert garlic and the remaining rosemary into the holes. Drizzle olive oil over the lamb and season with salt and pepper.
Lay the meat on top of the veg on the slow cooker.
Pour the stock and wine in the slow cooker, taking care not to pour it over the meat. The liquid should cover the veg and come hallway up the lamb.
Cover and cook on the highest heat setting for 5 hours, until the meat starts to fall away from the bone.
When the lamb is done, heat your oven to 240°C, Fan Oven 220°C, Gas Mark 9. Remove the lamb from the slow cooker and place it in a roasting tin. Use a slotted spoon to remove the veg and place in the roasting tray surrounding the lamb.
Drizzle olive oil over the veg and lamb, pop this in the oven for 15min to allow the lamb and veg to crisp.
Whilst the lamb crisps in the oven, remove the stock from the slow cooker, sieving it through a strainer into a saucepan. Add the marmalade to the saucepan.
In a small bowl mix together the cornflour and 4tbsp of cold water to create a slurry (a smooth pourable paste). Add the paste into the saucepan of stock and bring the stock to a vigorous boil over a high heat, this should take about 3min. Turn off the heat and allow the gravy to thicken. You can pass this through the sieve again to remove the marmalade rinds if you wish. Taste and season the gravy with salt and pepper.
Serve the lamb, veg and gravy while hot, garnished with chopped parsley.